A few years ago, I posted a recipe for Blueberry Ricotta Pancakes  which advocated the use of an instant pancake mix and one of my fave bloggers told me that I should make and not buy the mix.  Trust me – when Sue speaks, I listen.    Plus – having dealt with one too many "pantry pests", I'd feel much better knowing where everything came from.  Let's not even get into the cost of buying one of those big box brands and shelf life questions.
Nigella Lawson has a fail-safe Instant Pancake Mix that is my new go-to staple.  Just mix the ingredients, take a cup of the mix to 1 egg, 1 cup milk and one tablespoon of melted butter – how easy is that?  I mean – it's just a 1:1:1:1 and you have a pile of fluffy pancakes that will bring a smile of joy to everyone at the table.
So – take a moment, get a container and make your own instant pancake mix that has ingredients that YOU know and trust.  No interesting "additives" or anything wonky that will make you wonder what exactly is in that box of mix that has been sitting on a store shelf for centuries.  Plus – with the money you save, just add that to the stiletto fund.
Nigella Lawson's Instant Pancake Mix
---
Ingredients
4 cups all-purpose flour
3 tablespoons baking powder
2 teaspoons baking soda
1 teaspoon salt
2 tablespoons and 2 teaspoons sugar
Directions
Sift the flour, baking powder, baking soda, salt, and sugar together into a large bowl until thoroughly mixed.
Transfer into an airtight container and store in your pantry until ready to use.
When you are about to make pancakes, for every 1 cup of mix, add 1 cup of milk, 1 egg and a tablespoon of melted butter to make the batter.
Notes
Recipe from Nigella Lawson
http://cookinginstilettos.com/instant-pancake-mix/
All images and content are © Cooking In Stilettos. Please do not republish without contacting us first. Thank you.
Gather your ingredients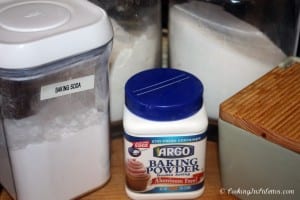 Sift, Sift, Sift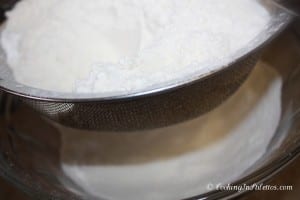 I know I know – I need a new label (like maybe one of those Chalkboard Labels
) but here's the final product (and I made a double-batch)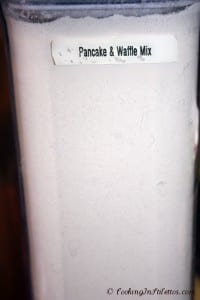 Did you enjoy this post?
| | |
| --- | --- |
| Share the love | Get free updates |