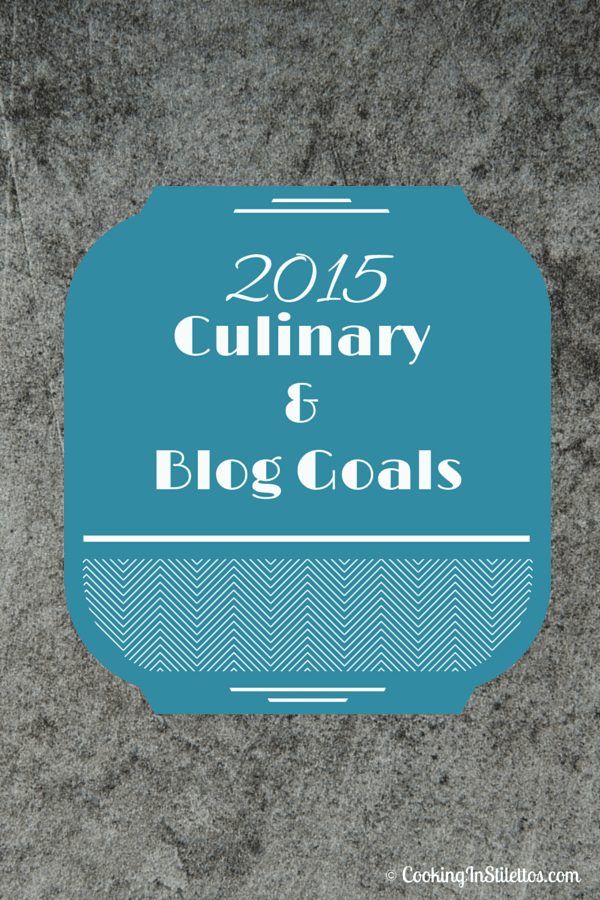 Where. Did. This. Year. Go?
Seriously – one minute it was planning for 2014 and here we are again for 2015.
So – like I do every year, I flash back, see what was accomplished and what's still on my radar and lay a plan for the upcoming year.  Thankfully, my instagram had pics of many of these moments.
In 2014, I am happy to say, I finally took a cooking class. I headed to Sur La Table in King of Prussia one morning in July for a cooking class and learned the proper techniques for making a divine chocolate soufflé and the best balsamic vinaigrette along with how to pan roast a chicken. Their classes at Sur La Table were inspiring to say the least and I am hoping to take a couple more in 2015, including a homemade pasta class because Santa left some pasta attachments for the trusty KitchenAid under the Christmas tree.
2013 was a hard year and I still felt the effects of  Wiggs' passing. There's not a day that goes by that I don't think of my little guy. However, when I got the call that there was a pug in need of rescuing at Wiggs' foster mom's rescue group, I jumped on a plane and headed to Orlando. It was love at first sight and Jeffie, my Junior SousPug and I rented a car and made the drive up the east coast to his new home in chilly Philly. Does he like the snow – not so much, but he does love his new home where he is spoiled rotten, has toys for days and essentially has the life of Riley. And, as Wiggs would be happy to hear, Jeffie had his first bite of short rib and is a total convert.  One thing we learned on our road trip listening to my fave author Jen Lancaster's book "The Tao of Martha" – the Tao of Daisy:
"Be awesome. Give awesome. Get awesome."
One of my major highlight moments of 2014 was heading to one of my favorite cities, Miami, and meeting with some of my favorite people in the world for BlogHerFood. Not only did I learn so much from the sessions, but I met some amazing people and caught up with blog friends including my gals Kim from Cravings of a Lunatic, Liz from That Skinny Chick Can Bake, Erin from Dinners, Dishes & Desserts and Shana from Take A Bite Out of Boca. Added bonus was some retail therapy as well as a divine brunch at Michael's Genuine the day after the conference.
Another highlight of 2014 was a divine dinner in NYC for San Pellegrino. Not only did we have a Top Chef, Michael Voltaggio, making magic in the kitchen with  dishes that were out of this world that I still think about, but I also finally got to meet my buddy Susan from The Girl in The Little Red Kitchen in person finally! Granted I had to turn into a pumpkin and head back to Philly before the clock struck midnight but that evening was magical! Plus – dinner with great friends – priceless!
I had a goal to take a photography class and I finally did – I took an online class with Todd Porter and Diane Cu from White on Rice Couple on CreativeLive. It changed my whole outlook on food photography and I found some other photography classes on there that I  have bookmarked to take. I also purchased Tasty Food Photography (which I highly recommend) from Pinch of Yum and my goal for 2015 is to really learn the ins and outs of my camera.
For 2015, here are a few things I have planned:
Recipes

: I plan on posting 2 – 3 tried and true recipes here for you each week as well as some other fun and exciting things including giveaways, interviews with some fave chefs and bloggers and spotlights.  I'm also toying with the idea of finally making a "culinary" bucket list of sorts where I start facing those "irrational culinary fears" and start challenging myself with something that is so out of my comfort zone (i.e. homemade sourdough or challah bread, puff pastry, and, of course, figuring out the recipe for my Bampa's chocolate pie). Needless to say, my stilettos and I are up for the challenge.
Travel: I'm heading to sunny Miami this February for all things SOBEWFF. Do you have your tickets yet? From what I am hearing, this year's SOBEWFF is going to be epic! I know I am excited to see some of my favorite people, find inspiring ideas for some new recipes and cocktails and enjoy a bit of fun in the sun. After all – it's South Beach baby! I also want to head back to NYC for a bit of culinary exploration, a bit of shoe shopping and meeting up with friends for cocktails and some seriously fabulous convo in the spring and, perhaps, visiting NYCWFF because that is always a fun time!
Conferences: Speaking of travel, I will be attending both Food Blog Forum in February and Food & Wine Conference in July, both of which are in my home away from home, Orlando. This year I was slated to go to Food & Wine but due to a family emergency, it wasn't possible. However, for 2015, if all goes as planned, things are "on the books" and the travel is scheduled.
Classes

: I'll be taking a couple cooking classes this year – that often mused over pasta class, perhaps some pastry classes and a canning or Thai food class. Also – I've been seriously contemplating taking a class at The Restaurant School here in Philly. I was there for a Les Dames d'Escoffier event a couple years ago and loved the school.
Writing

:  On the writing front, I took a writing class with Monica Bhide in 2014 and I not only learned so much from her, but I'm planning on taking another writing class this year. If you ever get a chance to hear her speak or take a class with her – DO IT! She's brilliant!
Blogging: I'm hoping to "spruce up" this place a bit with a couple projects and, perhaps, if all goes well, a spiffy new "dress" for Cooking In Stilettos will be in the works this year. Sadly, with the demise of a few internet companies, there is a bit of some behind the scenes work on the agenda with Cooking in Stilettos. So – if you hear some tinkering around or things look wonky, it's just me figuring out what puzzle piece needs readjusting. I also need to reshoot some of the photos for some of my favorite recipes because they look like I took them in 8th grade with my Kodak Disc Camera or something – oy!
Other Goals

:  On the personal front, I am going to start working on a couple personal projects that I have had on the back burner for some time. I saw a sign that said, quite simply, "If not now, WHEN?" and that made me think that there really is no time like the present.
I'm beyond blessed to have met so may people through blogging and look forward to seeing what's in store.  Thank you so much for joining me on this adventure – 2015 is going to be amazing!
What's on your culinary bucket list for 2015?
[FTC Disclosure: This post contains affiliate and/or referral links which help offset the cost of hosting this site. However, as always, my opinions are 100% my own]