When I lived in Orlando, I would often run out for lunch with one of my friends, Ms. M., to this one specific restaurant down the street because she adored their tabbouleh. For the life of me, I cannot remember the restaurant's name but she thought that they used more lemon which made it pop. I didn't have an interest in making it ever because I'm not a fan of bulgar (why, I don't know – I'll eventually get over it much like my issues with grapefruit, etc.)
Now it's almost 5 years later and I still had yet to try tabbouleh. Recently, I happened to catch an ep. of Aarti's Party and saw that Aarti was making Quinoa Tabbouleh. I had most of the ingredients on hand, only really needing to go to Whole Paychex for some mint. Thanks to the Stiletto Chef aka Candice and her cookbook
, I have become hooked on Quinoa which is a staple in my pantry.
Well, I was pleasantly surprised with how it came out.  I remembered an article by Julie Anne Rhodes aka Jewels from the Roving Stove about unfiltered extra virgin olive oil
and it's benefits with salads.  I decided to whip that out of the pantry for a nice flavor bump. Also, I added a touch more lemon juice in honor of Ms. M. and this salad didn't last long in my household. It was even better for lunch the next day – definitely a recipe that will be a staple in my house.
Ingredients
1/2 cup quinoa, rinsed
1/2 - 2/3 cup freshly squeezed lemon juice (I added more like 2/3 cup)
1/4 cup extra virgin olive oil (I used unfiltered)
Kosher salt and freshly ground pepper
3 bunches of fresh flat-leaf parsley, finely chopped (about 4 cups)
1/2 cup finely chopped fresh mint leaves
1 pint cherry tomatoes, quartered
2-3 roasted red peppers, finely chopped
1 English cucumber, diced
Directions
Chop the parsley and mint by hand. Yes, it's a bit of a workout but the payoff is much better than parsley and mint that have been annihilated by the food processor.
Bring 1 cup of water to a boil in a small saucepan.
In a small non-stock skillet, toast the quinoa over moderately-high heat until the grains give off a nutty aroma and start to pop.
Pour the quinoa into the boiling water, turn it down to a simmer, cover, and cook until the water is absorbed and the quinoa is tender, about 12 to 15 minutes.
Remove it from the heat and allow to cool.
Whisk together the lemon juice, olive oil, 1/2 rounded teaspoon of salt and pepper in a small bowl.
Combine the parsley, mint, cherry tomatoes, cucumber, roasted red peppers and the cooled cooked quinoa in a large bowl.
Pour the dressing over the salad and toss to coat. Taste for seasoning, and let sit for about 5 minutes before you serve.
Enjoy!
Notes
Adapted from Aarti Sequeira
Note: While Aarti's recipe called for a dash of nutmeg, I forgot that. I might try that on the next round - you just add it to the dressing.
7.6.8
752
https://cookinginstilettos.com/a-new-take-on-tabbouleh/
All images and content are © Cooking In Stilettos. Please do not republish without contacting us first. Thank you.
Gather the Ingredients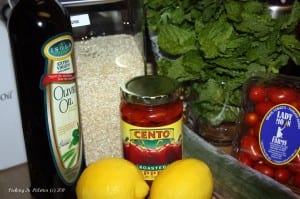 Toasting the Quinoa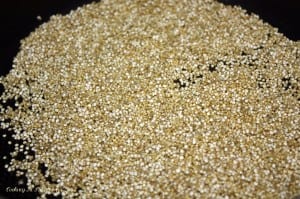 Chop Chop Chop – (Now if only I could find my mezzaluna)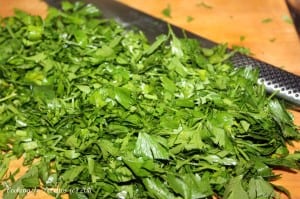 More chopping – this time it's all about the mint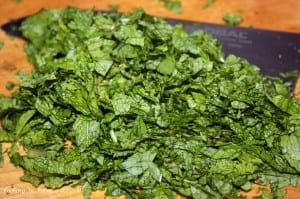 To seed or not to seed – that is the question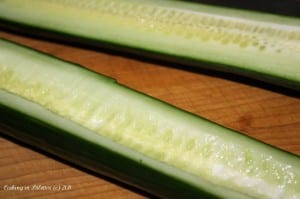 The end result – full of flavor!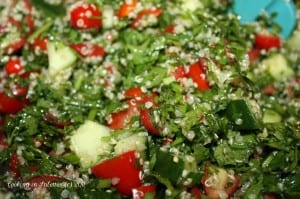 Did you enjoy this post?
| | |
| --- | --- |
| Share the love | Get free updates |