These bite size Bacon Thyme Scones with Savory Whipped Ricotta are a delicious bite for any party!  Bacon and fresh thyme are baked into mini muffin scones with a herby cheesy whipped ricotta.  What's not to love?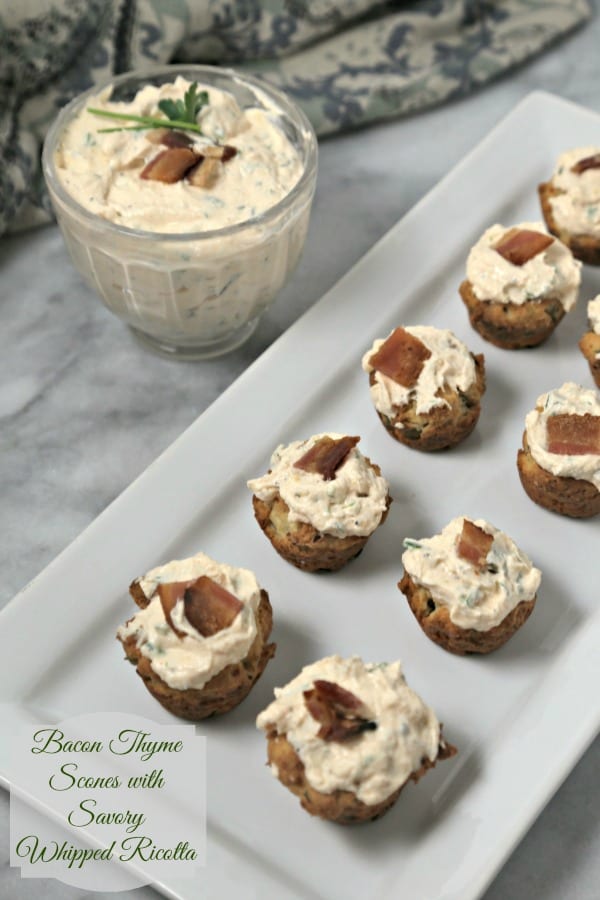 Disclosure:  This post may contain affiliate links of products I adore and trust in my kitchen.  Thank you for supporting Cooking In Stilettos.
I have the ultimate bacon packed appetizer that will be the hit at any party – these bite-size Bacon Thyme Scones with Savory Whipped Ricotta.
For #BaconMonth this year, I wanted a savory recipe that could be adapted for breakfast or even for entertaining and these muffin-type Bacon Thyme Scones are perfection.  They are so easy to make and I can guarantee that you will be tempted to make a double batch.  The Savory Whipped Ricotta will also be a favorite to spread on these lovely scones with a creamy cheesy bite.  This could also be a favorite recipe for an afternoon tea.
Scones and I have never really gotten along.  I have had more scone recipe disasters than I like to divulge.  So when I saw a recipe in a cookbook that I adore, Southern Living Bourbon and Bacon Cookboook, for a two bite bacon scone that is made in muffin tins, I knew I had to give it a try but with my spin.  This muffin scone batter is ridiculously easy and easily portioned using a small cookie scoop.  No rolling and cutting and getting your hands all coated in sticky scone batter.   They are delicious and savory – the perfect bacon bite.  You could also bake these scones in regular muffin size and freeze for a quick breakfast on the go or to pair with a delicious chili.
Their recipe advised adding a bit of cream cheese to the scones but I knew that I had to bring my best dish to #BaconMonth so I had to think out of the box.  Instead, I made a savory whipped ricotta that had my guests swooning.  I had first seen a version of this whipped ricotta in Eating Well Magazine.  Packed with cheese and fresh herbs, this Savory Whipped Ricotta is delicious dolloped on these scones but would also be perfect as a dip, spread on cornbread or wherever you would like a savory spread.  So, essentially, I'm bringing you a double-duty recipe today, both recipes are a must for your tried and true recipe box.
These Bacon Thyme Scones with Savory Whipped Ricotta are a must for your next party – just make sure to keep a couple for yourself because they will go quickly!
On to the recipe:
Gather your ingredients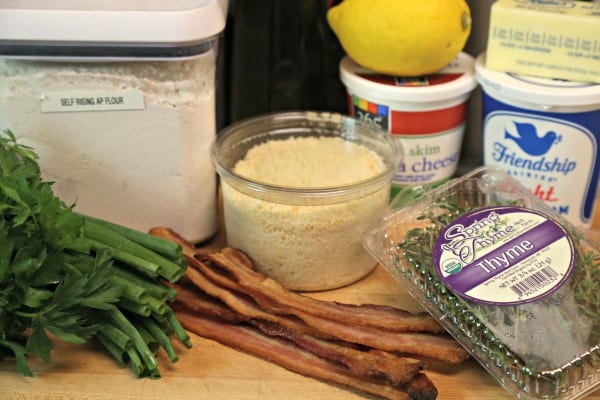 Baking the Bacon – easy cleanup and perfectly crisp bacon every time!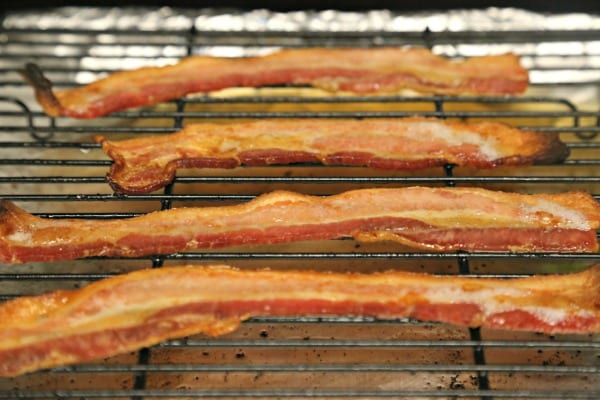 These bite-size scones are so easy to make in a mini-muffin tin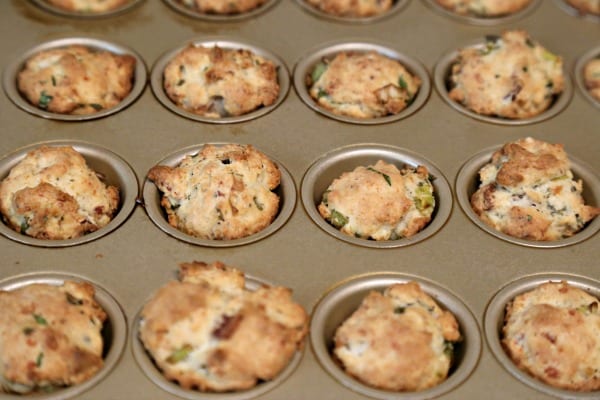 Making the savory whipped ricotta packed with herbs, spices and cheese – so easy!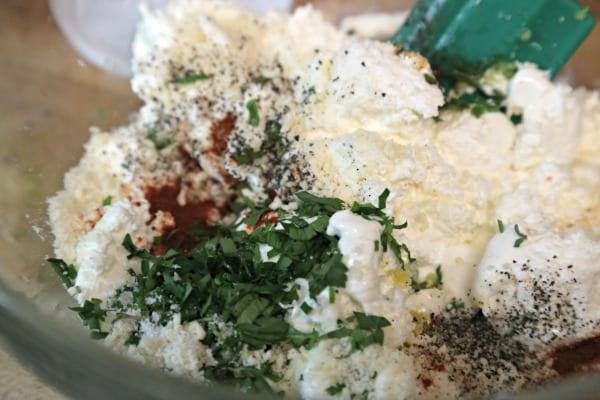 Now – these, my friends, are the perfect bacon bite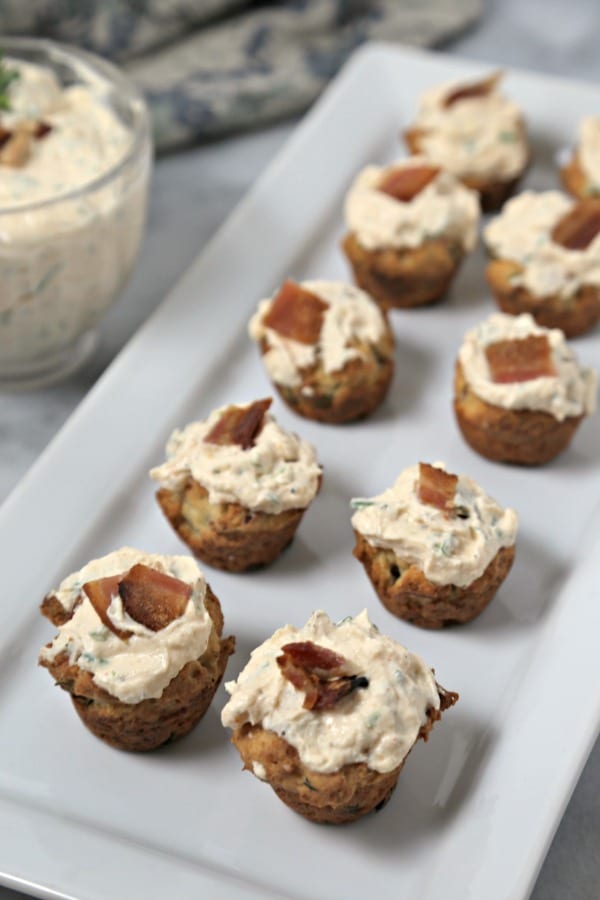 Keep some to the side just for you because these will disappear quickly!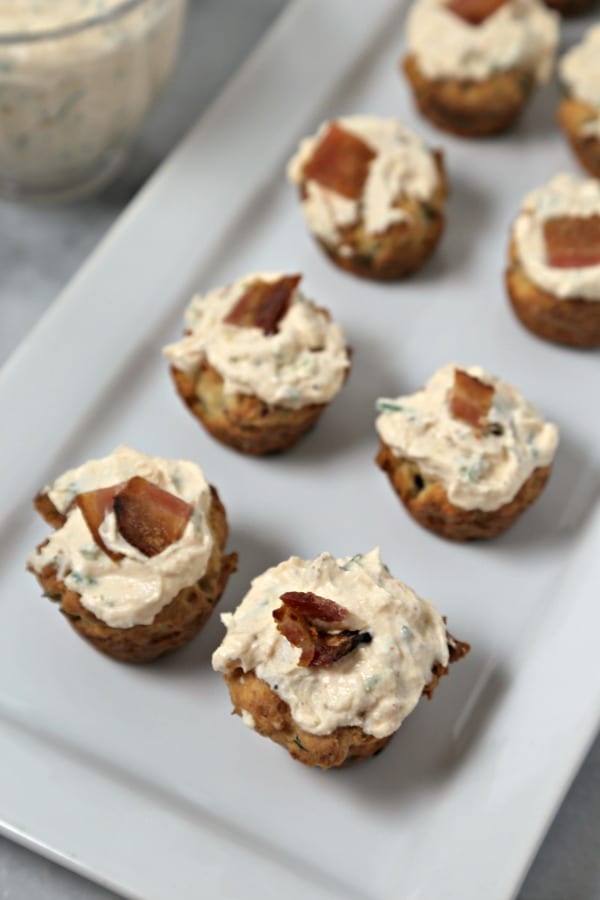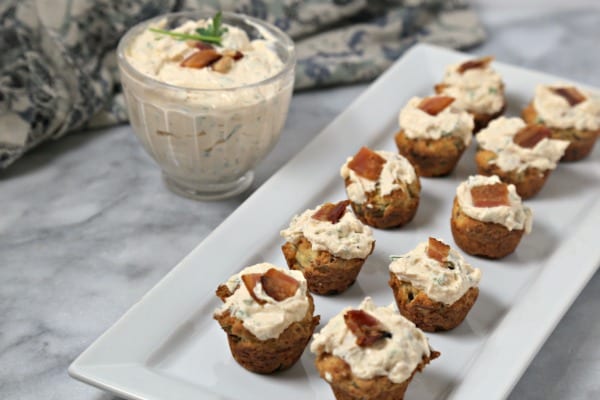 Bacon Thyme Scones with Savory Whipped Ricotta
---
Aly M. Cleary
These Bacon Thyme Scones with Savory Whipped Ricotta make perfect bite size appetizers. This mini muffin scones are packed with bacon, thyme and cheese and are dolloped with a cheesy whipped ricotta that will have your guests asking for more!
30 minPrep Time
27 minCook Time
57 minTotal Time
Ingredients
For the Scones:

1 2/3 cups of light sour cream
1/4 cup of finely grated Parmesan cheese
3/4 cup of diced cooked bacon (about 5 slices)
1/2 cup of unsalted butter, melted
2 tablespoons of fresh thyme, minced
1 tablespoon of fresh chives, minced
1 tablespoon of chopped flat leaf parsley
2 green onions, sliced thin, white and light green parts only
1/2 teaspoon of freshly ground black pepper
1/4 teaspoon of smoked paprika
2 cups of self-rising flour
Additional diced bacon for garnish (about 1 slice)

For the Savory Whipped Cream:

1 15-ounce container of part-skim ricotta cheese
1 tablespoon of freshly chopped thyme
2 teaspoons of fresh chives, minced
1/3 cup of finely grated Parmesan cheese
3/4 teaspoon of fresh lemon juice
1/2 teaspoon of smoked paprika
1/2 teaspoon of freshly ground black pepper
1/4 teaspoon of kosher salt
2 teaspoons of olive oil
Directions
To make the Scones:

Heat oven to 375 degrees F.
Lightly spray mini muffin pans with a non-stick spray and set aside.
In a large bowl, whisk together the sour cream, parmesan cheese, diced bacon, butter, thyme, chives, parsley, green onions, black pepper and smoked paprika.
Fold in the flour until the flour is blended throughout, taking care to not overmix. Note –the batter will be very thick and sticky so don't be concerned.
Using a small scoop, add the batter to the muffin pans, filling most of the way.
Bake for 25 -27 minutes until the muffins are golden brown and cooked through.
Remove to a wire rack and cool completely.

To make the Savory Whipped Ricotta:

In a large bowl, combine the ricotta, thyme, chives, Parmesan cheese, lemon juice, smoked paprika, black pepper and olive oil.
Using an electric hand mixer, whip the ricotta mixture until the mixture is well mixed.
Dollop each of the Bacon Thyme Scones with a bit of the Savory Whipped Ricotta and garnish each with a bit of cooked bacon.
Enjoy!
Notes
Notes: The Bacon Thyme Scones are adapted from The Bourbon & Bacon Cookbook; the Savory Whipped Ricotta Recipe is adapted from Eating Well Magazine.
7.6.4
1105
https://cookinginstilettos.com/bacon-thyme-scones-savory-whipped-ricotta/
All images and content are © Cooking In Stilettos. Please do not republish without contacting us first. Thank you.
Let's see what everyone brought for the #BaconMonth giveaway.  Check out these delicious recipes and for all the scoop on #BaconMonth, be sure to check out this post and enter to win some amazing prizes!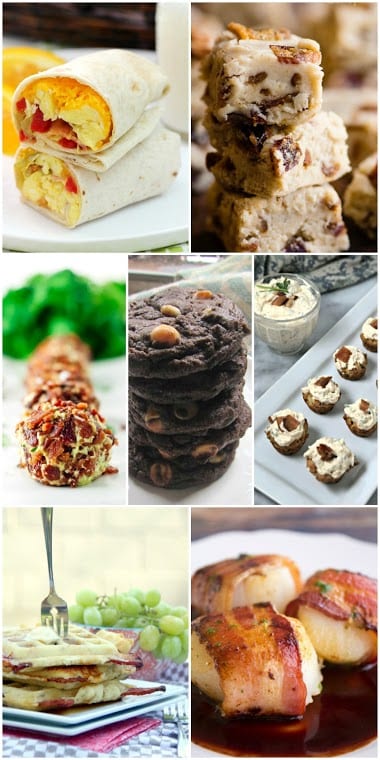 Bacon & Egg Breakfast Burritos from Love Bakes Good Cakes
Maple Bacon Fudge from Ashlee Marie
Breakfast Bacon Fat Bombs from A Simple Pantry
Dark Chocolate Bacon Cookies from Forking Up
Bacon Thyme Scones with Savory Whipped Ricotta from Cooking in Stilettos
Bacon Stuffed Waffles from Around My Family Table
Bacon Wrapped Scallops Recipe with Pomegranate Sauce from Bread Booze Bacon
Did you enjoy this post?
| | |
| --- | --- |
| Share the love | Get free updates |