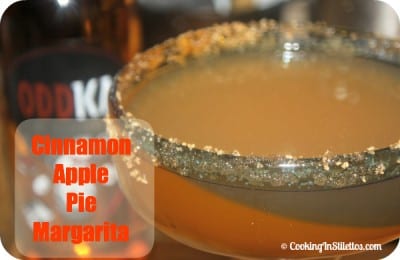 I love discovering new cocktails and brands and, when I was told about ODDKA Vodka, well –I was intrigued. In addition to your standard vodka, ODDKA has a few unusual flavors*:
Apple Pie: For when you desperately yearn for the sweet taste of apples and cinnamon and can't get one of grandma's apple pies.
Electricity: A bolt of lightning in a bottle—but safer; tickling taste buds and sparking curiosity everywhere.
Fresh Cut Grass: Nothing beats this home-mown taste; it's crisp, citrusy, sweet and refreshing.
Salty Caramel Popcorn: If ODDKA were a movie, this flavor would be a caramel comedy with a sea salt subplot and a warm, feel-good ending.
Wasabi: This tribute to the spicy burn of the sharp Asian condiment will satisfy your craving for something fiery.
Now – while I'd probably use the Wasabi in a Bloody Mary, I'm more of a sweet flavored vodka gal and decided to head to the state store to create my own ODDKA Vodka Cocktail. Currently ODDKA is only available in a few states (to my knowledge – Alabama, Massachusetts, Pennsylvania, and Rhode Island) so I knew that with the state store by me, I'd have a bit of a hunt because when I do ask them about new brands or items, I tend to get the "Huh? Wha?" response.  I was pleasantly surprised that , when I arrived at the Vodka section, there was their spokesperson, Wit Oddoski, giving me a "take me to thy liquor cabinet" look straight from the vodka shelf. (He's a bit Victorian fellow, top hat and all – and two dimensional – rather unusual!) Now – the hard decision – what flavor to play with?
I finally decided that, in the spirit of the fall/winter season, it would be all about the Apple – Apple Pie Vodka that is. A few pantry and liquor cabinet ingredients and *voila* a Cinnamon Apple Pie Margarita that guests will rave about for weeks after the party. Just tell them that Wit whispered in your ear about the secret ingredient – ODDKA Vodka.
Let's get the ingredients together shall we?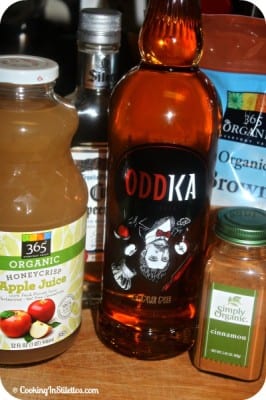 And, voila – the Cinnamon Apple Pie Margarita.
Cinnamon Apple Pie Margarita
---
Ingredients
1 1/2 ounces of ODDKA Vodka Apple Pie Vodka
1 ounce of silver tequila
4 ounces of apple juice or apple cider (I used Honey Crisp Apple Juice – delish)
2 tablespoons brown sugar
2 teaspoons cinnamon
Ice for serving (if desired)

For the Cinnamon Simple Syrup

1/3 cup of light brown sugar
1/3 cup of water
1 cinnamon stick
Directions
For the Cinnamon Simple Syrup

Add the brown sugar and water to a small pan. Dissolve the sugar over medium heat and, when (mostly) dissolved, add the cinnamon stick.
Let simmer for a few minutes and then take off the heat.
Let cool.

For the Cocktail Glasses

On a plate, mix the cinnamon and the brown sugar.
Lightly wet the rim of the glass and dip in the cinnamon brown sugar mixture and set aside.

For the Cocktail

To a large glass or mixing cup (I use a 4 cup one), add the ODDKA Vodka, tequila, apple juice (or cider) and stir.
To this mixture, add 2-3 tablespoons of the cooled cinnamon simple syrup (depending on how sweet you like it).
If you like your margarita on the rocks, add a bit of ice to the cinnamon rimmed glasses and add the margarita mixture.
Enjoy!
Notes
This makes one LARGE or a couple normal size margaritas - so simple to double or triple to make a pitcher for your next soiree.
7.6.8
792
https://cookinginstilettos.com/cinnamon-apple-pie-margaritas-get-odd-with-oddka-vodka/
All images and content are © Cooking In Stilettos. Please do not republish without contacting us first. Thank you.
To learn more about ODDKA's charming spokeperson, Wit Oddoski, you have got to check out this hilarious video.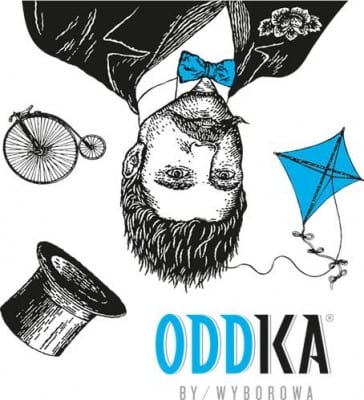 To learn more about ODDKA and Wit's adventures, "Like" ODDKA Vodka on Facebook or follow Wit on Twitter at @WitOddoski.
This is a sponsored post written by me on behalf of Oddka.
[Disclaimer: While this is a sponsored post – all materials for the recipe, including the vodka, were purchased by me. What can I say – I love a good cocktail!   Additional Note:  Flavor descriptions are courtesy of ODDKA]
Did you enjoy this post?
| | |
| --- | --- |
| Share the love | Get free updates |