A few weeks ago, I went to the Atlantic City Wine & Food Festival for Sunny Anderson's Sunset Sliders event. It was a gorgeous evening poolside on the rooftop deck of Caesars with a perfect shore breeze and various nibbles and cocktails to try. I had a blast catching up with One Curly Fry's Jen, Megan from This Girl Can Eat and, of course, Ms. Sunny and was intrigued with this Bourbon Cider Twist cocktail which was one of the featured cocktails.  Now – let me state for the record that I don't drink bourbon often. I cook with it more than sip it. I'm more of a rum gal, but man did this cocktail make a convert out of me.
This week, Sunny showcased the cocktail on a recent ep of Cooking for Real and I had to try it. It's no big secret that things at home with the munchkin have been quite "interesting" to say the least and I've been feeling more like a vet tech than I should. However, after coming home last night to one of Wiggy's famous "temper tantrums" where he decided that a pair of slippers should meet their demise, I knew a cocktail was in order.
I grabbed the Makers' Mark, some cider and some lime and *poof* this worked out wonderfully. I have to confess, I added more cider than required because I clearly haven't built up my bourbon tolerance. This is a PERFECT fall cocktail and will be one that I use for entertaining as well.  The Sous Pug, of course, hears "APPLES" and then decided that it was time to be BFFs yet again (not that he can have them, but he still tries).
Ingredients
4 cups apple cider
1 cup bourbon
1/4 cup fresh lime juice
Lime wedges, for garnish
Optional: Ice for serving
Directions
Add the apple cider, bourbon, and the lime juice to a pitcher and stir.
You could pour over ice if you like (I, however, preferred no ice).
Serve with a lime wedge and enjoy!
Notes
Adapted from Sunny Anderson
7.6.7
748
https://cookinginstilettos.com/cocktails-n-stilettos-bourbon-cider-twist/
All images and content are © Cooking In Stilettos. Please do not republish without contacting us first. Thank you.
Wiggy shows his 'tude by keeping his back to me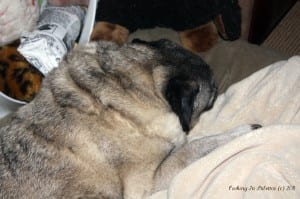 Fine then – gather the ingredients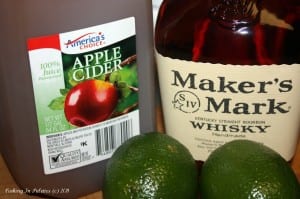 Time to add the Bourbon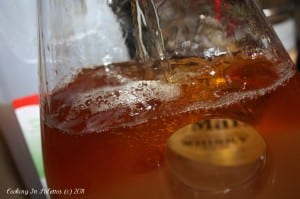 Ahhhh – the final product!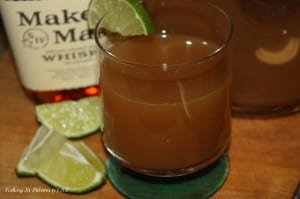 Did someone say Bourbon?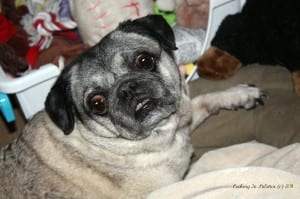 Did you enjoy this post?
| | |
| --- | --- |
| Share the love | Get free updates |