Yup – you read that right – this stiletto wench got served at the doctor's today and given the worst news I could ever hear "Aly – until further notice, it's sneakers for you."
For the past 6 months, I had a bit of a "mishap" shall we say and my left foot has been driving me batty.  I invested in some of my favorite flats from Tory Burch and Cole Haan this winter and was stoked to be wearing them as I ran around Orlando next weekend for Food Blog Forum.    I know Disney is crazy and there was NO way I'd even venture in some stilettos for all day.  Now, I might break out a pair or two of my favorite wedges (again – Cole Haan and Tory Burch – what can I say – they are stylish and comfy!) but I figured flats were stylish for day to day.
Two weeks ago, I had a little "accident" at the house and next thing I know my heel was in massive pain and I was limpin' around.  Silly me figured it would pass.  Yesterday, I couldn't take the pain anymore, bit the bullet and headed to the doctor.  She took one look at it and sent me out for x-rays and to a specialist (along with a nice lecture on why I can't avoid seeing her yearly – hey, doctors and I are non-mixy things).  Fact is, I spend more time taking care of everyone else and not taking care of what needs to be addressed for myself – it's a nasty habit.
Specialist gave me the great news that nothing was broken, but sadly this gal got one heck of a "Welcome to the "40" Club" present – specifically plantar fasciitis with a heel spur and a touch of arthritis.   (sounds like quite the recipe)   He also told me that if I continued to wear the ballet flats that I adore, not only would I be coming back quickly but I'd make it worse.  Interesting fact:  those type of flats account for a good 50% of his recent business.  Who knew that my cautionary actions made a situation much worse than it was.
I am to be in sneakers pretty much 24/7 until he gives me the go-ahead to possibly graduate to a slight wedge.  The other good news is that he did assure me that my stilettos are not totally a "no go" just "not right now".  I can look but I cannot touch (nor buy).  Just as well – I need my stiletto fund for some other issues like that pesky trademark drama I'm dealing with (long story) and, thanks to testimonials from Jewels from the Roving Stove and Jen at One Curly Fry, a Vitamix is planned for this summer's purchases (along with a GelPro Chef's Mat because daggone it – I need it now).
So, not only do I have my workout sneakers, but sneakers for work and sneakers for around the house only – not to go outside.  Along with no flats, it's also no stilettos (for now), no slippers, no barefoot, no stockinged feet.   I joked with a friend earlier today that I would have much preferred an immobilization boot and to clop around Disney like a Clydesdale than to have to buy not one but 3 pairs of sneakers this year.  (And – guess what – supportive sneakers aren't cheap.)  All joking aside, I am grateful nothing was broken but I am rarely parted from my shoes and it takes some serious scaring from the doctor to kick my butt into line.
With that being said, I'm heeding his diagnosis and am on my best behavior.  However, I have to be honest that I am plotting my arguments for next week's appointment and, in an abundance of caution, I'm packing a wedge or three along with the dreaded sneakers that I detest so much.  However, when it comes to the flats collection – they are being put on eBay and hopefully retired to good homes.
That collective sigh of relief you hear – it's not only the sound of my wallet, but the sound of Newman Marcus associates knowing that I won't be visiting the stores in Orlando or King of Prussia any time soon for a little Louboutin fondling.  While I may be stuck in sneakers at the moment, I still am able to look (online at least – without crying hysterically).  Therefore my recent medical drama will not prohibit me from sharing a stiletto find or two on Fab Fridays – don't worry.  Tory Burch & Cole Haan – we're on a Ross/Rachel break at the moment.  You might see me fondling a wedge or heeled sandal this summer but the flats – so sorry – I'm done with those.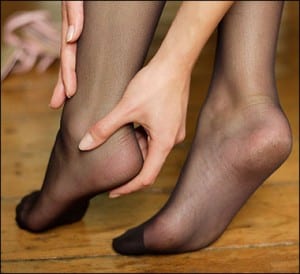 Has anyone ever deal with plantar whatsahoosit or a heel spur?  Give a gal advice please.
(Image courtesy of Lovelyish.com)