Deliciously Spicy Deviled Egg Potato Salad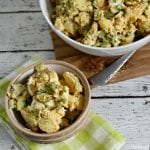 This Deliciously Spicy Deviled Egg Potato Salad combines two classic cookout favorites – deviled eggs and potato salad.  This delicious take on a classic is perfect for your next BBQ!
Ingredients
2 1/2 pounds of Yukon gold potatoes, somewhat larger diced
2 teaspoons of kosher salt, divided
6 large hard boiled eggs, peeled and cut lengthwise
1/2 cup of light mayonnaise
1 1/2 tablespoons of dill pickle relish
1 teaspoon of El Diablo Steakhouse Mustard
1 teaspoon of spicy brown mustard
1/2 teaspoon of hot sauce
1/3 teaspoon of smoked paprika
1/3 teaspoon of freshly cracked black pepper
1 teaspoon of Gourmet Gardens Dill (or 1 tablespoon of chopped fresh dill)
3 stalks of celery, diced
3 green onions, diced
1 1/2 tablespoons of chopped fresh parsley
Fresh Parsley & Dill for Garnish
Instructions
In a large saucepan, add the diced potatoes. Cover with water so that there's an inch over the potatoes and add 1 teaspoon of salt to the mixture.
Bring to a boil and reduce to a simmer until the potatoes are fork tender – about 15 minutes or so. Drain and set aside to cool for a bit.
Separate the egg whites from the yolks. Add the yolks to a medium bowl.
Dice the whites and add them to a large bowl.
Crumble up the yolks with a fork. Add the mayonnaise, relish,both mustards, hot sauce, remaining salt, smoked paprika, pepper and Gourmet Gardens dill. Whisk together until everything is mixed well. Set aside.
To the large bowl, add the cooled potatoes, celery, green onions, parsley and toss with the Deviled Egg dressing.
When everything is mixed fully, chill until ready to serve.
To serve – garnish with a bit of chopped fresh parsley and dill and enjoy!
Notes
Chill this salad until you are ready to serve!