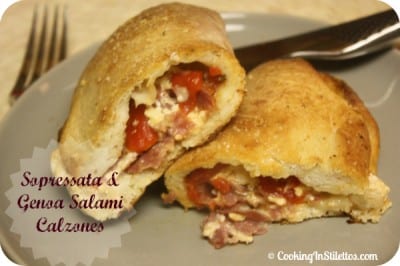 Today is a big day around these parts – Emeril's latest book, Kicked Up Sandwiches, is available everywhere and I can't recommend this book highly enough. In addition to some seriously delish sandwiches, this cookbook has a host of other recipes, from savory to sweet along with recipes for various breads and condiments. I have not made a bad recipe during my time that I have been playing with this cookbook. I have learned to make things I never thought I could, honed some basic culinary skills that I failed at miserably before like hard boiled eggs and béchamel sauce and I've learned that a sandwich is much more than something slapped together quickly as you are dashing to get out the door. I can't even begin to tell you how much this cookbook has changed my outlook on cooking.
I know I live in Philly but can I confess something – I have NEVER had a calzone – like ever. I just figured "ehhh – it's a pizza sandwich" but boy was I wrong. I tried Emeril's Sopressata and Genoa Salami Calzone and I was floored. Now – while I'm in the confessing state of mind, I have to disclose that I made this when I was crazy swamped and I did not make the semolina pizza dough as described in the book and used a jarred marinara sauce. Yup – I had a "wing it" moment and it's simple enough for a weeknight meal! My neighbors were ready to whap me with a stiletto as the oven at 500 degrees turned all 3 of my fire alarms into a loud and annoying Greek chorus. Picture me racing up and down the hall with a broom waved crazily above my head going "BUT THERE'S NO SMOKE! WHAT IS WRONG WITH THESE ALARMS?" You know what set those dumb alarms off – I didn't seal one of the calzones tight enough and some of the smoked mozzarella got onto the pizza stone and got a bit "crispy". Still no smoke but apparently those smoke detectors not only can detect non-existent smoke, but the smell of things getting a bit crisp. Another tip – don't get the sauce too close to the edge or it just won't seal and things get "interesting".
All in all, I'll be making this again – just might have to take the batteries out of the smoke detectors first. If you buy pizza dough, remember to halve the recipe in the book. I had enough for four mini calzones which was just right.
Gather the Ingredients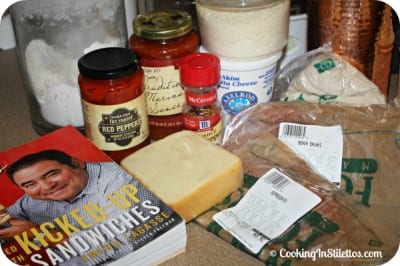 Mmmmm… salami, sopressata and smoked mozzarella!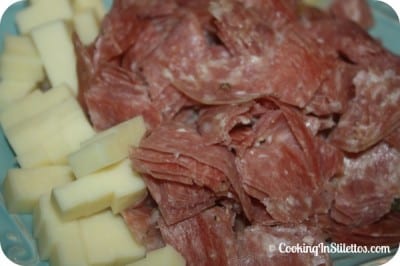 Time to assemble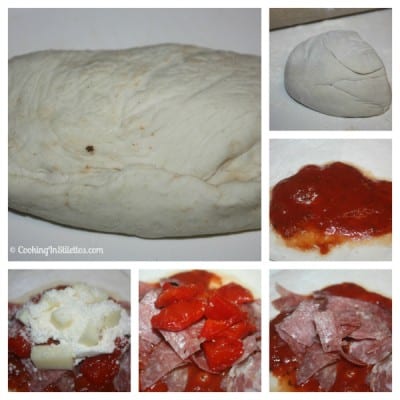 Hot and crispy from the oven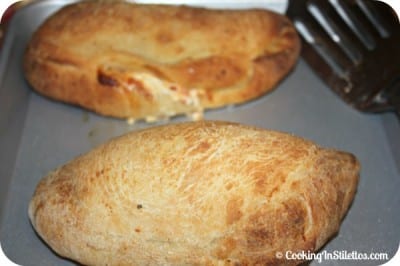 The perfect calzone (at least in my book!)
Emeril's Sopressata and Genoa Salami Calzone
---
Yields 4 mini calzones
Ingredients
1 ball of store bought pizza dough
1/2 cup of your favorite marinara sauce
4 ounces sopressata, and Genoa salami, chopped
1/2 cup ricotta cheese, drained
4 ounces smoked mozzarella cheese, cut into 1/2-inch cubes
2 – 3 tablespoons finely grated Parmigiano-Reggiano cheese
2 roasted red peppers, chopped
1/4 teaspoon crushed red pepper
Flour or cornmeal, for dusting the pizza peel
Olive oil and additional parmesan cheese for garnishing
Directions
Preheat the oven to 500°F and place a pizza stone or upside down rimmed baking sheet on the bottom oven rack.
Cut the pizza dough into 4 quarters and set aside.
Add a bit of flour to the cutting board or counter to assist with rolling out the dough.
Roll each dough quarter to form a round.
Spread some of the marinara sauce on the bottom half, leaving a 1 inch boarder.
Sprinkle some of the chopped sopressata and salami over the sauce.
Follow with some ricotta cheese, smoked mozzarella and parmesan.
Top the cheese with a bit of the chopped roasted red pepper and garnish with some crushed red pepper.
Gently fold the top half of the dough over the filling, rolling and pressing the edges to seal them.
Lightly brush with olive oil and garnish with a bit of parmesan cheese.
Follow the same instructions with the remaining dough and filling.
Cut small slits at the top of the calzone to allow air to escape while baking and transfer to a pizza peel or spatula that has been lightly dusted with cornmeal or flour (to prevent sticking).
Bake for 16 minutes or until the top is golden brown and dough is cooked through.
Remove the calzones from the oven with the pizza peel or a spatula, and serve immediately or at room temperature.
Enjoy!
Notes
Slightly adapted from Emeril Lagasse
7.6.8
790
https://cookinginstilettos.com/emerils-sopressata-and-genoa-salami-calzone-with-a-bonus/
All images and content are © Cooking In Stilettos. Please do not republish without contacting us first. Thank you.
Now – here's where the bonus for you is – a copy of Emeril's Kicked Up Sandwiches will be awarded to one lucky winner and there are 9 ways to win! What are you waiting for –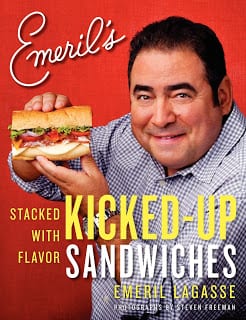 *Disclosure: A copy of Emeril's cookbook was provided as per of the #SeriousSandwich Blogger Cookalong. My opinion and experiences are 100% my own.
*Contest Disclosure:  A copy of Emeril's cookbook, Kicked Up Sandwiches will be provided to one winner courtesy of the publisher.

Did you enjoy this post?
| | |
| --- | --- |
| Share the love | Get free updates |