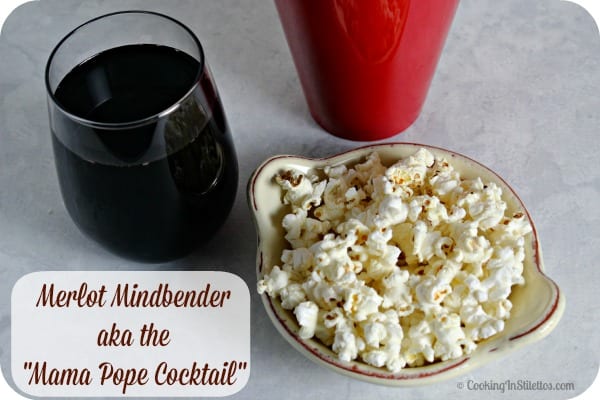 This is a big night for all Scandal fans – it's the season finale and from what I hear this is going to be *THE* episode to watch. I know I'll be channeling my inner Olivia Pope with a Scandalously inspired cocktail and some easy cheesy microwave popcorn. See – Olivia Pope has two things she adores besides the President –(well three if you count her Prada Saffiano Lux Tote) – her red wine and her popcorn. See – you have a hard day at the office fielding drama between your associates at Oliva Pope & Associates (aka "OPA") and the White House – not to mention a super spy agency – B-613 – and you head home, curl up with a seriously oversized glass of wine and some popcorn while contemplating your next move, moving to Vermont with the "former" President and making jam.
Don't watch Scandal – well – the whole schpeel above wouldn't make a lick of sense to you – but there are a ton of people that are chattering away about the Scandal Season Finale along with all things Abby and David – Cyrus – the evil Chief of Staff – and one of my favorites, the deliciously evil Ivan who is in cahoots with Oliva Pope's mama who is, in my humble opinion, batty beyond belief and is ready to blow up a funeral.
Where are those people chattering you ask – well – besides the water cooler, on Twitter and the like, there's a new service that's made for the TV ficionado – Beamly. Beamly has a host of "TV Rooms" that you can chat about your fave shows with including some of my faves, NCIS, Revenge, The Taste and my other deliciously mind blowing favorite, The Blacklist.
When I curl up to watch Scandal tonight, I'll be having my new favorite cocktail – a Merlot Mindbender or, as I call it, the Mama Pope Cocktail. See Olivia Pope can't hold onto her wine – everyone steals her wine as Scandal's beloved Abby aka Darby Stanchfield perfectly said:
SEE LIV. EVERYONE WANTS TO DRINK YOUR RED WINE. #EvenMamaPope
✋✋✋#Scandal

— Darby Stanchfield (@darbysofficial) April 4, 2014
On to the recipe:
Gather your ingredients
Adding the Chambord
and a Merlot Olivia Pope would adore
The ultimate Merlot Mindbender – aka Mama Pope's cocktail
MERLOT MINDBENDER aka the Mama Pope Cocktail
Recipe slightly adapted from Barnone Drinks
Ingredients:
1 1/2 ounces of Chambord liquor
1 cup of Merlot
Directions:
Pour the Chambord into a large wine glass and follow with the Merlot.
Swirl to combine and enjoy!
And to serve with – some Easy Cheesy Microwave Popcorn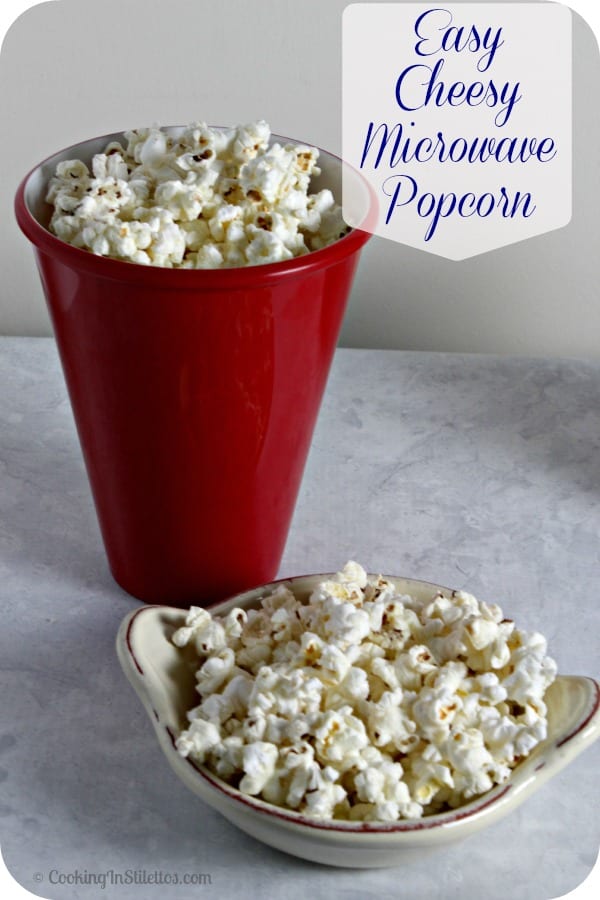 Gather your ingredients
Lightly coat the kernels with oil
Add to a paper bag and
*viola* – forget the store-bought stuff
EASY CHEESY MICROWAVE POPCORN
Ingredients:
1/2 cup of popcorn kernels
1/2 teaspoon of vegetable oil
2 – 3 tablespoons of freshly grated parmesan cheese
1/4 teaspoon of kosher salt (or to taste – remember parm is salty)
1/4 teaspoon of Aleppo pepper (optional)
Directions:
Lightly coat the popcorn kernels with the oil.
Add to a brown paper bag and fold the top over.
Place in the microwave standing straight up for 2 1/2 minutes or so or until you hear a 2 second pause between pops
Remove from the microwave, sprinkle with the parmesan cheese, salt and Aleppo pepper, shake a bit and pour into a bowl.
Curl up with the popcorn and a large glass of Merlot (or a Merlot Mindbender) and enjoy!
To my fellow Gladiators – will I see you over at Beamly chatting about all things Scandal? Who will die? Is Harrison Olivia's bro? What is up with Ivan and that Count Chocula accent? Huck and Quinn or will Charlie get all Single Wacky Spy on them? And Cyrus – has he gone over the deep end? Let's discuss it all over at Beamly!
Want to keep up the convo – I'll be there all month talking about all things NCIS, Scandal, Revenge, Blacklist and more… follow me here!
Beamly is THE 24 X 7 social and content network for TV and TV fans. Join me today in TV conversations and get the latest juice and gossip about your favorite shows!
This is a sponsored conversation written by me on behalf of Zeebox. The opinions and text are all mine.