If you follow me on Instagram, you might have already heard the news.  It's been so hard to keep this on the quiet – mostly because I didn't want to jinx anything – but I've adopted a rescue pug.  They say everything happens for a reason and if something keeps crossing your path, you pay attention.
When the Sous Pug passed, I wasn't sure what I was going to do.  I kept busy – I tried not to think about it but when I would see Wiggs' beds, I knew he would want me to open my home to another pug in trouble and give them a forever home.  Shadow aka the Evil Minx (or Sous Kitty – depends on her mood), took a spot by the stove but she made it clear that she supervises and missed her partner in crime.  After much thought, prayer and discussion, I finally decided that the time was right – it was time to see what pugs needed a forever home.  I knew I wanted a pug – especially after my "Pug 101/202" training that I learned during Wiggs' med issues and would be prepared for almost any emergency.  I wanted a younger pug and I wanted a rescue – no pug from a breeder and definitely not a puppy store purchase.  I knew that the right pug would come along at the right time.   I knew that with such a great experience that I had with Wiggs' foster mom, Mary, I knew that working with her rescue was a must.  One perusal through Pug Rescue of Florida's pugs, and I was smitten with one particular pug mug – put in my application and hoped for the best.
Well the best happened this weekend and I wanted to intro you all to my new partner in crime, Jeffie the Junior Sous Pug.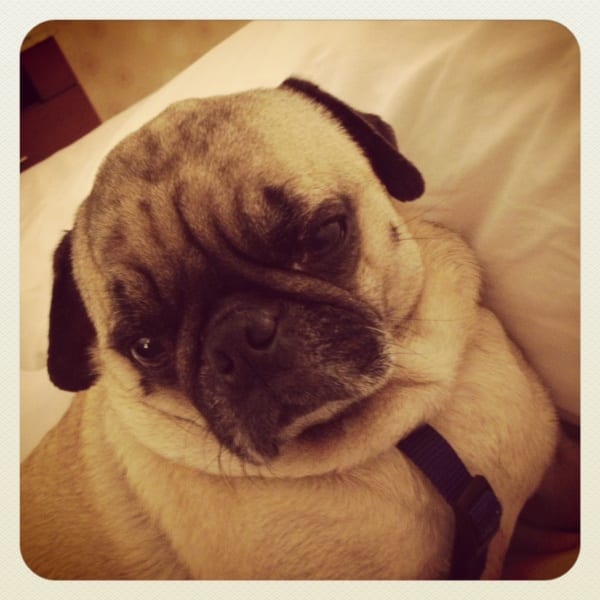 He's almost 3 years old and full of love, life and mischief and he and I are on the road to his forever home with me in Philly.  Let me tell you – the weather did not cooperate – changing my flights, screwing up plans and putting me a bit behind but I was going to move heaven and earth and get to Jeffie if it smacked me in the head.  We're driving back from Florida so hopefully things will be back to normal here by the end of the week.  We've already visited a couple landmarks, Jeffie went shopping at Le Creuset Factory Store in South Carolina (and the women there – especially Pat Woods – were amazing with him) and he helped me pick out a dutch oven that is the perfect shade of nutmeg, he has an affinity for fluffy hotel pillows and has told me in no uncertain terms that he does not like car seats.  He has a hot date with the Hickory gals next week for a quick introduction and will be meeting his new Philly bffs hopefully by tomorrow or Wednesday.
Jeffie has a wonderful rescue mom, Denise who is just fabulous.  Between her and all of the amazing people at PROoF – I've been blessed.  Like I always say – I didn't rescue the pug – the pug rescued me.  While Wiggs will be missed, I know he's at the rainbow bridge hoppin' around and tellin' Jeffie "Dude – have her make SHORT RIBS!!"
Many thanks to Denise, Retha, Mary and the gals at PROoF for all that you have done.  Jeffie will have one heck of a forever home thanks to all of y'all!