This past month has been a mixture of emotions. My Aunt Peggy, one of my favorite aunts and one of the strongest women I have ever had the privilege to know, passed away suddenly and it has rocked our family to the core.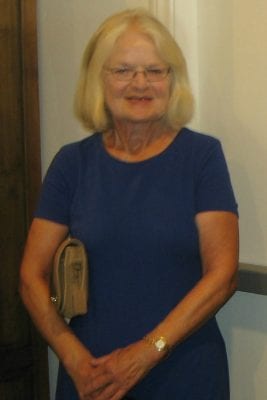 Peggy took care of everyone in the family and was always a phone call away if I ever needed a listening ear, advice or just to chat. Growing up, I have such fond memories of her – no matter what she was doing, she would drop everything and spend time with me, even if it was for a rousing game of Barbie. At family dinners, while everyone else was all about the cocktail sauce for the mandatory shrimp cocktail, Peg and I were breaking out the ketchup – same with for the turkey. Ahhhh the looks my Bampa would give us – assaulting the delicious and perfectly cooked turkey he worked so hard on with a puddle of tomato ketchup slyly placed on the side of the plate.
As I got older, I learned about work ethic and perseverance from not only my father, but also Peggy.  She was a hard worker in her industry and fought to break the glass ceiling and did – often. When she retired early to take care of my grandparents, she kept our family on both sides of the country in touch. I always remember her at our family cottage in Connecticut, breaking out the canoe or kayak, working on her gardens of flowers that my Sous Pug would "inspect" (and if something didn't pass his test, it was a sudden death for that bloom), and always taking time to enjoy every day. So, losing her is just devastating. Our family spent a couple weeks at the cottage celebrating her life and while her memory will always live on, it's still tough to bear. I keep expecting her to walk through the door, her visor in hand to tell us about her trip across the lake or what she saw during her daily walk in Old Saybrook.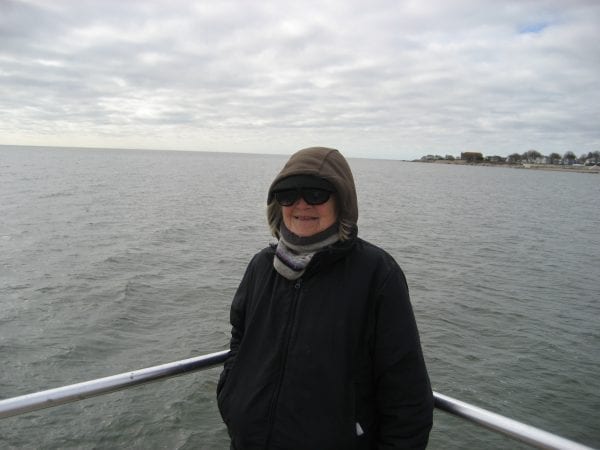 I will say this – she'd probably give me one of those looks that would stop me in my tracks for talking about her on here. While she did read the blog and was always one of the first to cheer me on – whether it was reading and saving whatever clips she would find of articles I would write for publications, watching me appear on Emeril's Table (and breaking my rule of "no tv ever again") or celebrating any accomplishment or goal I made, there was a rule – let's not put "everything" on the blog. I tend to agree – having learned from my years at the 9to9 that sometimes there are things that don't need to be here. However, I am sharing this all in the name of love and admiration because Peggy didn't always want to advertise all that she did and how awesome she was – she was quiet, reserved and just one heck of a person. She will be so so very missed.
As I'm writing this, I am back at the cottage to spend more time here going through memories, enjoying time at the lake and having the Jr. Sous Pug and Evil Minx here learning about all things cottage life instead of them having another stay at their favorite vets.  While we were at the cottage in the beginning of August, the Jr. Sous Pug and the Evil Minx had a 2-week "vacay" at their vets. Both had to be medically boarded as Jeffie is diabetic and Shadow is 17. I'm happy to say that they didn't bite anyone but Jeffie did leave with a parting gift – a nasty case of kennel cough that has him honking like one of the ducks here at the lake.  He's technically under quarantine – no friends, no favorite toys (only ones I can discard after this bug) and I need to keep him quiet.  So, while we are here at the cottage, Jeffie is learning that the sound of waves is calming, baby gates are a must because he cannot go near the spiral staircase and the cat – well, she's just loving the life of peace, solitude and no city sounds. Also the thought of the birds bouncing off the screen of the huge back porch also has her happy as a clam in the mornings.  You should have seen her eyes grow wide when she saw her first duck swimming towards her – she probably was thinking "Dinner!"  For funny snaps and clips of life here at the cottage, you can find me on Snapchat at CookInStilettos. I also share some pics on my Instagram.  This early morning sunrise over the lake is one of my favorites.
As for cooking, I have a bunch of recipes on tap for you for September that I know you are going to love. Between tailgating and game day fun, fall faves, slow cooker dishes and back to school recipes – there will be something for everyone. Plus – the holidays are just around the corner so you know if you are ever looking for the perfect recipe – you might just find it in the recipe index.  If there is something you are looking for or a twist you want to see on a favorite –why not drop me an email and who knows what we will cook up. I also have some fun giveaways on the schedule, some new features and fun to start this fall and other exciting news.
What's been going on in your world – shoot me an email or tell us in the comments!
Did you enjoy this post?
| | |
| --- | --- |
| Share the love | Get free updates |