This post is sponsored by Hebrew National.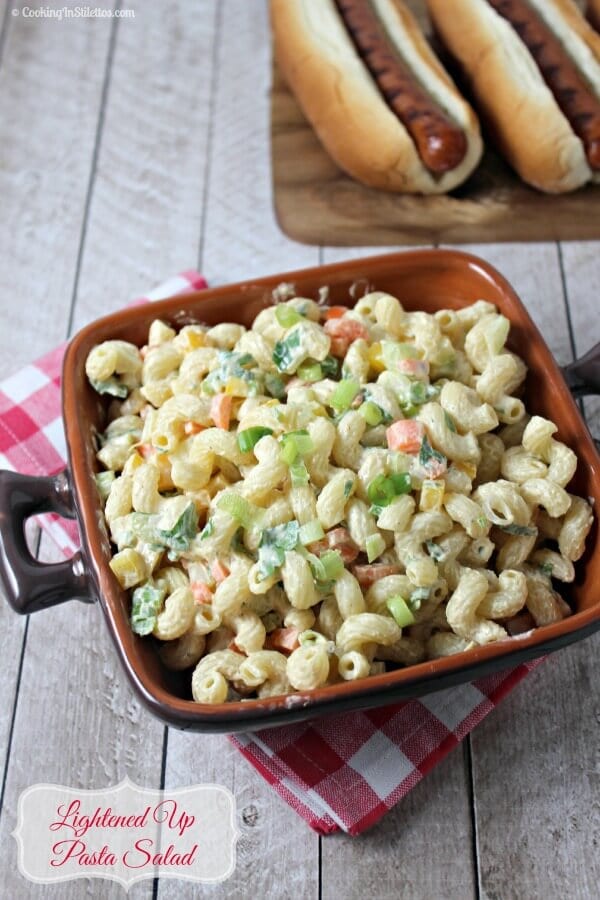 It is officially summer and there is no better way to celebrate than by firing up the grill! I am collaborating with Hebrew National this summer to show you how to bring creative spins on classic dishes and bring a little summer fun to your table.
As the first official day of summer arrived, I invited a few friends over to enjoy a casual summer evening in my lovely area of Philly. As I live in the Manayunk section of the city, city living here takes on a different meaning. Manayunk has more of a small town vibe than big city living and my complex is nestled in a corner of the city that is surrounded by hills and woods. Enjoying the views from my balcony of the lush woods behind the complex, the tall trees muffle the sounds of the busy city. We were able to enjoy some cocktails and conversation while I got my grill game on.
I thought a light and casual bite might be perfect with some perfectly grilled Hebrew National All-Beef Franks. To go with the hot dogs, I whipped up a lightened up pasta salad. Ever get those premade pasta salads at the grocery store that are just drenched in mayo? I tend to stay away from those and prefer to make my own. A few ingredients, a bit of chopping and chill time and you have a pasta salad that tastes ten times better than something that you can get premade. Added bonus – you get to customize the dressing to your tastes.
I wanted to lighten up the dressing for my pasta salad with some Greek yogurt and a bit of spicy mustard in lieu of the classic mayo packed dressing. This Lightened Up Pasta Salad was the perfect side to go with the hot dogs – creamy, packed with fresh crunchy veggies and a bit of tang from the yogurt and lemon. A touch of smoked paprika added a bit of a smoky flavor, which complemented the grilled char on the hot dogs.
Of course, the star of this evening's cookout was the Hebrew National All-Beef Franks. They are always in my pantry and I personally think they have the best flavor. I have used them for years and my guests always love them. They are a classic for a reason.
The key to summer grilling – Hebrew National Hot Dogs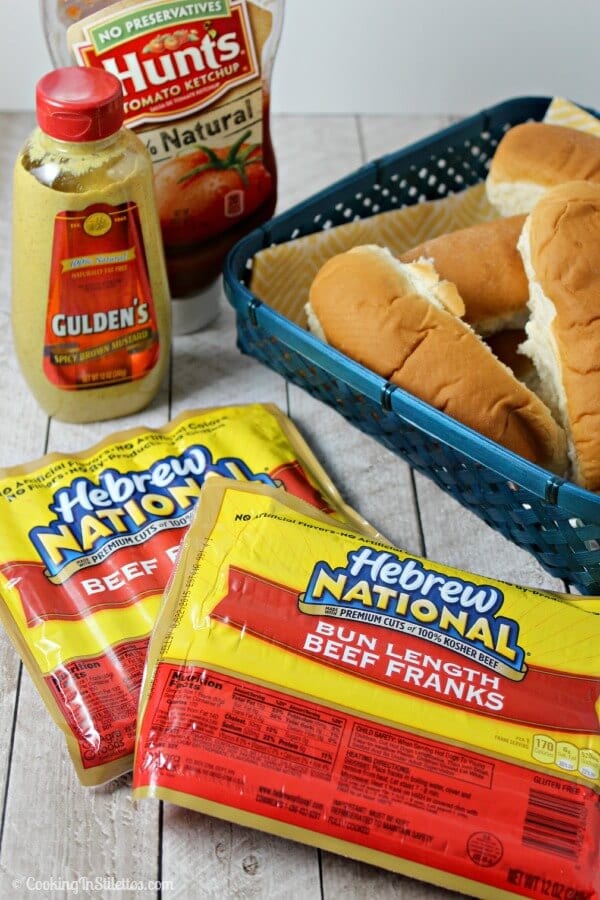 It was a perfect evening with friends thanks to summer classics – Hebrew National All-Beef Franks and some Lightened Up Pasta Salad. How did you welcome summer?
Let's make this Lightened Up Pasta Salad shall we?
Gather your ingredients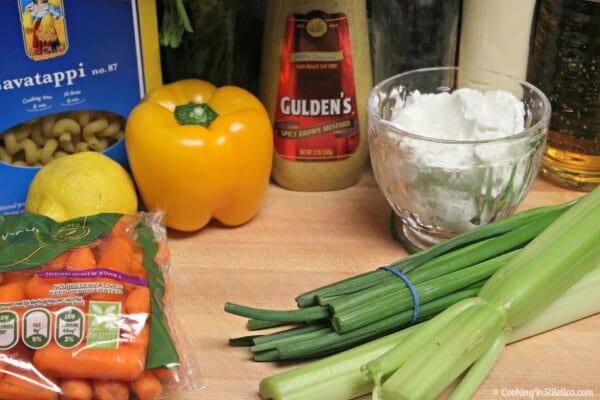 Adding a touch of sweetness to the mustardy yogurt dressing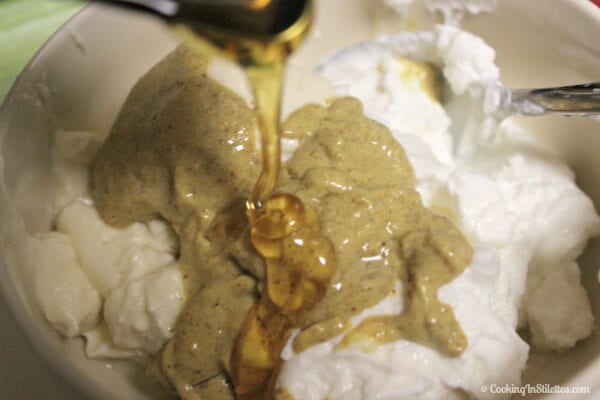 Adding the dressing – this makes a lot of pasta salad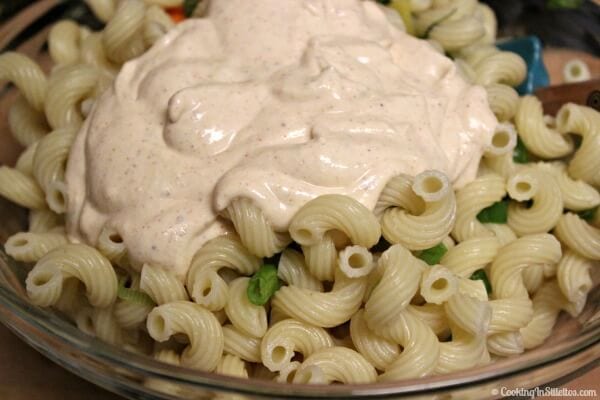 Getting some grill marks on – hot grill = perfect grill marks!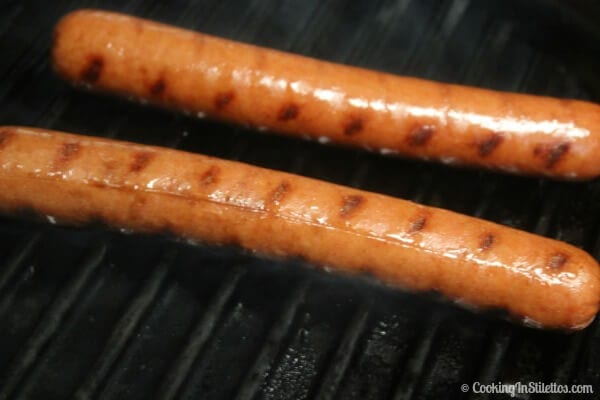 Look at those Hebrew National hot dogs all nestled in their buns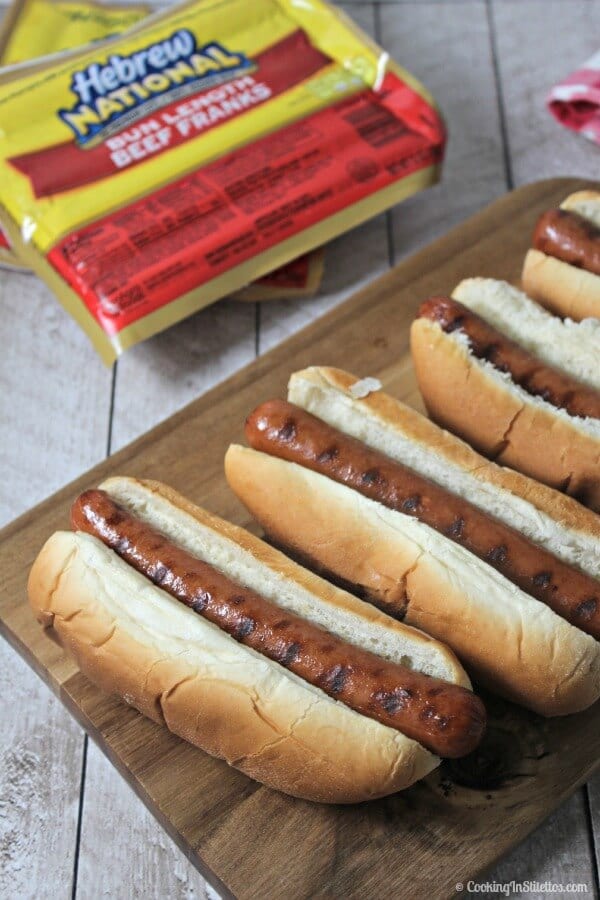 Seriously – doesn't this just make you want to have some friends over for an impromptu evening at the grill?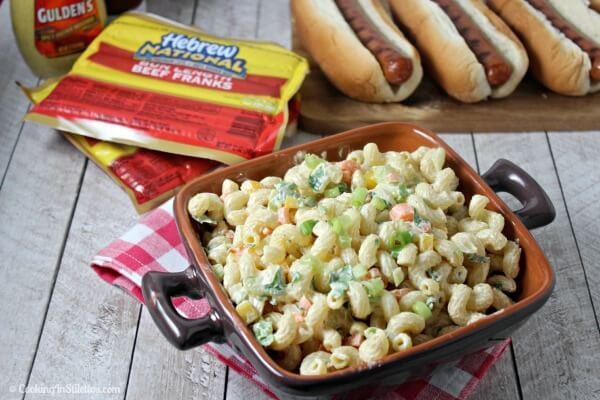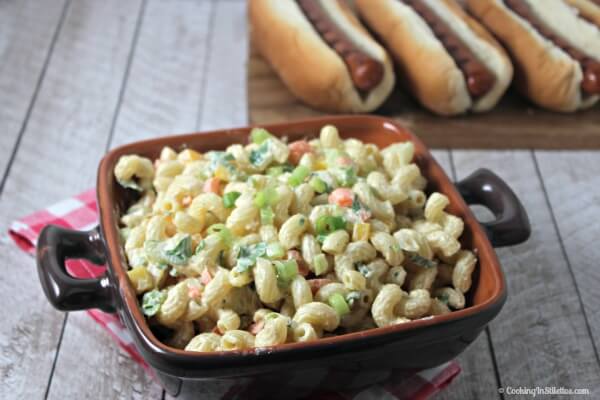 Lightened Up Pasta Salad
---
Aly M. Cleary
Yields 4
This Lightened Up Pasta Salad is perfect for your next cookout. Cavatappi pasta tossed with fresh veggies and tossed with a mustardy yogurt dressing - it will make forget about store bought.
45 minPrep Time
12 minCook Time
57 minTotal Time
Ingredients
1/2 pound of cavatappi pasta (about 2 cups of dry pasta)
2 stalks of celery, finely diced
2 green onions, both white and green parts, finely chopped
2 carrots, finely diced
1 yellow pepper, seeded and finely diced
2 tablespoons of flat leaf parsley, finely chopped

For the dressing:

3/4 cup of Greek yogurt
2 tablespoons of light mayonnaise
2 tablespoons of spicy brown mustard
1 tablespoon of apple cider vinegar
1 teaspoon of honey
Juice of half a small lemon (about 2 teaspoons)
1/2 teaspoon of smoked paprika
1/4 teaspoon of salt
1/8 teaspoon of freshly cracked black pepper
Hebrew National Hot Dogs & hot dog buns for serving
Directions
Bring a large pot of water to a boil. Add salt and the dry pasta. Cook for about 7 minutes or until the pasta is al dente. Drain, rinse the cooked pasta under cool water and set aside.
To a large bowl, add the chopped celery, green onions, carrots, yellow pepper and flat leaf parsley. Mix together.
Add the cooled and drained pasta.
In a small bowl, whisk together the Greek yogurt, light mayonnaise, spicy brown mustard, apple cider vinegar, honey, lemon juice, smoked paprika salt and pepper until everything is mixed. Taste for seasoning – if it needs a bit more salt, feel free to add.
Add half of the dressing to the cooled pasta and veggies. Toss everything together until the pasta and veggies are coated with the dressing. The cavatappi pasta has ridges that will hold onto the dressing. As you know, less is more when it comes to dressing. You can always add more if needed.
Let chill for about 30 minutes or so until your guests arrive – perfect time to get your grill fired up and throw some Hebrew National All-Beef Franks on the grill.
Serve this Lightened Up Pasta Salad with a hot off the grill Hebrew National All-Beef Frank and enjoy!
Notes
The combination of franks and these toppings may not be Kosher.
7.6.8
1018
https://cookinginstilettos.com/lightened-up-pasta-salad-recipe/
All images and content are © Cooking In Stilettos. Please do not republish without contacting us first. Thank you.
What makes a Hebrew National kosher hot dog premium? It's all about what makes the cut (and what doesn't). We're choosy about what goes into our franks – we use only premium cuts of 100% kosher beef from the front half of the cow and then choose the best from that. No artificial flavors, colors, fillers or by-products. When your hot dog is Kosher, that's a hot dog you can trust! For more summer fun with Hebrew National, visit facebook.com/ hebrewnational.
Disclosure: Compensation was provided by Hebrew National via Mode Media. The opinions expressed herein are those of the author and are not indicative of the opinions or positions of Hebrew National.
Did you enjoy this post?
| | |
| --- | --- |
| Share the love | Get free updates |