The summer is almost over and, I must confess, I'm a happy happy gal. I am looking forward to the arrival of fall (only a few days more) so I can break out some boots and cozy sweaters and, of course, play with a plethora of fall recipes that I have bookmarked and ready to go. (Hint: there's lots of apples, pumpkin and, perhaps, a bit of bourbon or rum involved). In the meantime, I have been working feverishly behind the scenes here at Cooking In Stilettos fine tuning a few things. See, while blogging can be very "plug and play", I'm the type of gal who loves to give new systems a whirl and see what works and what makes things easier for you all who visit the site. This is where I'm going to need your help.
If you have been reading Cooking In Stilettos on an RSS feed, well, the feed has moved to a new service, so, if you could do me a huge favor and update your feed to this URL: http://feeds.feedblitz.com/cookinginstilettos, I would greatly appreciate it.  It's also over to the side under the RSS symbol.
Secondly, if you get Cooking In Stilettos via email, well, that also got moved and you can resubscribe where that lovely little stiletto in the column over there —> or at the bottom of this post. As Nigella Lawson would say – Easy Peasy!
There will be some other changes but I can say that come September, there will be more recipes, more finds for Fab Fridays (oh such lovely things coming out), and a plethora of other fun things. I know I'm excited – it's like that secret that you can't tell but you REALLY want to tell but you won't because… oh let me shush.
So, let me make it up to you with a recipe that you are going to want to try. Since I already mentioned Nigella, well, let's spotlight a recipe that she would deem "Easy Peasy" –her Lemon Polenta Cake. I gave this a whirl when I was breaking in the new KitchenAid copper mixer and the the springform pan that y'all suggested. I have to give double kudos to y'all because that springform pan – well worth the investment – easy clean-up and nothing stuck – perfection! As for the new mixer, it is definitely lighter than my Jenn-Air monster, but it was so simple to whirl everything together and get it in the oven. I have no idea why I waited so long to finally add a KitchenAid to kitchen arsenal.
I changed her recipe to a Meyer Lemon Polenta Cake after seeing some lovely Meyer lemons at Whole Foods that I couldn't resist bringing home. To be honest, if I had to choose between a basic lemon and a Meyer lemon, I'd go with the Meyer lemon every time. I don't know why but I adore them. Obviously, you can use standard lemons and the cake will turn out just as fabulous. I have to be frank though – this cake is not your traditional cake, but it's rich, dense and full of lemony flavor. I served the cake with a scoop of caramel swirled frozen Greek yogurt and it was divine.
Ingredients
For the Cake:

1 3/4 sticks soft unsalted butter, plus extra for greasing the pan
1 cup superfine sugar
2 cups almond flour
3/4 cup fine polenta/cornmeal
1 1/2 teaspoons baking powder
3 eggs
Zest 2 Meyer lemons

For the Lemon Glaze:

Juice of 2 Meyer lemons
1 cup confectioners' sugar
Directions
For the Cake:

Line the base of your cake pan with parchment paper (if needed – my pan had a glass bottom) and grease its sides lightly with butter.
Preheat the oven to 350 degrees F.
In a stand mixer, beat the butter and sugar until pale.
In a large bowl, mix the almond flour, polenta and baking powder.
Add some of the dry ingredients to the mixer, combining with the butter and sugar mixture, followed by an egg. When the egg is mixed in, add some more of the dry ingredients, followed by another egg, and so on – makings sure everything is fully mixed.
Add the lemon zest to the mixture and mix for another minute or so, making sure the lemon is throughout the batter.
Pour the mixture into the prepared springform pan and bake for 40 – 45 minutes or so.
Test with a cake tester, making sure that the tester comes out clean and the edges of the cake have pulled away from the pan.
Let the cake cool on a cooling rack but do NOT take it out of the pan. Leave it in the pan to cool.

For the Lemon Glaze:

In a small sauce pan, combine the lemon juice and the confectioners' sugar and bring to a boil. Once the sugar has dissolved in the juice, you are done.

Assembling the Cake:

Prick the cake all over with the cake tester (Nigella warns that a skewer would be too destructive).
Pour the warm lemon glaze all over the cake and let the cake absorb the lemon syrup.
Let the cake cool before removing it from the pan.
Enjoy!
Notes
Recipe slightly adapted from Nigella Lawson
7.6.7
726
https://cookinginstilettos.com/meyer-lemon-polenta-cake/
All images and content are © Cooking In Stilettos. Please do not republish without contacting us first. Thank you.
Gather Your Ingredients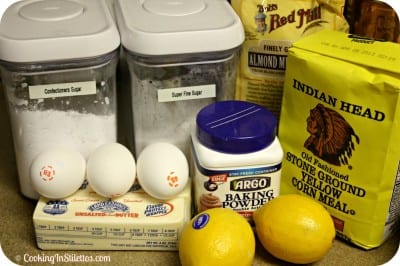 Combining the Dry Ingredients
I adore Meyer lemons – one of my favorite ingredients!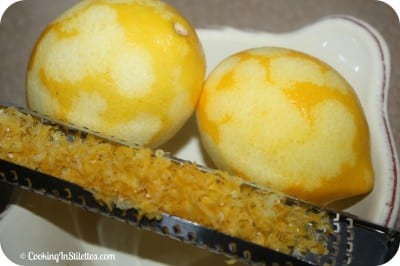 Time to Cool (see the little cake tester to the left – adorable!)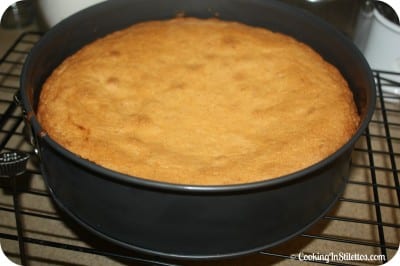 Gather the Ingredients for the Syrup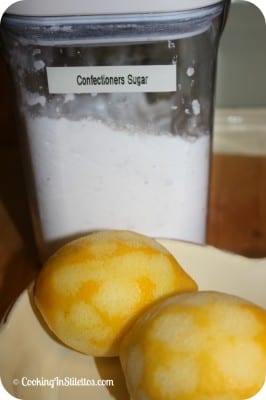 I normally use this Giada de Laurentiis saucepan for very small things, like melting butter, making simple syrup or honey syrup for pancakes, but it was perfect for making this lemon glaze.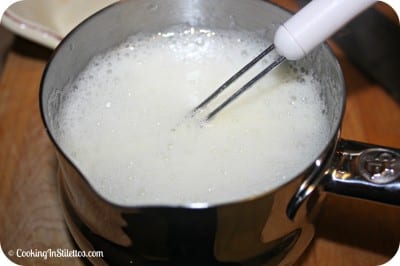 Poking the Cake Followed by Soaking The Cake
The End Result: Meyer Lemon Polenta Cake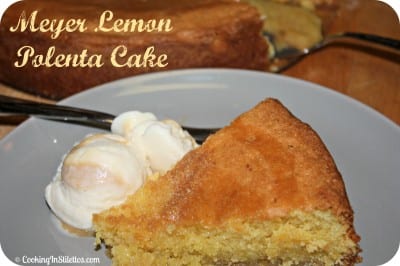 [FTC Disclosure: This post contains affiliate links which helps offset the cost of hosting and maintaining this site. However, as always, my opinions are 100% my own]
Did you enjoy this post?
| | |
| --- | --- |
| Share the love | Get free updates |