Who knew there was actually a COOKBOOK from the infamous Southfork Ranch? Not me – until I happened to stumble upon a copy of The Southfork Ranch Cookbook
. This cookbook has some intriguing recipes such as Southern Baked Macaroni and Cheese, Texican Chicken, Barbequed Pineapple Spareribs, Smothered Steak and Mushrooms, and Crunchy Topped Apple Pie.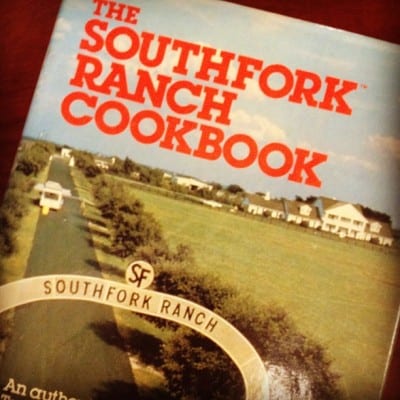 Many of the recipes use canned ingredients or are very "casserole-y" – probably because the book is from 1982. There are aspics and meringues and recipes that call for a can of tomato juice (I really need to find a good substitute because I cannot even smell tomato juice without getting nauseous. Something left over from childhood I guess.) The recipes remind me of ones that I have seen in my Bampa's cookbook – no pictures, except a few illustrations here and there but you can tell the book has been loved and used often.
So, I think in addition to spotlighting recipes from various Texas cookbooks that have crossed my path every week, I might take Miss Ellie's Kitchen a bit retro. So, next week, I'll have a doozy of a recipe ready for you.
Did you watch last week's episode of Dallas? Who are you rooting for – John Ross or J.R. –personally, my money's on J.R. but there was way too much drama in those two hours. Here's a little memory lane flashback with the one and only J.R. spelling out "J.R.'s Golden Rules"  I really would never want to cross him.