This is a Sponsored post written by me on behalf of P.F. Chang's for SocialSpark. All opinions are 100% mine.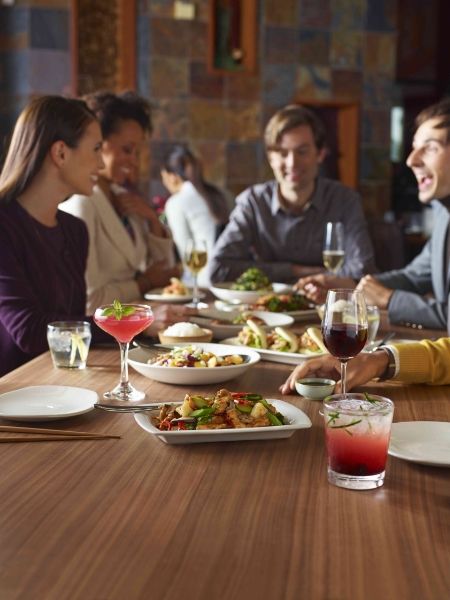 Lately, I've found myself in a bit of a rut – a crazed schedule means that I call for takeout more often than I'd like.  You know things are bad when you order from the same few places here in Manayunk and the pug thinks that it's okay to try to leave with the delivery guy because – well – he knows him!  (Yes – that really happened).  We tend to go to the same restos during takeout nights – the same pizza/burger joint, the same Asian food spot, and so on…
This week, when I was picking up a couple things after work and remembered that P.F. Chang's was nearby at the Plymouth Meeting Mall.  Added bonus – not only could I get takeout, but they also curbside pickup.  Now this – this is the way you do takeout my friends.
P.F. Chang's was one of my favorite spots to visit when I lived in Orlando.  The food was always top notch and the cocktails – oh my heavens – the cocktails.  Needless to say, my friends and I loved that place.  However, not many of my crew here in town tend to head past Main Street in Manayunk and there are some fabulous places outside the Philadelphia borders.
I decided to order a few dishes from their Winter Seasonal Menu and my heavens – I'm going to be adding P.F. Chang's to the tried and true takeout file (as well as the perfect spot for friends when they do decide to cross the Manayunk Main Street border.) Everything was hot, perfectly packaged and they even thought of the little things like chili sauce and chopsticks!
Check out P.F. Chang's new items on the Winter Seasonal Menu:
Orange Ginger Beet Salad

—Sliced red and gold beets mixed with fresh oranges and tossed with honey-ginger dressing, finished with crumbled goat cheese, candied walnuts and daikon sprouts. (Wine Pairing: Frog's Leap Sauvignon Blanc)
Shanghai Waldorf Salad—Fresh chopped kale, endive, radicchio, crisp apples, grapes, celery, grape tomatoes and candied walnuts tossed in a light miso-lime vinaigrette. (Wine Pairing: Estancia Pinot Grigio)
Chili Shrimp Bao—Asian-inspired "sliders." Warm, pillowy bao buns filled with Bibb lettuce, chili-marinated shrimp, pickled daikon, carrots and cucumber topped with tamarind-chili sauce. (Wine Pairing: Mer Soleil "Silver" Chardonnay)
Firecracker Chicken—Savory and spicy hoisin-glazed chicken breast, wok-fired with pineapple, Chinese broccoli, Asian mushrooms, Fresno peppers and dried chilies. (Wine Pairing: S.A. Prum "Essence" Riesling)
Red Wine and Pepper Braised Beef—Red wine and black pepper sauce wok-tossed with marinated flank steak, sliced potatoes, broccolini, Napa cabbage, grape tomatoes and Fresno peppers. (Wine Pairing: Alamos Malbec)
Miso Glazed Salmon—Broiled and served with grilled baby bok choy and cool julienne daikon radish in a warm savory broth. (Wine Pairing: Tozai "Living Jewel" Junmai Sake)
P.F. Chang's also has new desserts that will make you swoon:
Chocolate Raspberry Wontons

—Handmade, crispy wontons with a creamy chocolate-raspberry filling, dusted with powdered sugar, served with chocolate and raspberry sauces, fresh raspberries and mint.
Sweet Vanilla Cream Wontons—Handmade, warm and crispy wontons filled with vanilla cream cheese, dusted with powdered sugar, served with vanilla and raspberry sauces and fresh mint.
And we can't forget the cocktails – check out P.F. Chang's new cocktail additions:
Crimson Spritzer—Plymouth Gin and Luxardo Cherry Liqueur with marasca cherries, fresh lime juice and muddled kaffir lime leaves, topped with Mumm Napa Brut.
Red Goose Martini—Grey Goose Vodka shaken with POM Wonderful pomegranate juice, Thai basil leaves, fresh ginger and lime juice.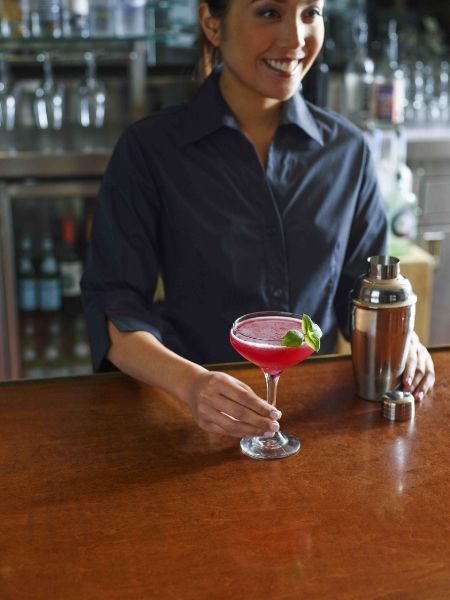 In addition to a long time fave,  Honey Chicken, we also had the Red Wine and Pepper Braised Beef and the Chili Shrimp Bao.  (Sidenote – do you think the chef will share the recipe for the Red Wine Braised Beef – divine!)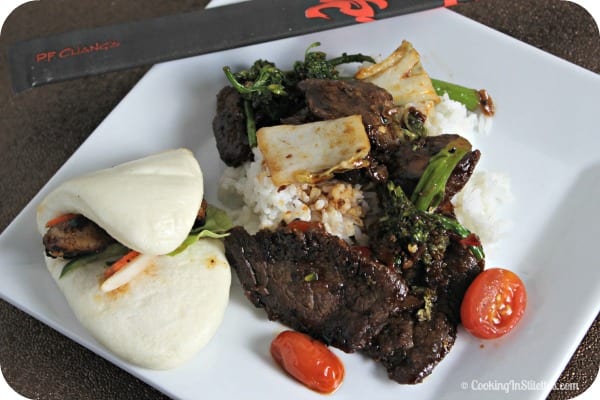 To end the evening, I also took home some of the dessert wontons and they were absolutely to.die.for.  Granted I'm no pastry chef but I tried to make the plates look a bit dressed up.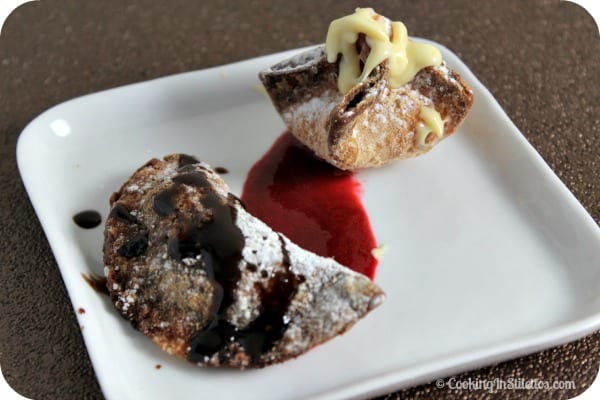 P.F. Chang's is offering $10 off $40 for your next night out.  Visit pfchangs.com/winter and get your coupon.  Remember – much like winter, it is only up for a limited time so plan that night out and remember – save room for dessert (wontons).
What items off this menu are you excited to try?
Follow @pfchangs | Follow P.F. Chang's on Pinterest