Welcome to the second annual Brunch Week hosted by Terri of Love and Confections and Susan of The Girl In The Little Red Kitchen! Join us May 5th through 10th while we celebrate the deliciousness of brunch and to prepare for Mother's Day and summer brunching season. We have 32 bloggers bringing you their best brunch game, from cocktails to eggs benedict to donuts, there is something for everyone this week. Our amazing sponsors have donated some great prizes for a gigantic giveaway, so make sure to enter!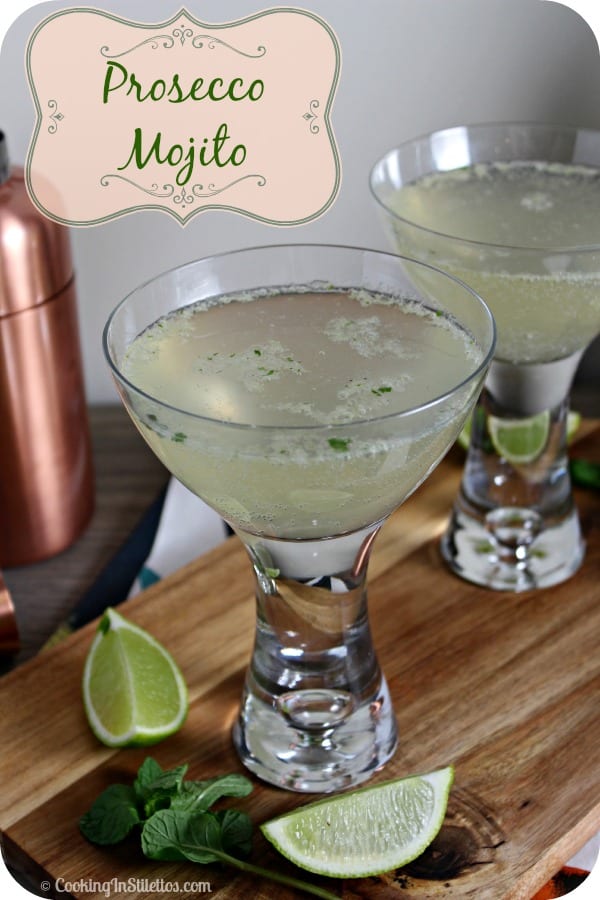 It's hard to believe that it's the end of another Brunch Week – first of all, many thanks to Terri and Susan for organizing everything and a another round of thanks to some of the best bloggers out there who participated.  I was so thrilled to discover new blogs as well as work with blogs that I have enjoyed for some time.  I always say that the food blogging community is an amazing one – full of talented people with hearts of gold and a common love of food and I'm honored to have been included in this year's Brunch Week fun.  So – with that – let's raise our glasses and toast the organizers who kept our rowdy bunch in line, were there with recipe advice, inspiration and encouragement and, I need to say this – if these two ladies ran the world, I'd be cool with that – they are that awesome!
One important thing to any brunch is a fabulous brunch cocktail and as many of us are headed to all points Miami next week for Blogher Food, a mojito had to be made.   I have been wanting to play with a champagne type mojito for a while and, after a couple tries, this Prosecco Mojito is a tried and true.  It's refreshing and full of classic mojito flavors but with a bit of a twist.  There's something magical about the combination of lime and mint that brings memories of warm beaches, fun times and friends.  Add to that the familiar *pop* of the prosecco bottle, and you know a party is in the making!
When you want to make a brunch cocktail that will wow the crowds – this is the winner!
On to the recipe:
Gather your ingredients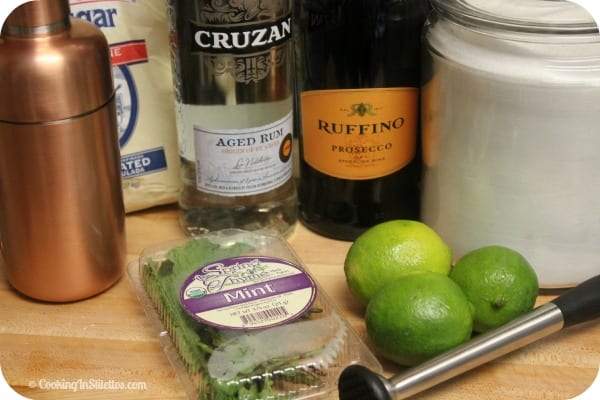 Muddling the mint, lime and sugar with a couple ice cubes to hasten the muddle action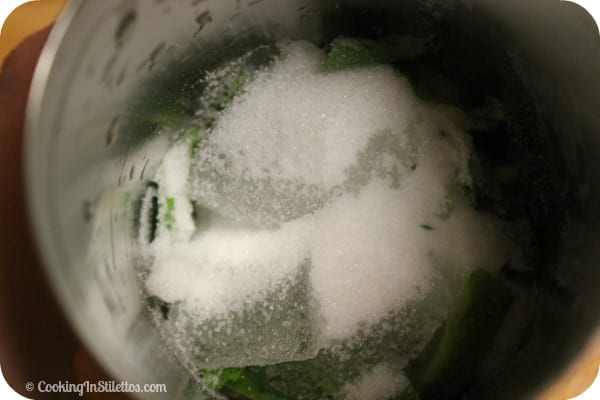 First the mojito and then the prosecco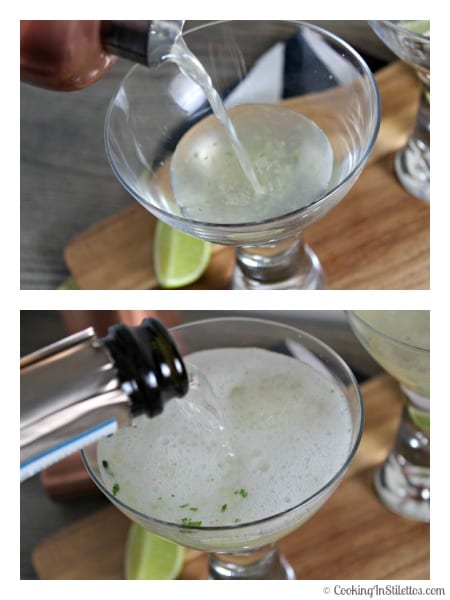 Now – doesn't that look refreshing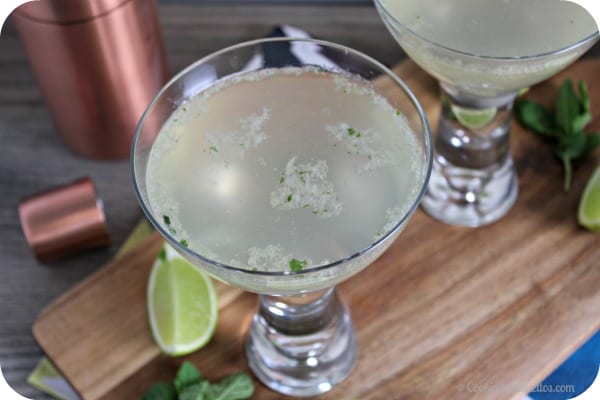 Wanna sip?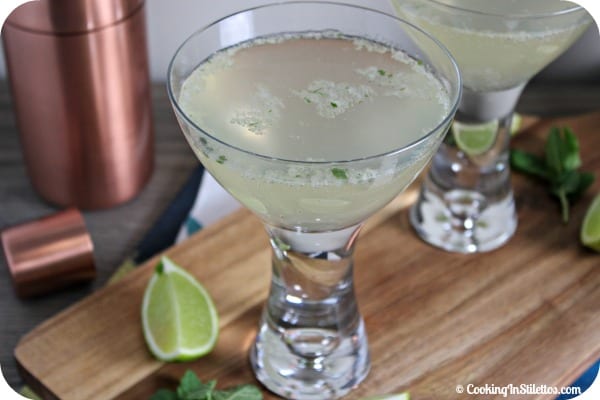 Prosecco Mojito
---
Slightly adapted from Bobby Flay
Yields 4
Who doesn't love a good mojito - what about one with a bit of bubbly sparkle thanks to a touch of prosecco - even better, right?
5 minPrep Time
5 minTotal Time
Ingredients
A few ice cubes for muddling
1/3 cup of mint, loosely packed
1 1/2 limes, cut into quarters
2 tablespoons of sugar
1 cup of silver rum
1 bottle of prosecco
Mint for garnish
Directions
In a cocktail shaker or pitcher, muddle the mint, limes and sugar with a couple of ice cubes.
Mix vigorously and then pour in the rum.
Stir or shake and pour into glasses.
Top off with a bit of the prosecco.
Garnish with a bit of mint, if desired and serve immediately.
Enjoy!
7.6.8
942
https://cookinginstilettos.com/prosecco-mojito/
All images and content are © Cooking In Stilettos. Please do not republish without contacting us first. Thank you.
Let's see what some of my favorite bloggers brought to the virtual brunch table:
Brunch Beverages:
Brunch Breads, Grains and Pastry:
Brunch Fruits, Vegetable and Sides:
Brunch Desserts:
SO – now that you've seen what everyone brought to our last day of #BrunchWeek, I have to ask – have you entered the giveaway yet? Click HERE to scope out the Brunch Week prizes and enter!
A huge thank you to all our amazing #BrunchWeek sponsors. Please follow these lovely folks on their social media sites:
Whole Foods Market Orlando Faceboook, Twitter,
Pinterest
, Instagram,
Disclosure: Many thanks to Brands above – while I was not compensated for these recipes for #BrunchWeek, I did receive some of their products to play in the kitchen with, like the OXO Cocktail Muddler and Imperial Sugar in the photo above. As you know, I don't use anything or recommend anything I don't personally adore.
Did you enjoy this post?
| | |
| --- | --- |
| Share the love | Get free updates |