This is a sponsored post written by me on behalf of Pompeian Grapeseed Oil Spray.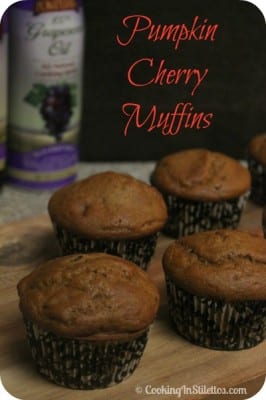 A few years ago, I attended a cooking demo held by Chef Robert Irvine and there was one point he hammered home – "Grapeseed oil is a chef's best friend – use it and love it!" In discussions with him later on, he stressed how my cooking would vastly improve if I added it to my pantry due to it's high smoke point, neutral flavor and how I'd love it way more than the standard oil I used. I have learned over the years that when Chef Robert talks, we should listen and the man was right – my cooking did fare well when I used it in dishes. Don't get me wrong, I use canola oil too because I used to buy the fancy schmancy grapeseed oil at some culinary stores or at Whole Paychex which would cost me an arm and a leg. Therefore, I would use it on certain dishes and would keep it in one of those spray pumps to lightly mist pans. My wallet had me on lockdown.
Recently, I heard that Pompeian had a grapeseed oil spray on the market and my ears perked up. I then discovered that I could get a decent size bottle of grapeseed oil for my pantry at over 50% less than what I was paying at the other stores for a much smaller bottle and let me tell you, my wallet did a happy dance.
One thing I never thought about was baking with grapeseed oil so when Pompeian had a chance for me to play with these new products, I couldn't resist a challenge. I decided to go a bit healthy and whip up my version of  a favorite Cooking Light recipe, Pumpkin Cherry Muffins, and I not only added grapeseed oil to the mix, but also used the spray to lightly mist the muffin cups.
Now, while I do use non-stick bakeware, I have found that sometimes you need a good bake spray to help everything along. I have ruined more than one pan and with my new bakeware, I was not taking any chances. This baking spray was beyond amazing. Not only is it all natural but there are no propellants for the spray making it eco-friendly too. (Hey – I'm still suffering from massive guilt from my aquanet high hair days okay – any chance I can to minimize aerosol damage, I'm all for.)
I'm happy to report nothing stuck, the muffins were moist and full of flavor, perfect with morning coffee or an evening cup of tea, and I'm now plotting on other ways to add grapeseed oil to the mix.
Whip up a batch of these scrumptious muffins for your next weekend brunch or make a batch and freeze some for another day.
On to the recipe:
Gather your ingredients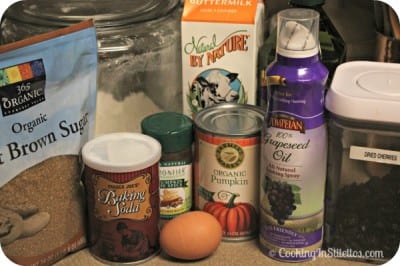 Getting the dry mix together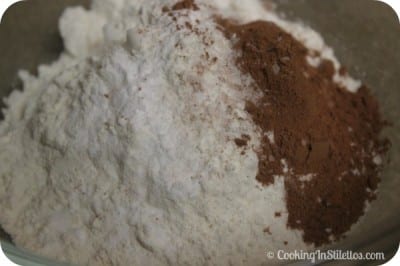 Adding the Grapeseed Oil to the wet ingredients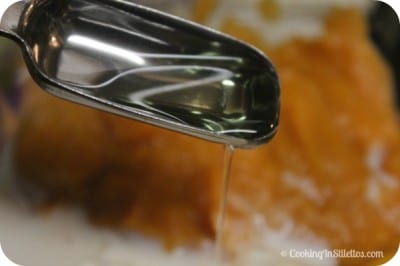 Love love LOVE this stuff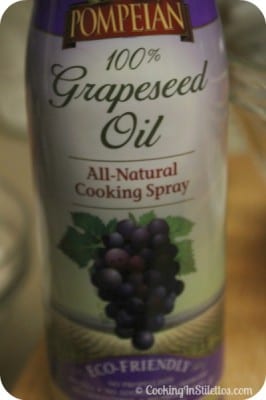 My trick for keeping dried cherries from sinking in the batter – dusting them lightly with flour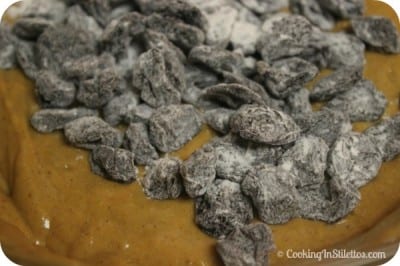 All hot and toasty out of the oven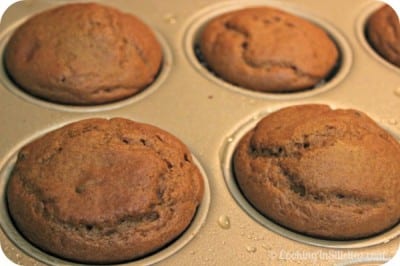 Now – don't you want one?
Ingredients
1 1/2 cups of all-purpose flour
1 teaspoon of baking soda
1/2 teaspoon of baking powder
2 teaspoons of pumpkin pie spice
1/4 teaspoon of kosher salt
1 1/4 cup of brown sugar
1 cup of canned pumpkin
1/2 cup of low-fat buttermilk
2 tablespoons of grapeseed oil
1 large egg
1/2 – 3/4 cup of dried cherries (depends on how fruity you want it)
Grapeseed oil cooking spray
Directions
Preheat oven to 375°.
Place 12 paper muffin cup liners in a muffin pan and coat with the grapeseed oil cooking spray. Set aside.
Combine the flour, baking soda, baking powder, pumpkin pie spice and salt into a bowl. Whisk everything together.
In a large bowl, combine the brown sugar, pumpkin, buttermilk, grapeseed oil, and egg together and mix with a hand mixer until well blended.
Slowly add the flour mixture to to the wet ingredients and beat on low until everything is combined.
Fold in the dried cherries.
Spoon or scoop the batter into the muffin cups.
Bake for 25 – 30 minutes or so, until a toothpick inserted in center comes back clean (or they spring back when lightly touched in the center).
Remove muffins from the pan and let cool on a wire rack.
Enjoy!
Notes
Adapted from Cooking Light
7.6.4
836
https://cookinginstilettos.com/pumpkin-cherry-muffins/
All images and content are © Cooking In Stilettos. Please do not republish without contacting us first. Thank you.
Pompeian is having a #Bake4Better challenge and you can play along. From November 4 – December 6, you can enter the Challenge by following @Pompeian on Instagram, upload a photo to Instagram showing how you are giving your favorite baking recipes a healthier twist with Grapeseed Oil Spray. Make sure to use the #Bake4Better hashtag and tag @Pompeian.
Now – here's the fun part – the person who is the most innovative photo taker will be decided by Chef Duff Goldman (who has some really decent baking tips), receive a $5,000 donation to their local food bank and get a Pompeian gift basket to continue their baking adventures.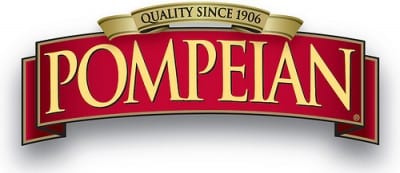 For the Baking for Better official rules, please visit http://www.pompeian.com/bakebetter. Coupons for Pompeian products can be found at http://www.pompeian.com.
This is a sponsored post written by me on behalf of Pompeian Grapeseed Oil Spray.
Did you enjoy this post?
| | |
| --- | --- |
| Share the love | Get free updates |