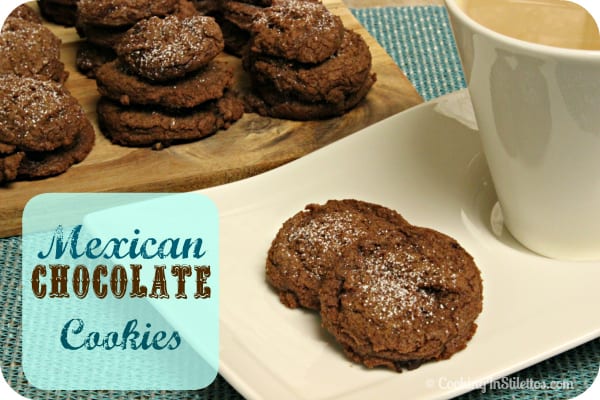 One of my favorite cookies ever is these Mexican Chocolate Cookies. However, the recipe and photo was in dire need of some severe updating. When perusing recipe ideas for this month's Leftovers Club, I knew that these needed to be featured – rich, chocolatey and with a kick from the cayenne and black pepper – well, let's just say that I was asked to make a second batch because these cookies go quick. Thankfully, right after photographing these lovelies, I boxed up a bunch of them and they were sent on their merry way to Florida to one of my new favorite bloggers, Shaina of Take a Bite Out of Boca!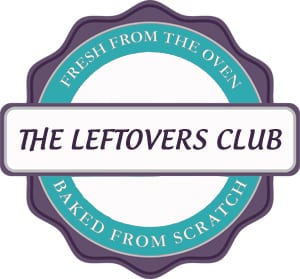 Shaina's blog is a must read daily – full of wit, sass and a ton of delicious inspiration. She's followed her passion and is now one of the sous chefs in the Publix Aprons Cooking School in South Florida. Shaina also has ties to the Philly area as she's originally from Jersey and relocated to South Florida. Trust me – if you want the best restaurant recommendations or some fabulous recipes like her Homemade Peach Guacamole, Biscoff White Chocolate Chip Cookies, Chocolate Cherry Muffins and this divine sounding Apple Ginger Smoothie. You need to bookmark her blog and check it out regularly – it's that good!
Make sure to save this recipe as well because these cookies are going to be a tried and true in your house if you like a bit of spice in your chocolate. Just don't get mad at me when you are asked to make extra batches 😉
On to the recipe:
Gather Your Ingredients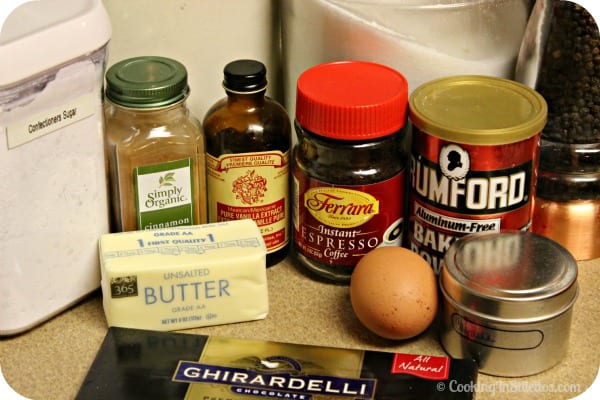 The spices and the flour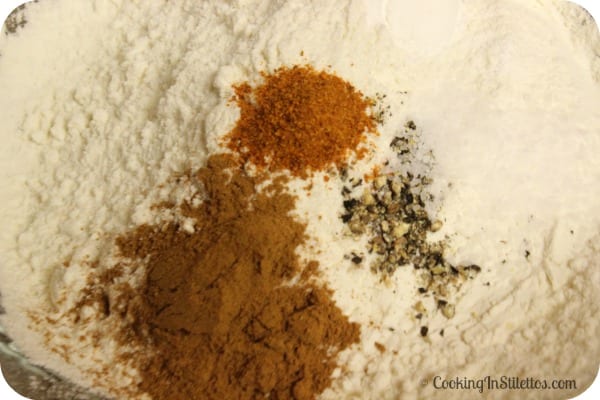 Time to bake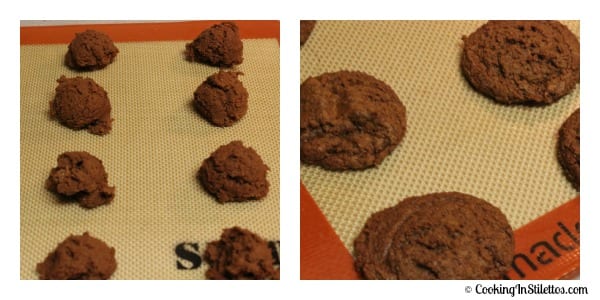 Letting them cool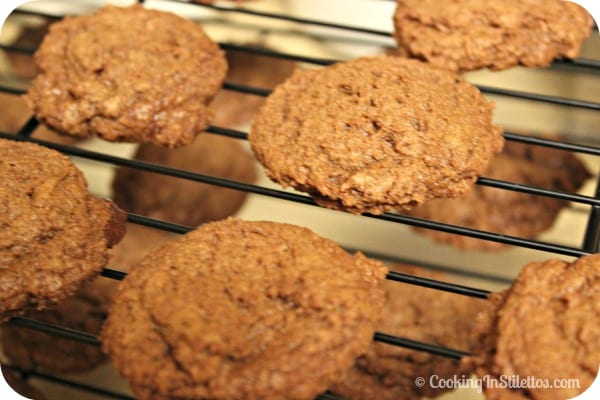 Now, don't you want one?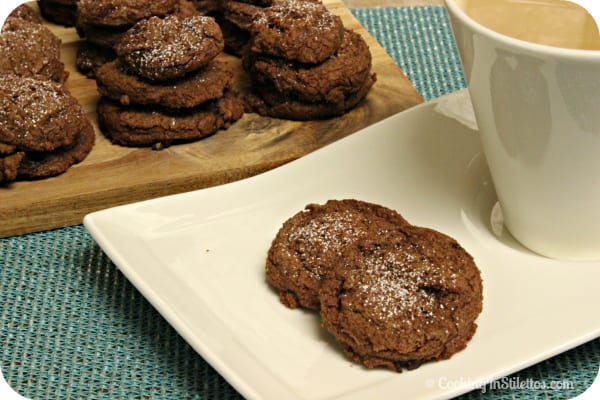 Mexican Chocolate Cookies
---
Slightly adapted from Cooking Light.
Yields 36
These Mexican Chocolate Cookies are a favorite - chocolate sweetness mixed with a bit of cinnamon and spice - I dare you to have just one!
20 minPrep Time
15 minCook Time
35 minTotal Time
Ingredients
5 oz. bittersweet (70% cacao) chocolate, coarsely chopped
1 teaspoon of cooled espresso or strong coffee
1 1/4 cups sugar
1/4 cup butter, softened
1 large egg
1 teaspoon of Mexican vanilla
3/4 cup of all purpose flour
1/2 teaspoon of ground cinnamon
1/4 teaspoon of baking powder
1/4 teaspoon of kosher salt
1/8 teaspoon of black pepper
1/8 teaspoon of cayenne pepper
1 teaspoon of Powdered Sugar
Directions
Preheat oven to 350 degrees F.
In a small glass bowl, melt the chocolate in the microwave on high for 1 minute until almost melted. Stir until smooth.
Add cooled espresso/coffee to the chocolate and cool to room temperature.
In a mixer, cream the butter and sugar together on medium speed until light and fluffy.
Add the egg and mix until blended.
Add the cooled chocolate and vanilla and mix until fully blended.Scrape down the sides of the bowl with a spatula.
In a separate bowl, combine the flour, cinnamon, baking powder, salt, black pepper & cayenne pepper. Whisk well.
Gradually add the flour mixture to the chocolate mixture and beat until just blended.
Using a small cookie scoop or tablespoons, drop the dough on baking sheets lined with parchment paper or a silpat.
Bake for 10 minutes or until almost set.
Let cool on the baking sheets for two minutes, then remove to cooling racks.
Let cool fully.
Dust with powdered sugar and enjoy!
7.6.8
894
https://cookinginstilettos.com/recipe-redo-mexican-chocolate-cookies/
All images and content are © Cooking In Stilettos. Please do not republish without contacting us first. Thank you.
Check out what confections my fellow Leftovers Club bloggers made and shared!
[The Recipe Redo Series is when I take one of my earlier posts here at Cooking In Stilettos, redo the recipe with new pictures and add any tips I've learned along the way. This Tried & True originally appeared back in December of 2009: Mexican Chocolate Cookies. Promise not to laugh at the beyond horrid photo please.]
link
Did you enjoy this post?
| | |
| --- | --- |
| Share the love | Get free updates |