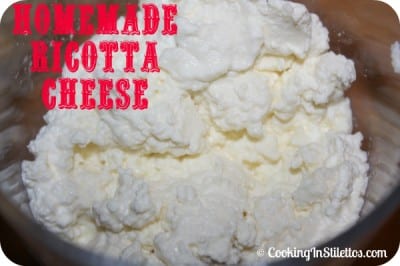 Recently, the Secret Recipe Club had a bit of a transition – our beloved founder, Amanda, turned over the club reigns to April and, with the change, some groups got a bit of a shuffle.  I have moved my stilettos to Group "A" and my fearless group leader, Jane, assigned me Parsley, Sage and Sweet for my October Secret Recipe Club assignment.
Lisa is the gal behind "Parsley, Sage & Sweet – A Food Blournal" and I can't tell you how much her blog inspired me to really start thinking "out of the box". The more I learn about food and the effect of various processed ingredients, the more I am inclined to attempt to make things from scratch.  Not to mention, her recipes are top notch.  I have a bit of a "culinary bucket list" of sorts and, one of the recipes on it is Homemade Ricotta Cheese.  So, when I saw Lisa had a recipe for it, I knew I had to try it. Now, in full disclosure mode, I was very tempted to make some of her pumpkin recipes, like her Pumpkin Gnocci with Creamy Mushrooms or her Jumbo Cheesecake Stuffed Pumpkin Muffins with Toffee Streusel but I decided that I was going to dig in my stilettos and finally tackle making Ricotta Cheese.  My pumpkin obsession could wait.
Lisa's recipe did not disappoint. It was rich and creamy with a bit of a tang from the lemon juice and all of this lusciousness came from only four ingredients – milk, cream, lemon and salt. That's it! As I was going to be using it in a future recipe, I put it in the fridge for a spell to develop the flavors. I have to warn you – it takes a lot of milk to produce about a little over a cup of ricotta and you are going to need to employ some patience. It seemed like it took forever for the milk and cream mixture to come to a boil but, the end result was well worth the wait. Now, I always tend to employ the Barefoot Contessa mantra of buy the best ingredients and, when you are using something with only a few ingredients, this really comes into play.
So – when you are in a DIY mood, make this ricotta! You don't have to tell everyone how easy it really is. Many thanks to Lisa for inspiring me to finally make a recipe that I have wanted to make for years.
Have you ever made cheese from scratch? What's your favorite foodie DIY?
Now, on to the recipe:
Gather the Ingredients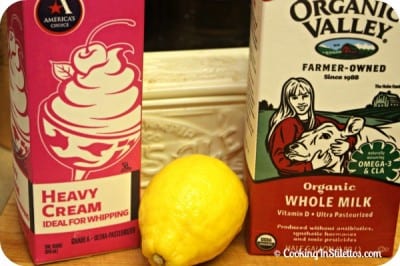 Set aside your tools: a large mixing bowl, a mesh strainer and some cheesecloth. (I wound up switching out the colander after I realized that I needed "bowl room."  A mesh strainer worked perfectly!)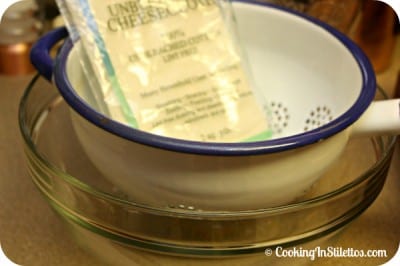 The magic ingredient that turns milk to cheese: lemon juice (definitely go with fresh lemon juice)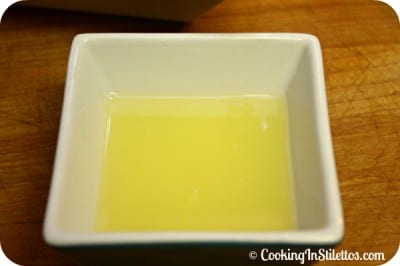 Time to add the lemon juice to the milk mixture and…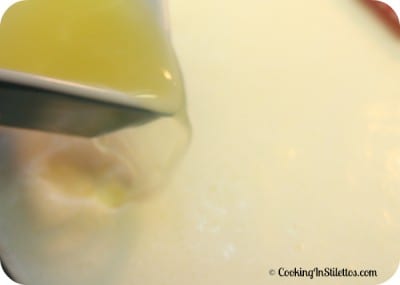 Watch the curds begin to form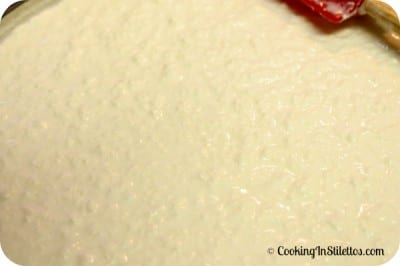 Time to ladle the mixture into the strainer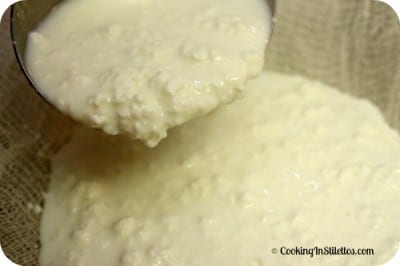 End result: luscious creamy homemade ricotta
Ingredients
8 cups of whole milk (preferably organic)
1 cup of heavy cream
Juice from 1 lemon (about 3 tablespoons)
1 1/8 teaspoon of kosher salt
Directions
In a large saucepan, add the milk, cream and salt and bring to a boil over medium heat, make sure to stir so that it doesn't burn.
While the milk mixture is coming to a boil, place a strainer over a large mixing bowl and line with cheesecloth. Set aside.
When the milk mixture comes to a slight boil, add the lemon juice, turn the heat to a slight simmer and continue to stir for a couple of minutes as the curds begin to form.
Pour or ladle the curds and whey into the strainer and allow the mixture to drain for an hour or two, until the liquid is gone and you are left with a creamy ricotta cheese mixture.
Taste for seasonings and add more salt if needed.
Discard the whey (if you don't have another use for it) and you can either refrigerate the ricotta cheese mixture or use immediately.
Enjoy!
Notes
Recipe slightly adapted from Parsley, Sage & Sweet
7.6.4
811
https://cookinginstilettos.com/secret-recipe-club-homemade-ricotta/
All images and content are © Cooking In Stilettos. Please do not republish without contacting us first. Thank you.
Did you enjoy this post?
| | |
| --- | --- |
| Share the love | Get free updates |