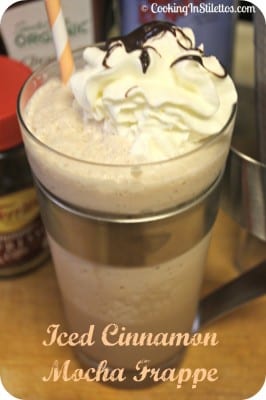 It's the beginning of the month and you know what that means – it's time for Secret Recipe Club!  This month is going to be crazed with holiday prep, projects galore and you know those days when you just need a little somethin' for yourself but don't want to break the bank?  Well – this month's recipe for Secret Recipe Club has you covered.
When I got my assignment this month to make a recipe from This Chick Cooks, I was thrilled.  Katie did a fabulous job on making my favorite Mexican Chocolate Pudding – one of my favorite comfort desserts – last month so I knew I was in for a serious treat.  I really loved her changes to the recipe and will be implementing arrowroot for cornstarch whenever I can now.  Katie's recipes are focused on a more healthy way of eating and avoiding the processed ingredients such as white flour, white sugar and, definitely, no high fructose corn syrup – something I've become more aware of lately.
She had so many delicious recipes that it was tough to narrow down to just one.  When I saw her more healthy take on a "Starhell" iced coffee concoction, an Iced Frappe Mocha, I couldn't resist. My friends, family and coworkers know that when it comes to coffee, I like mine iced, preferably, and can't make a decent cup to save my life (which I'm hoping the new Keurig will change).  I rarely order the frozen confections at Starhell, preferring an iced coffee, but my bank will testify to my adoration of that place.  When I do have days where I'm on the warpath, I reach for a mocha and add a touch of cinnamon.  I love the warmth of the cinnamon mixed with the chocolate and this iced cinnamon mocha frappe was perfect for a crazed morning where I needed 5 minutes of "me" time.  I changed it a bit with using instant espresso, which I always keep in the pantry for chocolate recipes, used reduced fat milk and added a bit more ice.  This was so simple to whip up in the Vitamix – just make sure that your blender can handle some serious ice crushing action.  I have to say – I really enjoyed this recipe and will be making it again – perhaps with a hint of Cruzan or Tequila for those evenings when a bit of spirit is warranted.
The recipes from This Chick Cooks recipes are top notch.  Some recipes  of hers that hit my radar are her Pumpkin Pie Smoothie (yes, you read that right – pumpkin pie in a SMOOTHIE), her cold brewed iced coffee (which I will be definitely trying), lemon blueberry pound cake with a lemon glaze (perfect for Meyer Lemon season – bookmark it) and her potato corn chowder, perfect for chilly nights.  Seriously – her website should be on your must read daily list.
Not a member of the Secret Recipe Club but want to join?  Get on the list by visiting SecretRecipeClub.com and April and the wonderful girls over there will hook you up.  It's really one of those emails I look forward to getting every month.
Many thanks to both Katie and the Secret Recipe Club for a fabulous assignment this month.
Gather the ingredients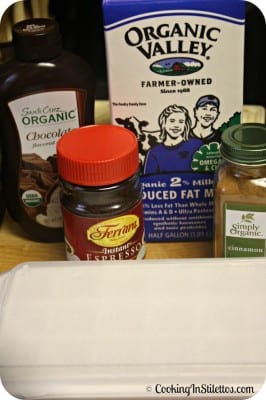 Instant Espresso – Even I couldn't muck this up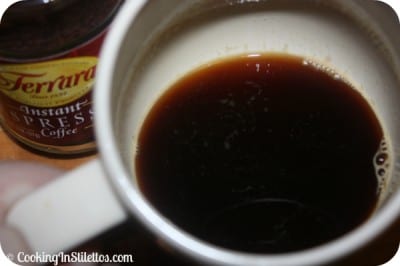 The path to blending

Iced Cinnamon Mocha Frappe
---
Ingredients
1 teaspoon instant espresso
1/3 cup boiling water
1 cup of milk (I used reduced fat)
1 1/2 cups of ice cubes
5 to 6 teaspoons chocolate syrup, depending on how chocolatey you like it
1/8 teaspoon cinnamon
Whipped Cream and additional Syrup for topping.
Directions
Combine the instant espresso and boiling water in a bowl. Set in the fridge (or even freezer) to chill for a bit.
In a blender, add the ice cubes, milk, chocolate syrup, cinnamon and chilled espresso mixture.
Mix for about 5 minutes or until all the ingredients are fully incorporated and it resembles a thick milkshake.
Top with a bit of whipped cream and a drizzle of chocolate syrup, add a straw and take 5 minutes for yourself to enjoy this frothy coffee concoction.
Notes

Slightly adapted from ThisChickCooks.net

7.6.7

806

https://cookinginstilettos.com/secret-recipe-club-iced-cinnamon-mocha-frappe/

All images and content are © Cooking In Stilettos. Please do not republish without contacting us first. Thank you.
What is your favorite coffee shop drink?