I am a member of the Collective Bias® Social Fabric® Community. This shop has been compensated as part of a social shopper amplification for #CollectiveBias and its advertiser.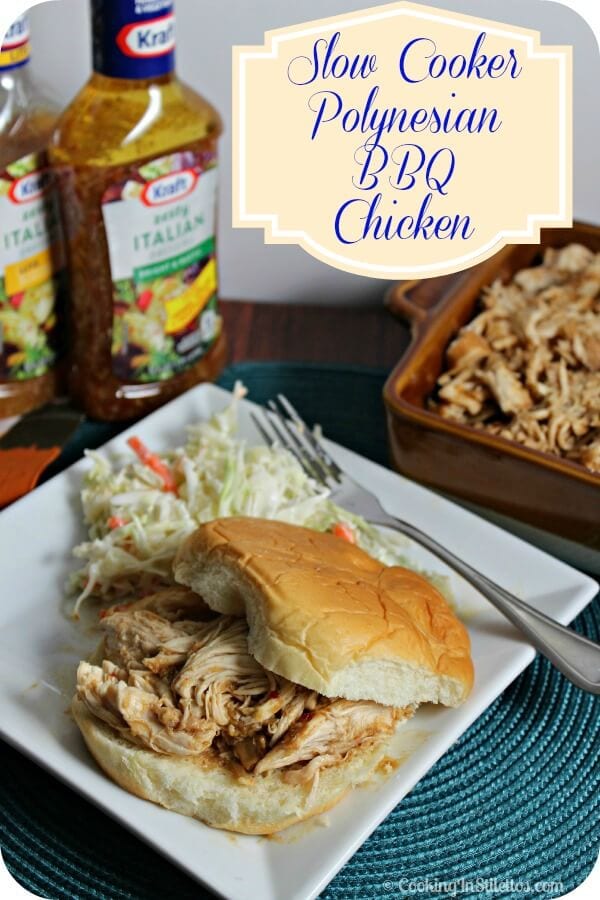 Earlier this week, I checked the pantry and channeled my inner Old Mother Hubbard.  I was missing some key pantry staples, including my favorite Kraft Pourables Zesty Italian and Ranch Dressings. The new Kraft Pourables have been reinvented with a new, better taste – the Zesty Italian has even more herbs and spices and the Classic Ranch is now creamier with more buttermilk and savory herbs. More flavor is always better in my book! I tend to use dressings in more than just summer salad recipes and easy pasta salads.  These dressings double as fabulous marinades, dipping sauces and, of course, my favorite Slow Cooker Polynesian Barbeque Chicken.  It's all about the multi-task and, of course, #FoodDeservesDelicious right?  Knowing that my local Wal-Mart in Plymouth Meeting had a some fabulous deals, I headed there. They were super easy to find and, armed with my favorite dressings, I headed home to work up some magic.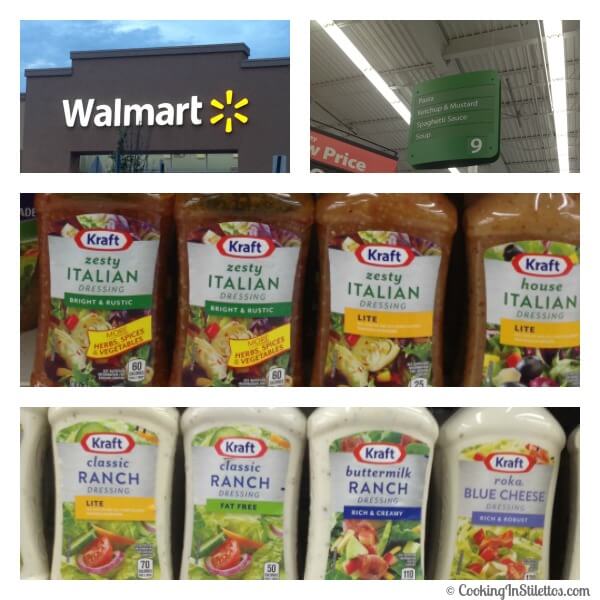 Now of course you can doctor up your favorite bbq sauce, add a bit of pineapple to the mix and some pineapple juice and it will be delicious.  However, I love making my favorite tried and true Polynesian BBQ Sauce (which is a riff on the classic huli huli sauce) and add a bit of Zesty Italian Dressing, some pineapple juice and Worcestershire sauce.  Then you cook the chicken low and slow for 6 or 7 hours (or, of course, you can always cook it on high for about 3 – 4 hours and it's just as juicy and delicious).  I LOVE using my slow cooker in the summer because that oven does NOT need to be on in the heat that's going on in Philly right now.  It couldn't be easier.  I either serve the chicken breasts whole or shred them for a bit of pulled BBQ chicken sandwiches on some soft Hawaiian rolls which are always a hit.
On to the recipe:
Gather your ingredients – to make the sauce or not – that is the question.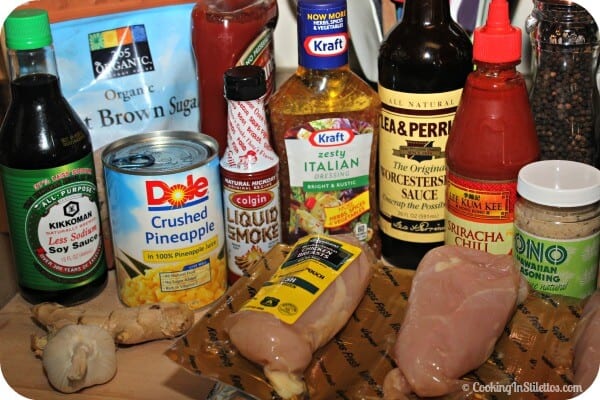 When the sauce is finished – this is your starting point (or use your favorite jarred sauce)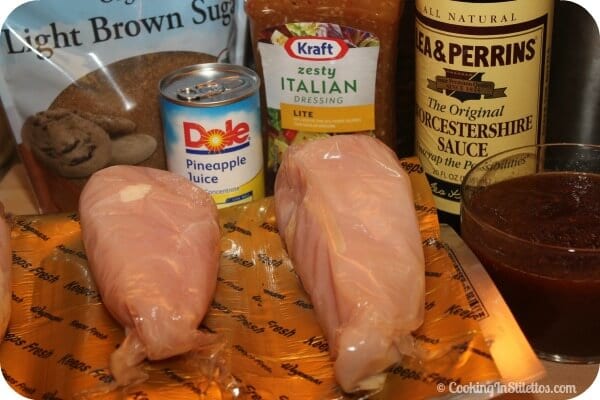 Adding the Polynesian BBQ Sauce to the Zesty Italian Dressing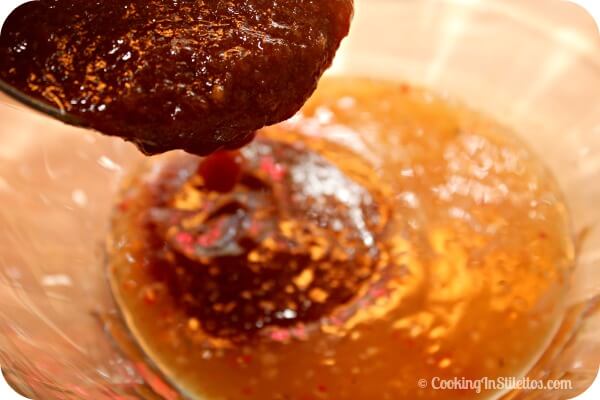 Time for a little slow and low cooking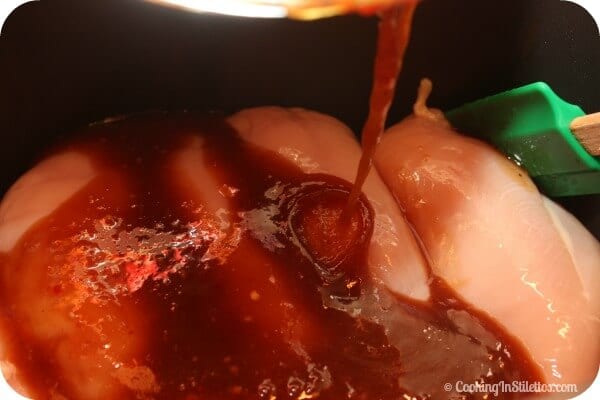 This chicken just falls apart – you can serve it whole or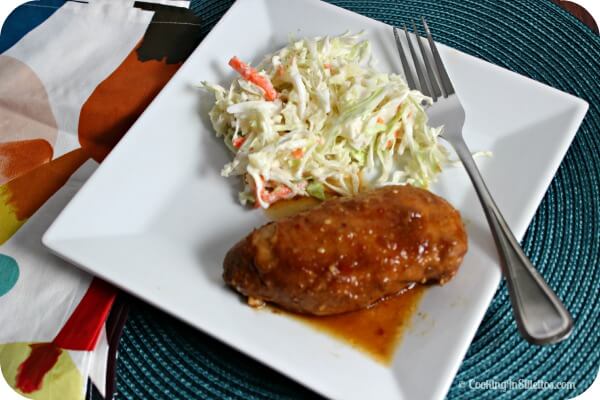 Shred and enjoy on some soft Hawaiian rolls and serve with coleslaw.
Slow Cooker Polynesian BBQ Chicken
---
Ingredients
For the Polynesian BBQ Sauce:

1 20 ounce can of crushed pineapple, with juice
1/2 cup of low sodium soy sauce
1/2 cup of ketchup
1/2 cup of brown sugar
1/4 cup of Worcestershire sauce
1/3 cup of pineapple juice
2 cloves of garlic, minced
1 tablespoon of fresh ginger, grated
4 – 5 drops of liquid smoke
1/8 or so teaspoon of Sriracha sauce (depending on how hot you like it. I'm a wimp.)
1/4 teaspoon of ONO Hawaiian seasoning (optional)
1/8 teaspoon of freshly cracked black pepper

For the Slow Cooker Polynesian BBQ Chicken

6 boneless skinless chicken breasts
1 1/2 cups of your favorite BBQ sauce (I used the sauce above)
1/2 cup of your favorite Italian salad dressing (I love Kraft Zesty Italian Lite for this)
1/4 cup of brown sugar, packed
1/4 cup of pineapple juice
1 1/2 tablespoons of Worcestershire sauce
Salt and pepper to taste.
Directions
To make the Polynesian BBQ Sauce:

In a saucepan, combine the crushed pineapple, soy sauce, ketchup, brown sugar, Worcestershire sauce, pineapple juice, minced garlic, grated ginger, liquid smoke, Sriracha sauce, ONO Hawaiian seasoning (if using) and black pepper.
Stir to combine and bring to a boil.
When the mixture is bubbling, reduce to simmer and let simmer away for 30 minutes until the mixture has thickened up a bit.
Using an immersion blender or high-powered blender (remove the top and use a towel because the contents are hot hot hot), blitz the mixture until it is somewhat smooth.
Let cool – you should have about 3 cups. Reserve 1 1/2 cups for the slow cooker chicken and refrigerate the rest (should last a week or two in the fridge).

To make the Slow Cooker Polynesian BBQ Chicken:

In the base of a slow cooker (I used a large one – about 6 – 7 qts), add the chicken breasts. Nestle them in side by side.
In a bowl, whisk together the Zesty Italian Dressing, BBQ Sauce, brown sugar, pineapple juice and Worcestershire sauce. Taste for seasoning and add any salt and pepper if needed.
Pour over the chicken breasts and set to low for 6-7 hours or so or to high for 3 – 4 hours. When the meat is ready to shred, remove.
Either serve the chicken breasts whole or shred and pile them up high on soft Hawaiian rolls and enjoy!
Notes
Slow Cooker Chicken recipe adapted from AllRecipes.
7.6.8
848
https://cookinginstilettos.com/slow-cooker-polynesian-bbq-chicken/
All images and content are © Cooking In Stilettos. Please do not republish without contacting us first. Thank you.
Did you enjoy this post?
| | |
| --- | --- |
| Share the love | Get free updates |