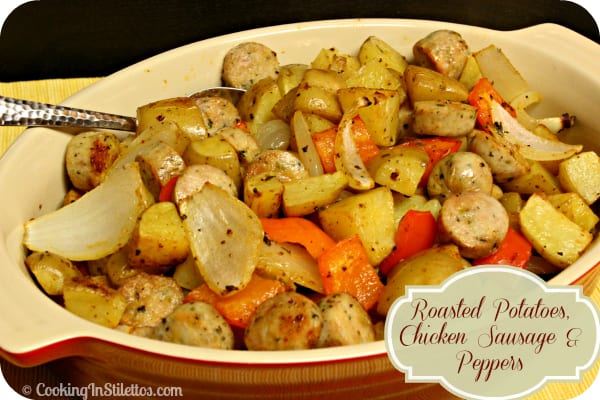 It's the first Monday of August and you know what that means – it's time for the Secret Recipe Club Reveal!
For those that aren't familiar with the Secret Recipe Club – it's a group of fabulous bloggers that are assigned a blog that  they must keep on the hush.  Over that month, they peruse the blog, gain some culinary inspiration and make one dish from their assigned blog and highlight it.  I look forward to getting my assignment every month and this month was a fun one!
This month's top secret assignment was Ilona's Kitchen.  I've been reading Ilona's Kitchen for quite some time and I love her "tell it like it is" attitude.  She is a true Jersey gal – and for this Philly gal, it's like talking to some of my fave people!  She's always got great recipes and if the recipes aren't "it" – she'll tell you and what she'd like to do to improve it.  She's said a few times that she's not a fan of chicken sausage but when I saw some roasted garlic chicken sausage at Trader Joe's, I knew that I had to make her Roasted Potatoes, Chicken Sausage and Peppers.  Some other recipes that caught my eye were her Overnight Bananas Foster French Toast, Banana Biscoff White Chocolate Chip Blondies, and Citrus Chili Chicken….