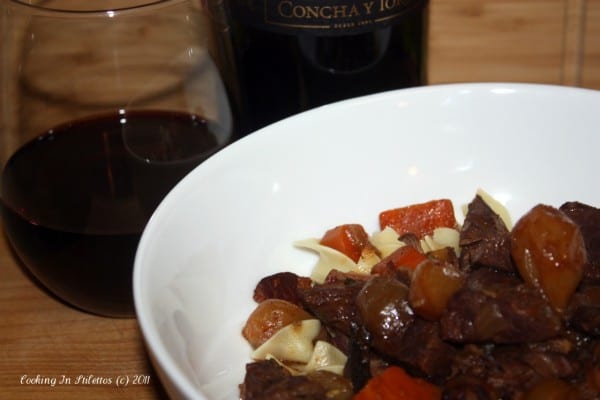 Beef Bourguignon is one of those recipes that intimidates me. I don't know why. Perhaps because Julia Child is always associated with this dish.   However, I figured that since there was a version for the slow cooker, perhaps I might give it a shot. I took Mr. Slow Cooker off the fridge – determined to make it earn its keep – and went through the fridge gathering the ingredients.  Thankfully, I always keep frozen pearl onions in the freezer and, before you shoot me, I follow a specific rule – if you would drink it, cook with it. I cracked open a bottle of my favorite Cabernet and went to town.
My final determination: I now understand why this is a classic and will keep my new favorite Slow Cooker Beef Bourguignon in my tried and true arsenal. I also will never confess how a glass of wine and some bacon bits went missing – I mean one minute they were there on the counter and the next, it was as if a mouse went nibblin'…
This is a dish your family and friends will adore – and it couldn't be easier to make!
…