This is a sponsored post. My opinions, as always, are my own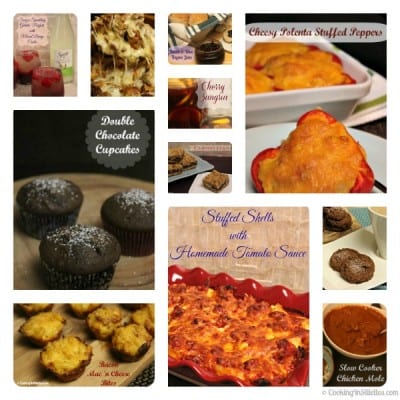 This has been a whirlwind of a year. As I'm starting to think back to all the blessings that 2013 brought, I'm also thinking of how my cooking has evolved over the past year. It's been a long way since my original "let's try to burn water" style that I started with so many years ago.
When Foodie asked us what we thought our best recipes for 2013 were, I thought long and hard and focused on recipes that I knew were loved by friends and family, took me out of my comfort zone or I improved upon using skills I learned over the past 5 years. These, my friends, are my absolute faves for this year.

I learned that stuffed peppers might be stuffed with polenta or with meatloaf.  When it came to entertaining, I thought out of the box and fell in love with Mac 'n Cheese Bites and turned a sparkling margarita into a gelatin.  Instead of the typical chips and dip, I braved the Queso Fundido which is on the permanent entertaining menu – that one was a hit.  I mixed savory with sweet in this Black & Blue Jam and went comfort food old school style with Stuffed Shells with a Homemade Tomato Sauce.  Who knew that the girl who once thought that sauce came out of a jar could make her own?  For sweet treats, nothing beats Rum Soaked Chocolate Chip Cookies or sweet and salty Carmelitas.  And – for a somewhat light but still chocolate  – whip up these double chocolate cupcakes and leave the guilt behind.
Check out what other recipes made the cut of my Best Tried and True Recipes of 2013 below.

Disclosure: Compensation was provided Foodie.com via Glam Media. The opinions expressed herein are those of the author and are not indicative of the opinions or positions of Foodie.com or Glam Media