Rice and I are far from strangers. The Sous Pug's new home-cooked diet requires that he have quite a bit of rice daily and I'm constantly cooking it. It got to be where I finally gave in and invested in a rice cooker
to make life a bit easier than standing over a stove and possibly burning it (not that I've EVER done that *cough cough*).
Claire Robinson made a dish recently on 5 Ingredient Fix – Baked Shroom Rice – and she promised that it was pretty much foolproof. She was not kidding – it is officially a Tried & True recipe in this household. And, even better – after a few short steps, I could just toss it in the oven and the oven would do the heavy lifting.  Basically fix it and forget it – LOVE! Plus – with only five ingredients, I had mostly everything already in my pantry.
So, when you are looking for something other than plain ol' rice, why not give Baked Shroom Rice a try . Your family won't even know how easy it is to prepare which leaves you with time for a great cocktail – perhaps a little Bourbon Cider Twist action?
Ingredients
2 tablespoons unsalted butter
8 ounces of baby portabello mushrooms, sliced (Claire suggested Shitakes but I often have portabellos on hand)
2 cloves garlic, minced
1 cup long grain white rice
Kosher salt and freshly cracked black pepper
2 cups low-sodium chicken stock
Directions
Preheat the oven to 350 degrees F.
In an ovenproof saucepan, melt the butter over medium-high heat.
When the foam subsides, add the mushrooms and saute until golden brown, 4 to 5 minutes.
Add the garlic, making sure to not burn it - about 1 minute.
Add the rice to the mushroom garlic mixture and stir to coat, making sure that the rice is toasted.
Season with salt and pepper.
Add the chicken stock and deglaze the pan. Bring to a oil.
Cover with a lid and cook on the middle rack in the oven until all the liquid is absorbed and the rice is tender, 17 to 20 minutes.
Remove from the oven and let stand, covered, 5 minutes.
Fluff with a fork and serve.
Notes
Adapted from Claire Robinson
7.6.4
750
https://cookinginstilettos.com/tried-and-true-baked-shroom-rice/
All images and content are © Cooking In Stilettos. Please do not republish without contacting us first. Thank you.
Gather the Ingredients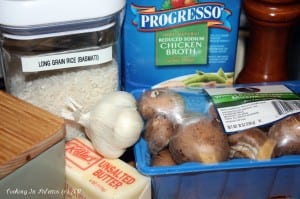 In the words of  Julia Child – Don't Crowd The Mushrooms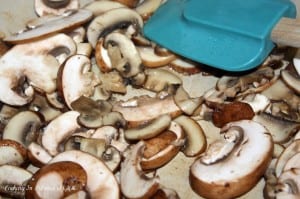 Now – how easy was that?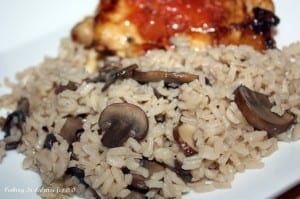 Did you enjoy this post?
| | |
| --- | --- |
| Share the love | Get free updates |