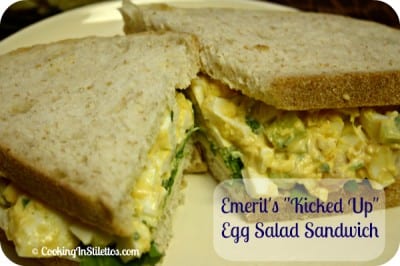 I can't remember a time when I ever really enjoyed an egg salad sandwich and, when I was going through my "learn to cook" phase, it wasn't one I *ever* attempted. I mean, c'mon – eggs, mayo and a bit of celery – or so I thought. Not to mention, hard boiled eggs and I are not on speaking terms. I could never boil one perfectly and don't even get me started on that little "ring" around the yolk.
For Emeril's #SeriousSandwich Cookalong, one of the recipes in his book, Kicked Up Sandwiches, was his Egg Salad Supreme and, quite frankly, my inner brat started stomping her stilettos going "I will NOT make Egg Salad!" This weekend, I was watching the premiere of Martha Stewart's Cooking School on PBS (excellent show, btw!) and the subject was eggs. During that episode, one of the segments discussed how to get the perfect hard-boiled egg. I wound up watching that segment a couple times, determined to conquer yet another irrational culinary fear.  What a better way to try it then on making Emeril's egg salad, right?
So, armed with a couple dozen eggs, I grabbed my trusty dutch oven and it was time to boil. Ms. Martha's method is easy – place 10-12 eggs in COLD water, bring to a boil, cover, turn the heat off and remove from heat. Leave for 12-13 minutes and then rinse the eggs under cool water. Easy peasy. Guess what – it worked. No ring around the yolk for this gal. However, peeling the 12 eggs – well, let's just say I not only mastered the hard-boiled egg, but I got yet another lesson in patience (and egg butchery but, well, that's another story for another day).
This egg salad recipe was so easy and, guess what, it didn't taste at all like I remembered as a child. This egg salad had bold flavors from the paprika and the mustard, texture from the shallot and the celery and just the *right* amount of mayo because, quite frankly, I don't know about you but I'm not a fan of "gloppy from too much mayo" salads. I wound up making a couple minor changes to it because too much Hungarian Paprika turns me into a spice wuss. I halved the amount and added some smoked paprika, served it on my favorite sourdough from Whole Foods with some spicy arugula and sharp provolone and voila! It garnered rave reviews. Will I make this again – you bet and, for those that also have an inner brat screaming "No More Egg Salad", just whap them with a stiletto and try this recipe.
What is your stance on egg salad – yay or nay?
On to the recipe:
Gather your ingredients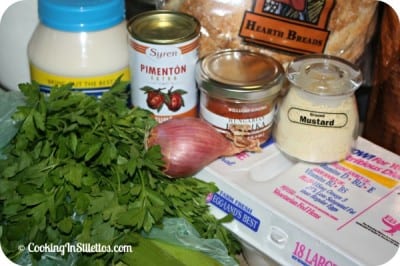 Time to boil the eggs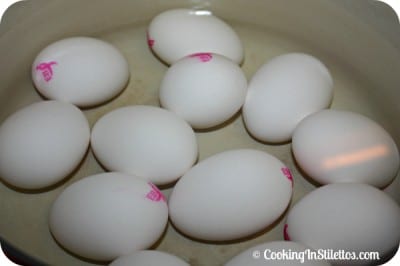 See – no ring around the yolk!
Adding the spices, veggies and a wee bit of mayo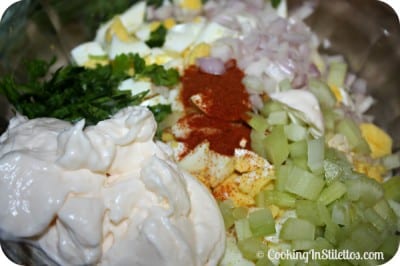 Mix, mix, mix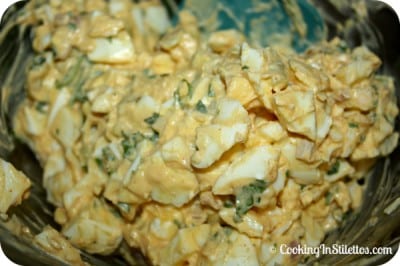 Egg Salad Perfection
Tried and True: Emeril's "Kicked Up" Egg Salad
---
Yields 6 sandwiches
Ingredients
12 hard-boiled eggs, roughly chopped
1/2 teaspoon kosher salt
1 teaspoon dry mustard
1/4 teaspoon hot Hungarian paprika
1/4 teaspoon smoked paprika
1 small minced shallot
1/4 cup chopped fresh parsley
1/4 cup minced celery
1/2 cup light mayonnaise
12 slices of your favorite bread (I used sourdough)
Your favorite sandwich garnish: Arugula, some cheese – whatever your heart desires.
Directions
In a large bowl, add the chopped eggs, salt, dry mustard, hot and smoked paprikas, shallot, parsley, celery and mayonnaise.
Stir until the mixture is well blended.
Transfer to a container, cover and refrigerate for at least 2 hours and up to 4 days.

To assemble the sandwich:

On a slice of bread, spread some of the egg salad and garnish as desired. Repeat with the remaining salad and bread.
Enjoy!
Notes
Slightly adapted from Emeril Lagasse Reprinted with Permission
7.6.8
759
https://cookinginstilettos.com/tried-and-true-emerils-kicked-up-egg-salad/
All images and content are © Cooking In Stilettos. Please do not republish without contacting us first. Thank you.
*Disclosure: A copy of Emeril's cookbook was provided as per of the #SeriousSandwich Blogger Cookalong. My opinion and experiences are 100% my own. 
Did you enjoy this post?
| | |
| --- | --- |
| Share the love | Get free updates |