As we say farewell to summer and greet autumn (and all things pumpkin, stews and more) with open arms, I couldn't forget to spotlight a recipe that has quickly become a tried and true favorite in the household – Sunny Anderson's Grapefruit Grilled Chicken.
I must confess that grapefruit and I have never been close – truthfully, I really never gave grapefruit a chance. I remember having it as a child and I hated it with a passion that was way more than the detest that I had for pancakes thanks to St. Helwigs.  However, Sunny has never steered me wrong when it came to a recipe and, after food blogging for a few years now, well – why not open my mind a little more, right? Well, one evening I went to the store, picked up a couple of grapefruits and decided to brave the flavors. I reasoned – if I didn't like it still, well then – I'd order take out and call it a day. Take out was never called that evening and this recipe has hit tried and true status and will be made often.  While my grapefruit sectioning skill was a bit "off" and left a lot to be desired, the flavor was spectacular and, perhaps, I need to give grapefruit another chance.  Dinner was served with Baked Shroom Rice for one heck of a memorable meal.
What ingredient or food that makes you shake your head, put up your hands and back away?  Do Tell!
Sunny Anderson's Grapefruit Grilled Chicken
---
Ingredients
2 pink grapefruits
2 tablespoons brown sugar
1 tablespoon honey
1/4 cup olive oil
Kosher salt and freshly ground black pepper
6 boneless skinless chicken thighs (if you use chicken breasts, it would be 4 and you slice them in half horizontally)
Directions
Prepare the grapefruit. Juice one grapefruit entirely and pour the juice into a measuring cup.
Peel the second grapefruit, careful to remove all of the white pith, exposing the pink flesh.
Section the grapefruit over a separate bowl (to catch any of the wayward juice from the sectioning process), and place those wedges into a saute pan.
Squeeze the juice from remainder of the sectioned grapefruit into the bowl and add the measuring cup of juice from the first grapefruit.
Add the brown sugar and honey and whisk to combine. Taste it - if the juice is still too tart, whisk in another teaspoon or so of brown sugar.
Pour half of the mixture into the saute pan with the wedges. Bring to a simmer and reduce until it is slightly thickened (about 7-8 min.)
To the second half of the mixture, add the oil, 1 teaspoon of salt and a pinch of black pepper.
Whisk to combine and add to a plastic bag.
Add the chicken, seal and toss a bit and rest on a plate on the counter for about 20-30 minutes. Do not let it rest any longer or you will have "cooked by marinade chicken" and that is NEVER good. (Not like I've done it before

cough cough

*guilty*

cough cough

)
Heat a grill pan to medium high and brush lightly with oil.
Remove the chicken from the marinade, shake off the excess and place the chicken on the grill.
Cook on each side for 3-4 minutes and then remove to a serving plate.
Pour the grapefruit sauce over top and

viola

- a healthy chicken dish that will make you want to smack someone.
Notes
Recipe Author: Sunny Anderson
7.6.8
749
https://cookinginstilettos.com/tried-and-true-sunny-andersons-grapefruit-grilled-chicken/
All images and content are © Cooking In Stilettos. Please do not republish without contacting us first. Thank you.
Gather the ingredients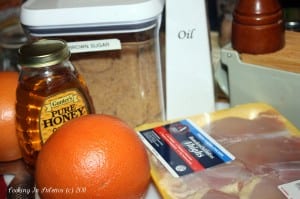 Juicing the Grapefruit (Thanks to my handy dandy Nigella juicer – love this thing!)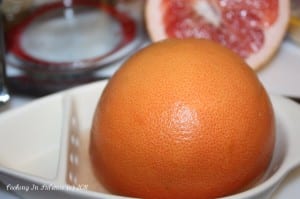 Sweetening It All Up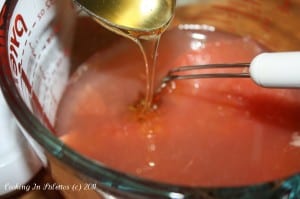 The End Result – Deliciousness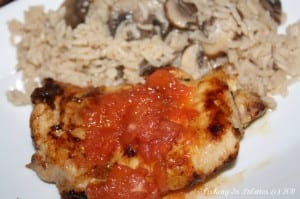 Did you enjoy this post?
| | |
| --- | --- |
| Share the love | Get free updates |