I was selected for this opportunity as part of the Girls' Lunch Out network. All views expressed are entirely my own, and were not influenced or directed by either Girls' Lunch Out or Issuu.
As y'all know, I love to lose myself in a great magazine. However, with so many going digital, trips to the local B&N newsstand on Fridays are not the same. And – there also is the whole same ol' same ol' – you know the deal – when you see the same thing in 20 different ways in 20 different magazines? Sometimes it just gets – I hate to say it – tiring. Plus – when you buy the magazines and later see that it is just a simple regurgitation of previous content, it rather loses its luster.
I have been looking for new reads and I have found myself heading to the British food mags more often. However, the cost is crazy expensive and while I love the new finds for inspiration, lately I need to watch the budget. I have been turning more often to the web to find some inspiration and, yes, while I have finally discovered the wonders of Pinterest, I also discovered a fabulous platform that sates my love of the mag without breaking the bank and exposes me to a completely new group of publishers – ISSUU.
Between some tried and true fave digital publications like Foodie Crush and Fine Cooking's special issues, to BBC Good Food and some fab finds, both local and international, I can get lost for HOURS! ISSUU has everything that you may need and then some. If you want to create a digital publication of your own, ISSUU might be the perfect platform for you.
Want to check out my stack of Fab Foodie Magazines? You can check it out here.
Create a free account and you can find new finds to read and, as you start discovering more, ISSUU will make some recommendations of some other finds you may like. That is how I discovered this lovely – Sweet Living.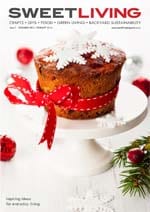 Give a whirl and let me know what you find.
Happy Reading!
You can find ISSUU on Facebook, Twitter, and Pinterest.  Learn more about ISSUU here.