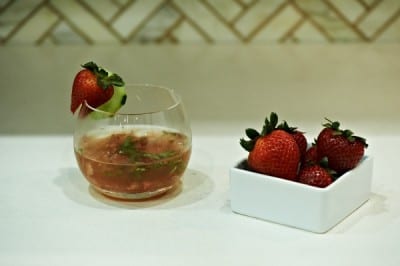 Every person has that dream list – you know, those things that you think "If Only" and you eventually save, scrimp and finally are able to get the item you have been looking at for eons.  Now – I know that I have a case of shoe envy when it comes to some of Kelly Ripa's stilettos (I mean – did you see her Nicholas Kirkwoods earlier – hello!), but there are times I see those Electrolux commercials and go "Dangnabbit – I want the kitchen!!!" as Kelly floats through her NYC kitchen thanks to her Electrolux appliances.
Electrolux has a French Door Refrigerator that has made my dream list.  Don't get me wrong – I'm thankful for the fridge I have at the abode, but it's not one I would have chosen and, when I do get to choose a refrigerator of my very own when I finally buy a house next year, this is a serious contender.  It's got french doors that open perfectly, drawers that keep fruits and veggies fresh, crisp and at the optimal temperature and the freezer – my heavens – I would never have things cascading down on my head like I do with my freezer from Hades that I argue with on the daily.
Electrolux is having a "Perfect Temp Sweepstakes" where you can enter daily at LiveLoveLux.com from now through August 22nd for a chance to win an Electrolux French Door Bottom Mount Refrigerator of your very own or, perhaps, a trip to a climate with a perfect temp – the sunny Abaco Islands in the Islands of the Bahamas.  As an added bonus – for every entry and share, Electrolux is going to donate $1 to Ovarian Cancer Research Fund and they are hoping to raise $125,000!  Now – tell me that's not a win-win.
In addition to a great stiletto, y'all know I adore a great cocktail so when Kelly Ripa had a to-die for Strawberry Basil Margarita recipe, well, this gal had to channel her inner bartender and give it a whirl.  Even better – I get to share it with y'all!  One key – the strawberry liquor – it gives it the perfect flourish!  It was well worth me channeling my "Aly Capone" and heading across the bridge to Kelly's old stomping grounds of South Jersey to track it down.
On to the recipe:
Gather the Ingredients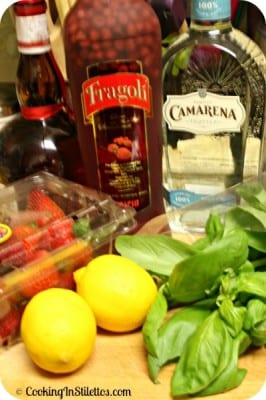 Gotta Love a Good Muddle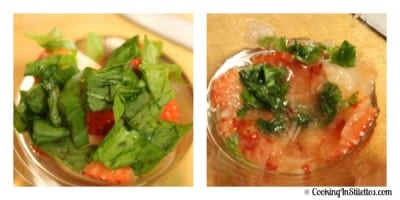 The piece de resistance – the Strawberry Liquor – see the tiny wild strawberries in it? Yum!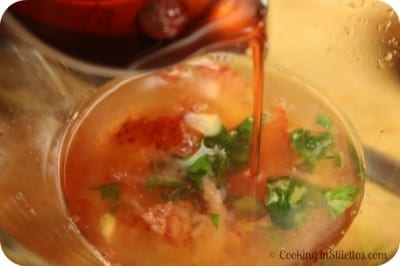 Now – tell me you don't want a sip?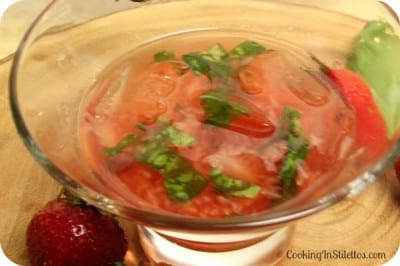 Strawberry Basil Margarita
---
Ingredients
1 strawberry
2 large basil leaves
1 ounce of silver tequila
1/2 ounce of strawberry liquor
1/2 ounce of triple sec
1 ounce of fresh lemon juice
Ice
Strawberries and basil for garnishing
Directions
Place one strawberry and two basil leaves in a rocks glass then, using a muddler, press down lightly on the leaves and give a few gentle twists.
Add the remaining ingredients and stir together.
Top with ice and garnish with a strawberry and basil leaf.
Keep ingredients and garnishes fresh at the ideal temperature (Kelly uses her adjustable humidity-controlled Crisper Drawers, which keep fruits and vegetables their best with self-closing drawers that lock in freshness.)
Notes
Recipe courtesy of Kelly Ripa & Electrolux
7.6.4
817
https://cookinginstilettos.com/strawberry-basil-margarita/
All images and content are © Cooking In Stilettos. Please do not republish without contacting us first. Thank you.
I was selected for this opportunity as a member of Clever Girls Collective and the content and opinions expressed here are all my own.
[Photo Credit: Top Photo courtesy of Electrolux]
Did you enjoy this post?
| | |
| --- | --- |
| Share the love | Get free updates |