With grilling on the agenda, you know hot dogs had to be on the menu. I have a confession when it comes to hot dogs, I'm beyond picky about what I serve after my gal Bec once regaled me on hot dog tales and their ingredients. I adore Hebrew National because I know that it's always quality and I know it will stand out. I made a new batch of mojo de ajo for grilling and decided that #Grillfest was on.
One of the things that hit me as I was stocking up on summer condiments was that I have always bought relish – never made it from scratch. After doing a bit of searching online, I found a killer hot dog relish recipe from Bobby Flay and tweaked it a bit. IMO, this relish is SO much better than the jarred stuff and will be taking the place of my formerly beloved Wickles.
All and all, the most tedious part was the chopping but the result was well worth it. Serve it over your favorite Hebrew National hot dogs and savor every bite. This makes a nice batch of relish so feel free to halve it if you need to or can it for the summer season.
On to the recipe:
Gather the ingredients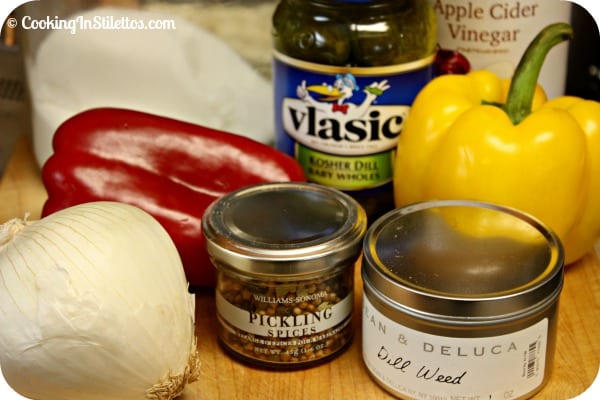 Time to make the pickling liquid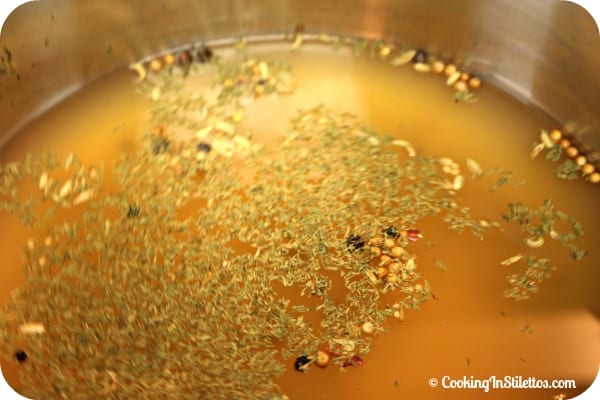 Chop Chop Chop Chop Chop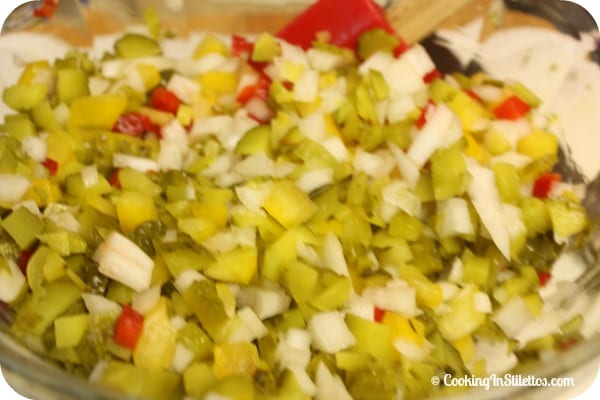 Time to make the relish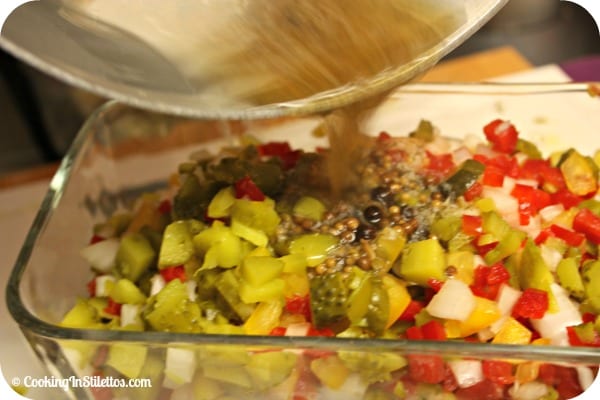 Look at those grill marks – love!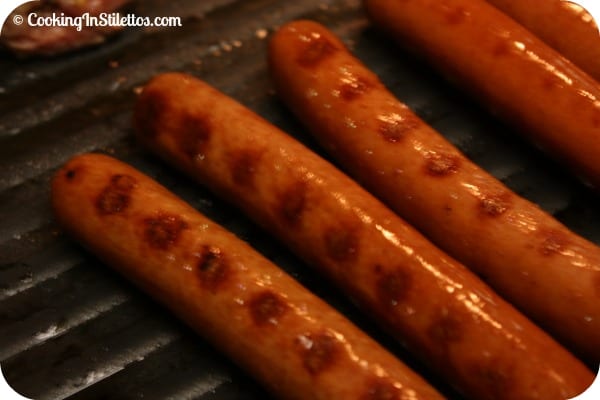 Now – don't you want a bite?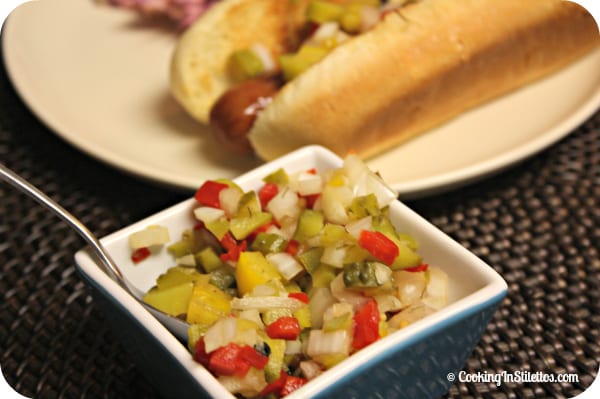 Yields 6
Homemade Hot Dog Relish Recipe
When you see how easy it is to make your own hot dog relish, you won't even think about buying jarred again. A few fresh ingredients and you have the makings of something utterly delicious!
2 hrPrep Time
20 minCook Time
2 hr, 20 Total Time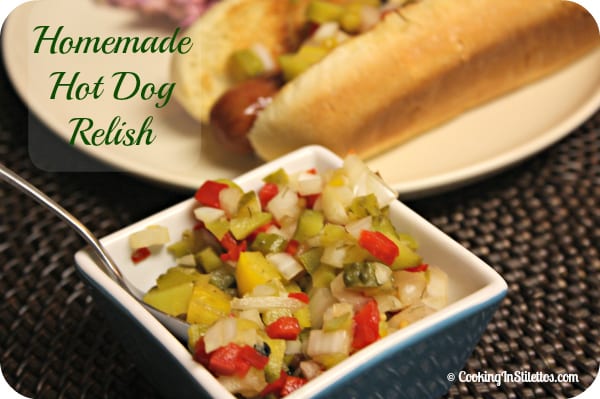 Ingredients
1 16 oz. jar of Baby Kosher Dill Pickles drained and finely chopped (note: reserve a 1/2 cup of the brine)
1 1/2 cups of Apple Cider Vinegar
2 tablespoons of sugar
1/2 teaspoon of dried dill
1 teaspoon of pickling spices
1 small white onion
1 red pepper, seeded and finely chopped
1 small yellow pepper, seeded and finely chopped
Salt and Pepper to taste
Grilled Hebrew National Hot Dogs and Buns for serving
Instructions
In a medium, non-reactive saucepan, bring the apple cider vinegar, reserved brine, pickling spices and dried dill to a boil.
Cook until the mixture is reduced by half (about 5-10 minutes or so).
Add the sugar to the boiling mixture and stir to dissolve.
To a large bowl, add the chopped pickles, onion, red pepper and yellow pepper. Pour over the pickling mixture and mix well.
Toss to coat and season with salt and pepper.
Cover and refrigerate for at least an hour before serving.
Serve with your favorite Hebrew National Hot Dog and enjoy!
7.8.1.2
324
https://cookinginstilettos.com/homemade-hot-dog-relish-recipe/