Memorial Day is just around the corner and with that comes summer fun, get togethers and, of course, outdoor entertaining. One of my favorite things to bring to a summer picnic or potluck is a delicious salad recipe and this Cape Cod Chicken Salad with Honey Yogurt Dressing is not only delicious, packed with flavor, but also a bit lighter thanks to a tangy and sweet Honey Yogurt Dressing.
For bakeware, you not only get their 9×13" baking pan with matching lid, but also an 8×8" baking dish, a 9" pie dish and a loaf pan that is fantastic to bake up a loaf of my summer favorite Blueberries and Cream Quick Bread.
For their SNAP Storage, you get a variety of bowls with matching leak-proof lids – a 1-cup bowl, two 2-cup bowls and a 4 cup bowl, perfect for your favorite side dishes. This set is a must for the kitchen!
Not only can I bake the chicken for this salad in their 9×13" pan, but I can then bring the Cape Cod Chicken Salad to a picnic in one of their 8×8" pans with its raised plastic lids. I can nestle the other side dishes in the well made storage bowls, like my scrumptious Blueberry Quinoa Salad that was a great side dish, along with some fresh arugula, perfect for nestling the chicken salad in a flaky croissant.
I have to confess – I've been hesitant with using glass dishes for baking and tend to lean towards using stoneware after a bad experience years ago. However, OXO uses thermal shock resistant borosilicate glass which is not only sturdy but can go from freezer to oven or microwave without cracking. The raised lid also won't squish anything contained within which is always a good thing especially when I have my favorite spicy smoky s'more bars contained within. I don't want to sacrifice a crumb of that chocolate marshmallow goodness to a too tight lid. Also, the bakeware has wide handles that work fabulously with even the fluffiest oven mitt.
Before I write a missive on my new favorite dish set, let me tell you about this Cape Cod Chicken Salad. I first had one similar to this during my Florida days. They tend to sell it at one of those big box stores. However,  whenever I would buy a container, some sadly would go to waste because you would have to discard after 5 days and who can eat 3 pounds of chicken salad in that time frame?  Not this gal.  Thankfully this chicken salad recipe makes a much smaller amount plus there are no funny ingredients that won't make you want to pick up a dictionary to figure out what it is.  Also, as I do with many of my salads. I made it a bit lighter with a yogurt dressing instead of a ton of mayo so this is a chicken salad you will find yourself making often.
On to the recipe:
Aly M. Cleary
Yields 6
Cape Cod Chicken Salad with Honey Yogurt Dressing
This delicious Cape Cod Chicken Salad with Honey Yogurt Dressing is a lighter take on a classic. Oven baked chicken is tossed in a sweetly tangy dressing with dried fruit, nuts and nestled on a flaky croissant with peppery arugula.
2 hrPrep Time
35 minCook Time
2 hr, 35 Total Time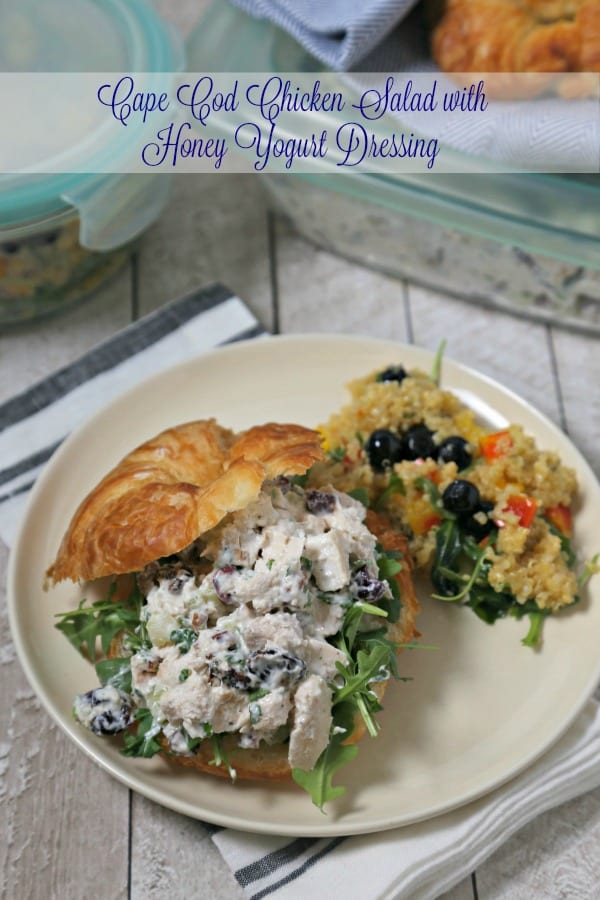 Ingredients
For the Chicken Salad:

1 1/2 pounds (about 3) boneless skinless chicken breasts
1/3 cup of olive oil
Juice and zest of 1 lemon
1 teaspoon of thyme
1 teaspoon of kosher salt
1/2 teaspoon of freshly cracked black pepper
2 stalks of celery, diced
1/3 cup of dried cherries
1/3 cup of dried cranberries
1/3 cup of pecans, chopped

For the Honey Yogurt Dressing:

3/4 cup of Greek yogurt (I used 0%)
2 tablespoons of light mayonnaise
3 teaspoons of honey
Juice of 1/2 a lemon (about 2-3 teaspoons)
2 teaspoons of apple cider vinegar
1/4 teaspoon of salt
1/8 teaspoon of freshly cracked black pepper

To Serve:

Fresh croissants
Baby Arugula
Instructions
To make the Oven Baked Chicken:

Lightly spray a 9x13" pan with nonstick spray and set aside.
In a small bowl, whisk together the olive oil, lemon zest and juice and thyme.
In a large plastic bag, add the chicken breasts and the marinade. Let the chicken marinate for 15 minutes.
Heat the oven to 400 degrees F.
Add the marinated chicken breasts to the prepared pan.
Lightly spray a piece of parchment paper with the nonstick spray and press over the chicken.
Cover the pan with aluminum foil and bake for 30 minutes until the chicken reaches 165 degrees F.
Let the chicken cool to room temperature.
When the chicken is cool, dice the cooked chicken breast into chunks and set aside.

To make the Honey Yogurt Dressing:

In a bowl, whisk together the Greek yogurt, light mayonnaise, honey, lemon juice, apple cider vinegar, salt and pepper until the dressing is well mixed.
Taste for seasoning and add a touch more salt and pepper if needed.

To assemble the salad:

In a large bowl, toss together the diced cooled chicken breast, diced celery, dried cranberries, dried cherries, and chopped pecans.
Drizzle half of the prepared Honey Yogurt Dressing over the mixture and toss together. If the chicken salad needs more dressing, feel free to add more of the reserved mixture.
Serve the Cape Cod Chicken Salad on sliced croissants with a bit of baby arugula.
7.8.1.2
92
https://cookinginstilettos.com/cape-cod-chicken-salad-honey-yogurt-dressing/