Blueberries and Cream Quick Bread is a treat that your friends and family will love.  This easy quick bread recipe is bursting with sweet blueberries and finished with a drizzle of vanilla cream glaze – what's not to love?
Disclosure:  This post may contain affiliate links to products I trust and adore in my kitchen.  Thank you for supporting Cooking In Stilettos.
Today's recipe is something I know you are going to love – a Blueberries and Cream Quick Bread that is bursting with sweet blueberries and a drizzle of vanilla cream glaze.
I absolutely love whipping up a quick bread for brunch – it's easy to make and no need for me to face my irrational fear of all things yeast breads and the "OMG will it rise" conundrum.  One day I'll face that baking bread from scratch fear – just not now.  I love that a quick bread comes together somewhat fast and for something that inspires me to turn on the oven in this summer heatwave, you know it has to be a recipe that is so worth me braving the heat (and the AC bills).
With the abundance of fresh sweet blueberries everywhere, I figured I would play on a variation of my favorite Strawberries and Cream Bread and go with more of a blueberries and citrus feel.  This Blueberries and Cream Quick Bread trumped my adoration of all things blueberry toasties as a child.  This quick bread toasted was beyond scrumptious for a quick bite to start the day, fabulous with some iced coffee in the afternoon and amazing for dessert with a bit of whipped cream and, if you are feeling so inclined, a scoop of vanilla bean ice cream.
If you show up at your neighbor's house with a loaf of this quick bread and some coffee, you will probably be voted "Best Neighbor Ever".  Make this for bake sales or family functions and watch it fly off the table.  This is the perfect bite for a weekend brunch or "just because".   For the end of summer, you might want to bookmark this recipe to use up the last of those gorgeous summer berries and, if you are feeling nice, share it with your co-workers.
While the Jersey blueberries are everywhere, I'll be making a few batches of this Blueberries and Cream Quick Bread to stash in the freezer for those cold chilly days when some summer sunshine is needed.   Sharing then, of course, is optional.
On to the recipe:
Gather your ingredients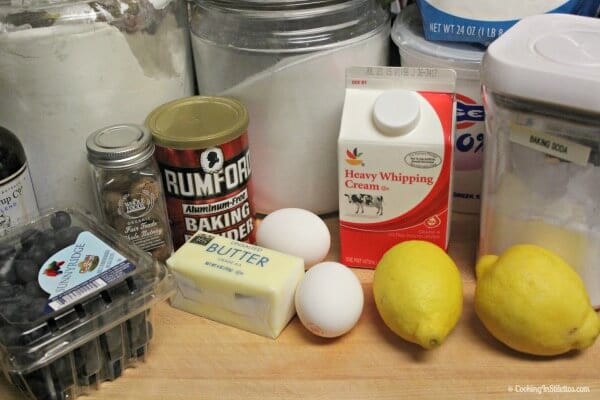 Resist the urge to channel your inner Nigella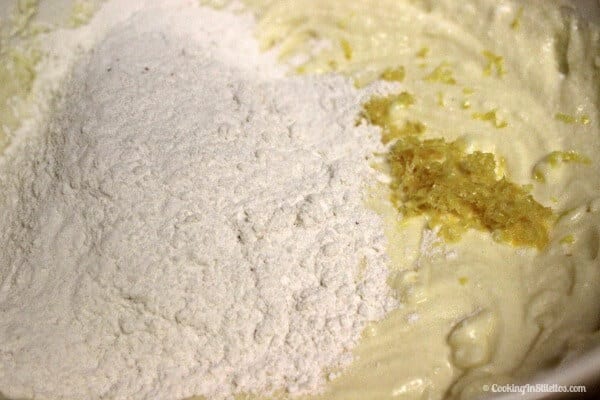 Dust the blueberries with a touch of flour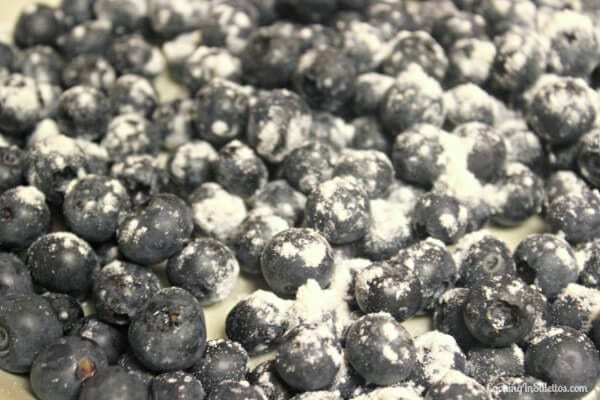 Let's make some glaze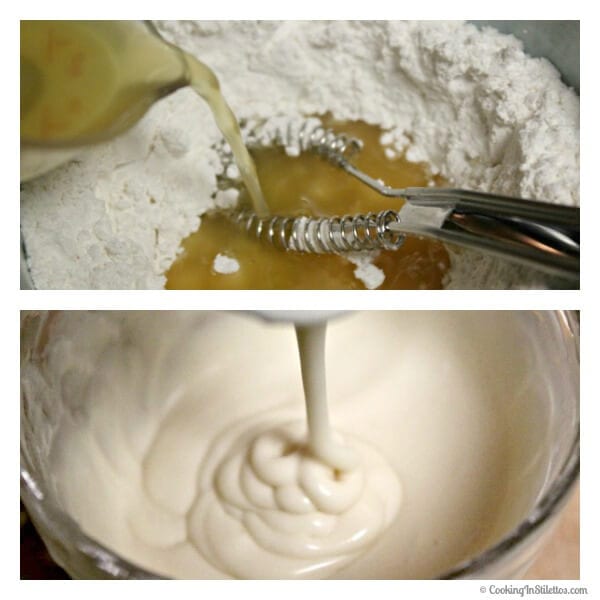 Doesn't this look glorious?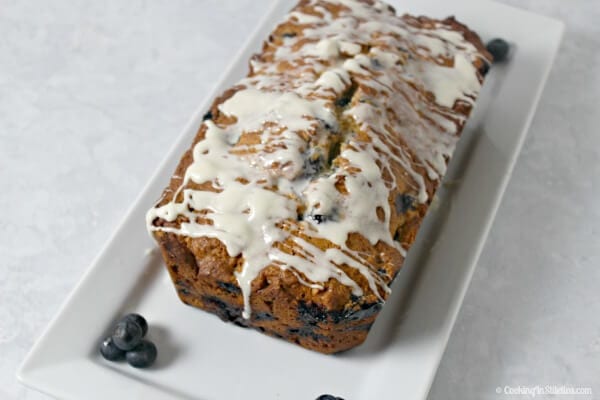 Shall I pass you a slice?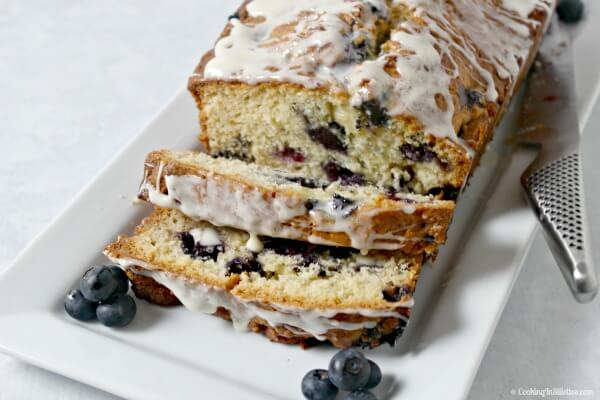 Aly M. Cleary
Yields 6-8
Blueberries and Cream Quick Bread
This Blueberries and Cream Quick Bread has the familiar flavors of summer in each slice. Fresh ripe blueberries accented with flavors of lemon and vanilla and drizzled with a sweet creamy vanilla glaze.
30 minPrep Time
1 hr, 10 Cook Time
1 hr, 40 Total Time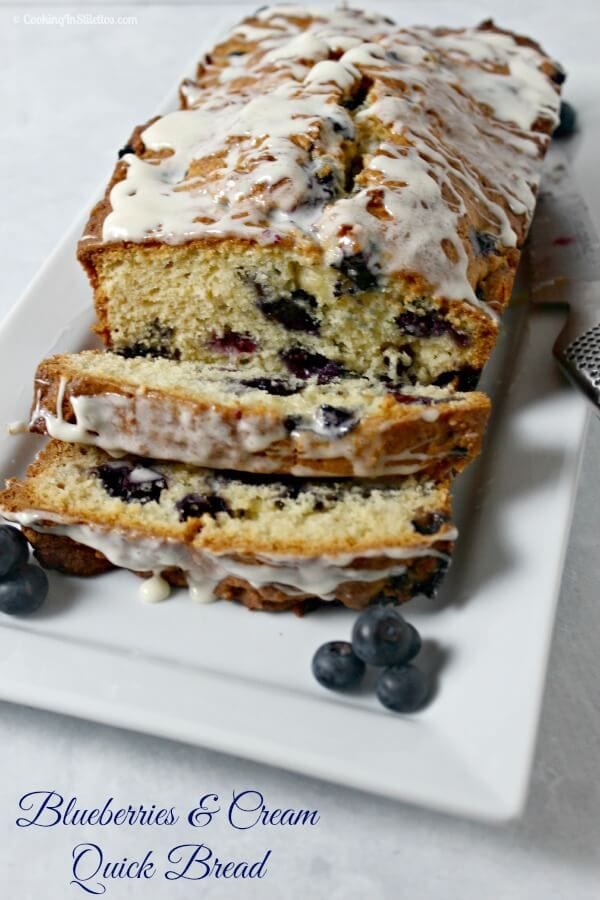 Ingredients
FOR THE BATTER:

1 1/2 cups of fresh blueberries
2 tablespoons of flour
1/2 cup of butter, softened
3/4 cup of sugar
2 large eggs, room temperature
1/4 cup of Greek yogurt
Zest and juice of 1 lemon
2 tablespoons of heavy cream
1 teaspoon of vanilla extract
2 cups of all-purpose flour
1/2 teaspoon of baking powder
1/2 teaspoon of baking soda
1/8 teaspoon of freshly grated nutmeg
1/2 teaspoon of kosher salt

FOR THE GLAZE:

1 cup of powdered sugar
2 tablespoons of heavy cream
2 tablespoons of fresh lemon juice
1/2 teaspoon of vanilla extract
Instructions
FOR THE BATTER:

Heat the oven to 350 degrees F.
Lightly spray a non-stick loaf pan with a nonstick baking spray or lightly butter and flour the loaf pan and set aside.
Lightly dust the fresh blueberries with 2 tablespoons of flour and set aside.
Using a stand or hand-held electric mixer, cream together the butter and sugar until they are light and fluffy.
With the mixer on low, slowly incorporate the eggs, one by one, into the batter.
To the batter mixture, add the Greek yogurt, lemon zest, lemon juice, heavy cream and vanilla.
Beat on medium speed for about 5 minutes or so, until the batter comes together and is light and fluffy.
In a separate bowl, sift together the flour, baking soda, baking powder, nutmeg and salt.
Slowly add the ingredients into the wet batter, making sure to not overmix.
Remove the bowl from the stand mixer (if using) and fold in the flour dusted blueberries.
Pour the batter into the prepared loaf pan and bake for about 60 – 70 minutes, until a toothpick inserted in the center comes out clean. If you want, halfway through the baking, rotate the pan.
Cool for about 10 – 15 minutes or so and remove from the pan and cool on a wire rack while you make the glaze.

FOR THE GLAZE:

In a bowl, whisk together the powdered sugar, lemon juice, heavy cream and vanilla until everything is combined and runny. If the glaze is too thick, add a bit more heavy cream. If it's too thin, add a tablespoon more of powdered sugar until it hits the consistency you want.
Drizzle the glaze over the cooled bread.
Slice and enjoy!
7.8.1.2
155
https://cookinginstilettos.com/blueberries-and-cream-quick-bread/