Cooking with chicken thighs is not only economical, but also recipe friendly. While looking for a new way to prepare chicken thighs, I was happy to see that there are so many people sharing their recipes for a chipotle cinnamon broiled chicken thighs.  The combination of ingredients of cinnamon, sugar, cumin and chipotle was intriguing and so flavorful.  Add the red pepper sauce and serve with roasted potatoes and onions and you have one heck of a dinner. This is how I did it.
On to the recipe:
Gather the ingredients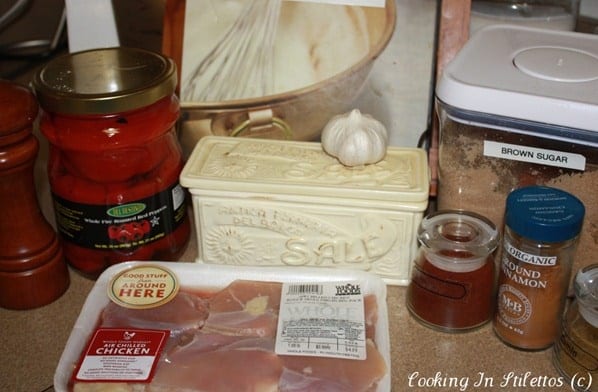 Mixing spices with the chicken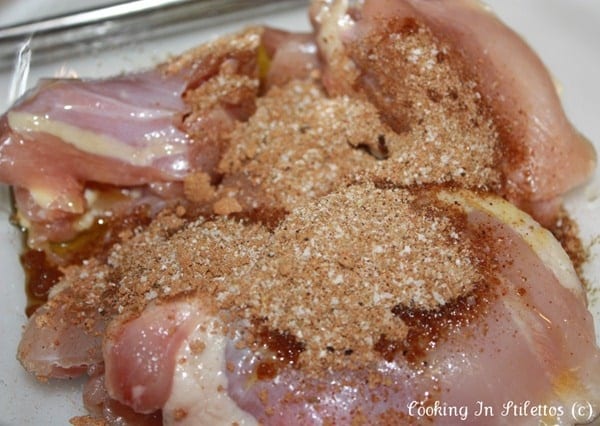 Pasting the garlic is not so difficult after all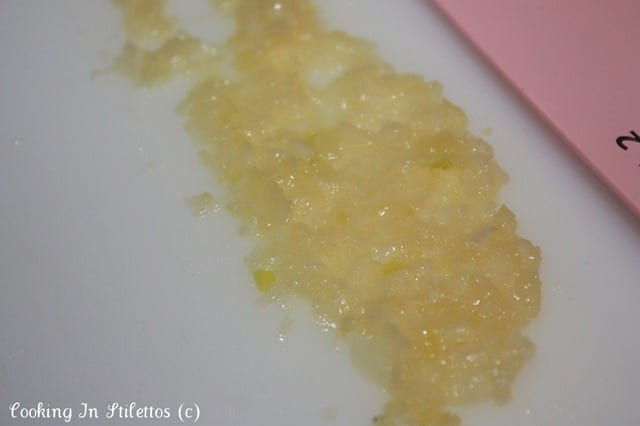 Red Pepper Sauce with a new kick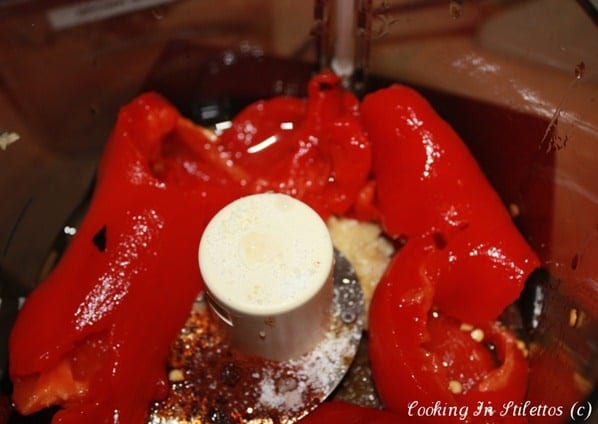 Enjoy!
Tried and True: Chipotle Cinnamon Broiled Chicken Thighs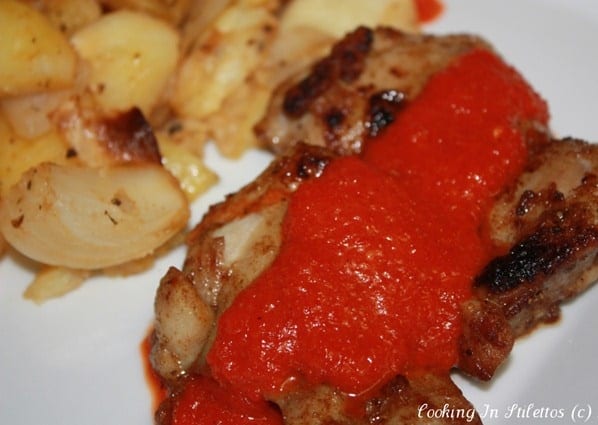 Ingredients
1 1/2 teaspoon of ground cumin, divided
1 teaspoon of light brown sugar
3/4 teaspoon of ground chipotle chile (you can reduce it to 1/2 teaspoon if you need to), divided
1/4 teaspoon of ground cinnamon
Kosher salt
8 boneless, skinless chicken thighs
3 tablespoons of olive oil
1 or 2 cloves of garlic
1 large or 2 small jarred roasted red peppers, drained
1 tablespoon of coarsely chopped cilantro (or flat leaf parsley if you aren't a cilantro fan)
Kosher salt
Instructions
Position a rack about 6 inches from the broiler and heat the broiler on high.
In a small bowl, combine 1 teaspoon of the cumin, brown sugar, 1/4 teaspoon of the chipotle, cinnamon, and 1 teaspoon of kosher salt.
In a medium bowl, toss the chicken with 1 tablespoon of olive oil, then toss with the spice mixture.
Arrange the chicken on a rack set over a rimmed baking sheet lined with foil. Broil until the chicken browns lightly on top, about 5 minutes.
Flip the chicken and continue to broil until browned and cooked through, about 5 minutes more.
Meanwhile, coarsely chop the garlic and sprinkle with 1/4 teaspoon of salt. Using the flat side of the chef's knife, smear and mash the garlic and salt together to form a coarse paste. (or you can do it another way – grate it on a microplane – easy peasy!)
Transfer the garlic paste to a food processor and add the roasted red pepper, remaining 2 tablespoons of olive oil, and remaining 1/2 teaspoon of cumin and chipotle, and 1/2 teaspoon of salt. Puree into a smooth sauce.
Garnish the chicken with the cilantro and serve with the sauce.
7.8.1.2
406
https://cookinginstilettos.com/tried-and-true-chipotle-cinnamon-broiled-chicken-thighs/