Recently, I came across this show, Recipe Rehab, where they take a recipe and two chefs revamp something that is high calorie into something that is much healthier and full of flavor.  The episode that I came across centered around a family's cheese enchilada recipe.  It looked delish but the calories had me going "Oh heck no!"  Well, there was a familiar face on there – Jaden from Steamy Kitchen and she made a recipe with ricotta cheese that lightened everything up.  There were a couple other tips in the episode that got me thinking and I decided to play in the kitchen.  What resulted was an inspired tried and true recipe for Turkey and Cheese Enchiladas that I will use from now on. Plus – a homemade enchilada sauce is so much better than the canned in my opinion.  Make sure to give this recipe a try and don't forget the cocoa – trust me on this.  It adds this flavor that you just can't get from a jar.
On to the recipe:
Gather your ingredients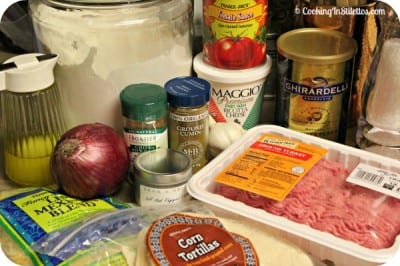 Adding a bit of spice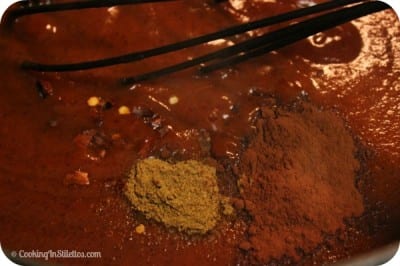 Viola – homemade enchilada sauce – so simple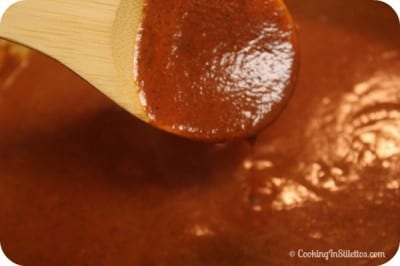 OK – assembly time  – and if the tortillas break, don't sweat it – the sauce will cover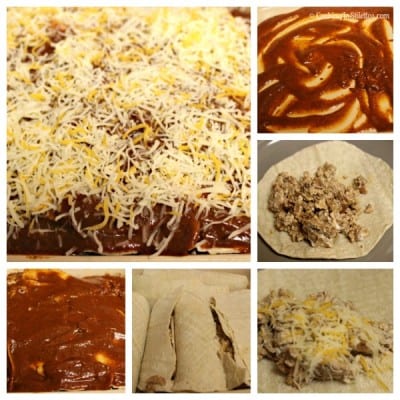 Fresh out of the oven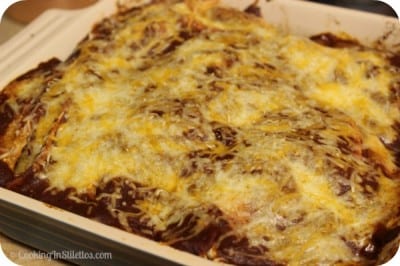 Tried and True: Turkey and Cheese Enchiladas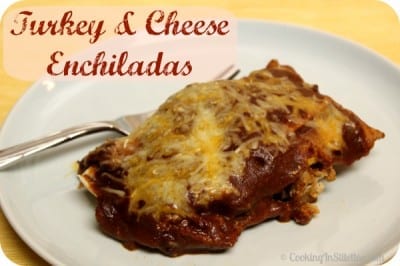 Ingredients
For the Sauce:

2 teaspoons olive oil (I used some Mojo de Ajo)
3 tablespoons of chili powder
1 tablespoon of flour
1 8 ounce can of tomato sauce
1 teaspoon of cumin
1 tablespoon of cocoa powder
1 teaspoon of Mexican oregano
1 teaspoon of smoked paprika
1 teaspoon of garlic powder
1/2 teaspoon of red pepper flakes (or cayenne pepper - depends on how spicy you like it)
1 cup of chicken broth

For the Enchiladas:

1 teaspoon of olive oil
1 pound of ground turkey
1/2 of a small red onion, diced
2 cloves of garlic
1 cup of part skim ricotta cheese
1 1/2 cups of reduced fat Mexican blend cheese
Salt and Pepper for seasoning.
12 corn tortillas
Instructions
For the sauce:

In a non-reactive saucepan, over medium heat, add the oil and heat for a minute or so.
Add the chili powder and allow to bloom for a minute. Follow with the flour and stir until the flour is cooked for a minute or so.
Whisk in the tomato sauce and let simmer until it is slightly thicker.
Add the cumin, cocoa powder, Mexican oregano, smoked paprika, garlic powder and red pepper flakes and whisk in the chicken broth.
Mix thoroughly and stir until the sauce is thickened.
Keep warm while you prepare the enchilada filling.

For the Enchiladas:

Preheat the oven to 350 degrees F.
Season the ground turkey with a bit of salt and pepper.
To a large skillet, add the olive oil and let heat over medium high heat.
Add the ground turkey and brown.
Remove the browned turkey to a medium bowl and set aside.
Add another teaspoon of olive oil to the skillet, followed by the onions.
Cook the onions until translucent and add the minced garlic.
Let cook for another minute or so and add the cooked onions and garlic to the turkey.
Stir in the ricotta cheese and mix thoroughly.
Lightly warm the tortillas, wrapped in a slightly damp kitchen towel, in a microwave until pliable (about 30 seconds or so - maybe longer)
To assemble, spread a bit of the enchilada sauce over the bottom of a baking dish.
To the warmed tortilla, add a bit of the turkey mixture, followed by a bit of the shredded cheese and a slight bit of the sauce.
Roll and place seam side down in the baking dish. If they break - don't worry - you will be covering it with sauce. Call it rustic - I won't tell.
Continue with the rest of the tortillas.
When the baking dish is full, ladle the enchilada sauce over the rolled enchiladas.
Top the sauce laden enchiladas with the remaining cheese and bake for about 20 minutes or so until the cheese is bubbling.
Enjoy!
7.8.1.2
332
https://cookinginstilettos.com/turkey-and-cheese-enchiladas/