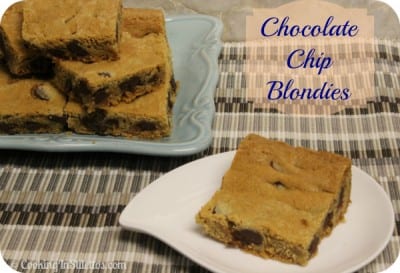 Last month, I was a bad bad bad blogger – I had a recipe shot and ready to go for Pass the Cookbook Club and then *poof* next thing I know, I'm back in the midst of work/life chaos with the pugster, the 9to9 and going "HUH?".  Sadly, I never did post that recipe (tho I'm thinking I might have to – it was THAT good).
Well, I was DETERMINED to not be a bad club member so this month, when Kita of Pass the Sushi aka our fearless leader  announced that we'd be making recipes from the Barefoot Contessa's FOOLPROOF, well, I immediately thought – "How bad can that be?!"

Have you heard of Pass The Cookbook Club?  It's a group of seriously savvy food bloggers that all have a "cookbook collection" that is seriously not being utilized.  It's full of recipe inspiration and, in some cases, we try recipes we might not have normally tried left to our own devices.  These recipes are tried and true and you know if I don't love the recipe, I won't post it.
We had three choices this month but, much like last month, it was a bit of balance overload and I found myself going "Do I make Chocolate Chunk Blondies or Gazpacho?"  Well, the Blondies won out and let me tell you – these are rich, chocolately and if you have one for breakfast – well, who am I to judge, right?
Sadly, no matter where I went shopping, I couldn't find chocolate chunks.  I wound up using some bittersweet chocolate chips for this recipe and they worked perfectly.  I also wasn't in a "nutty" mood (tho some might beg to differ) so the walnuts didn't play a role in today's recipe.  You can always add them if you like.
Once again, the Barefoot Contessa's recipe was spot on and perfect to brighten up today's gloomy skies.  Many thanks to Kita for such a great recipe selection and I can't wait to see what cookbook is featured for next month's Pass The Cookbook Club.
On to the recipe:
Gather the Ingredients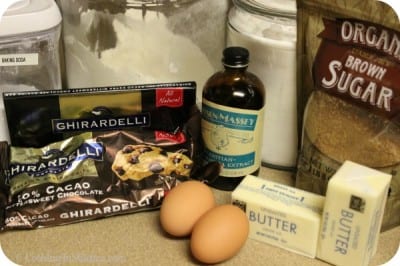 Do NOT eat all the cookie batter no matter how much you are tempted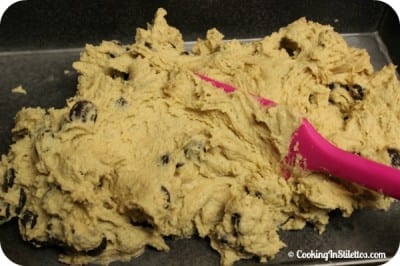 Fresh out of the oven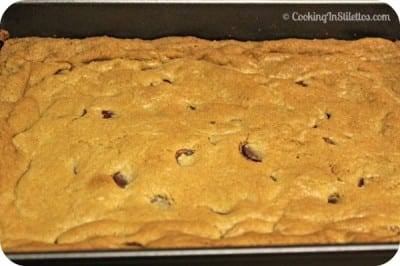 Now – don't you want one?
Ingredients
½ lb. (2 sticks) unsalted butter, at room temperature
1 cup light brown sugar, lightly packed
1/2 cup granulated sugar
2 teaspoons of pure vanilla extract
2 large eggs, at room temperature
2 cups all purpose flour
1 teaspoon baking soda
1 teaspoon Kosher salt
12 oz. of bittersweet chocolate chips
Directions
Preheat the oven to 350 degrees.
Either grease and flour or spraya 8 ½ x 12 x 2-inch baking pan and set aside.
With an electric mixer, using the paddle attachment, cream the butter, brown sugar and granulated sugar on high speed for about 3 minutes until light and fluffy.
Reduce the mixer speed to low and add the vanilla.
Slowly add the eggs, one at a time, making sure each egg gets incorporated into the batter.
Scrape down the sides of the bowl.
Sift the flour, baking soda and salt into a small bowl and, with the mixture on low, slowly add the flour to the butter mixture.
Fold in the chocolate chips with a rubber spatula and spread the batter into the prepared pan.
Make sure to smooth the top as best as you can and bake for 30 minutes.
At the end of 30 minutes, test with a toothpick and make sure it comes out clean.
Cool in the pan completely and when cool, cut into bars and enjoy!
Notes
Slightly adapted from the Barefoot Contessa / Ina Garten
7.6.7
816
https://cookinginstilettos.com/chocolate-chip-blondies/
All images and content are © Cooking In Stilettos. Please do not republish without contacting us first. Thank you.
Now – here's my fave part – seeing what all the other club members made and their spin on the recipes. Check them out below!
Did you enjoy this post?
| | |
| --- | --- |
| Share the love | Get free updates |