One sip of this Bourbon Laced Vanilla Chai Tea Latte brings a touch of comfort and warmth to the chilliest of nights.


Disclosure:  This post may contain links to products I adore and trust in my kitchen.  Thank you for supporting Cooking In Stilettos.
While my buddy Kim was off traveling, she asked some of my favorite peeps and I to bring a bit of boozy fun to Cravings of a Lunatic this week. I wanted to bring something that you can enjoy toasty warm or chill over ice, with a bit of "spirit" or without and my Bourbon Laced Vanilla Chai Tea Latte fit the bill. 
I love making Chai from scratch – it's not as hard as I used to think.  Don't get me wrong – there are times I have that box of Chai concentrate in the pantry for winter but honestly, if you make it yourself, you can customize the spices to your liking. I tend to like it with a bit of a vanilla and a little less ginger.  However, the kicker is a bit of bourbon that takes this vanilla chai latte over the top.
So, when you are ready to curl up on the couch to watch the latest episode of Sleepy Hollow (hello – have you SEEN Ichabod Crane?) and The Blacklist, whip up a batch of this vanilla chai.  Added bonus – there is extra for morning that will have you forgetting to stop by the local coffeehouse on the way to the 9to9.  Just heat it up and go – without Bourbon of course.  Now – how bad can that be?
This Bourbon Laced Vanilla Chai Tea Latte is the perfect way to end the day!
Let's get this boozy party started:
Gather your ingredients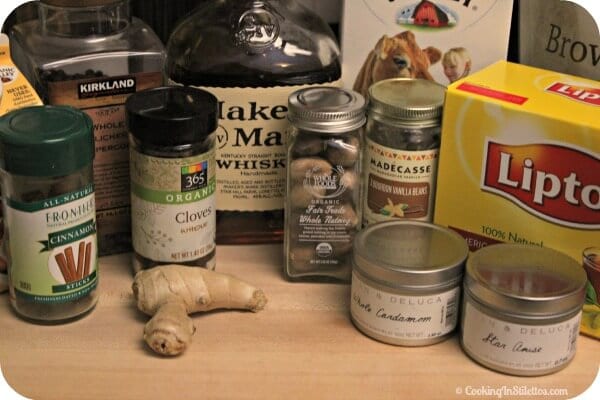 Double Duty – the Bourbon can lightly smash the spices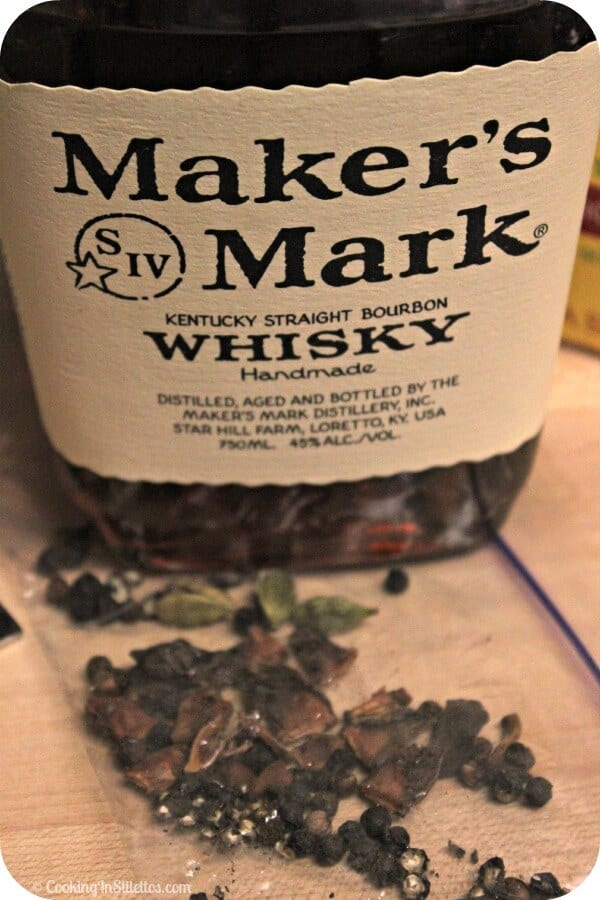 Adding the water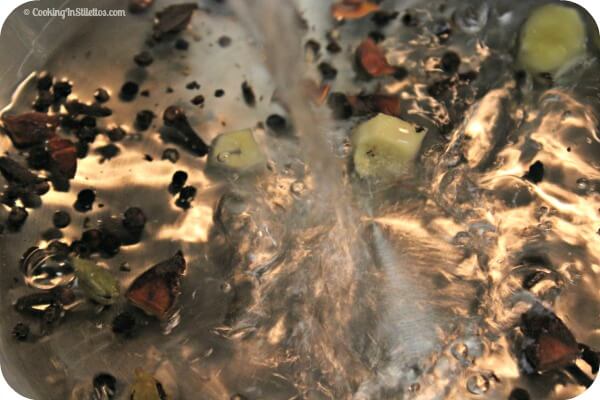 Time to steep the tea bags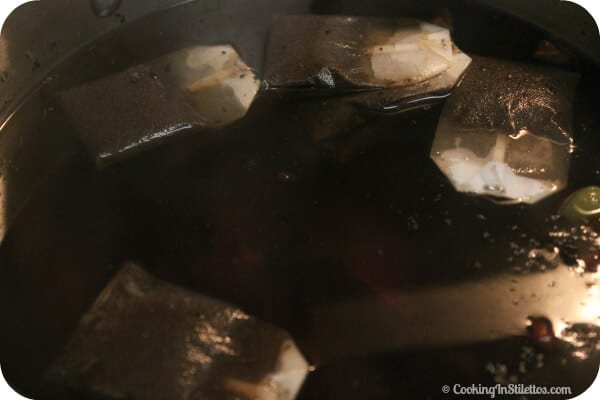 Adding the milk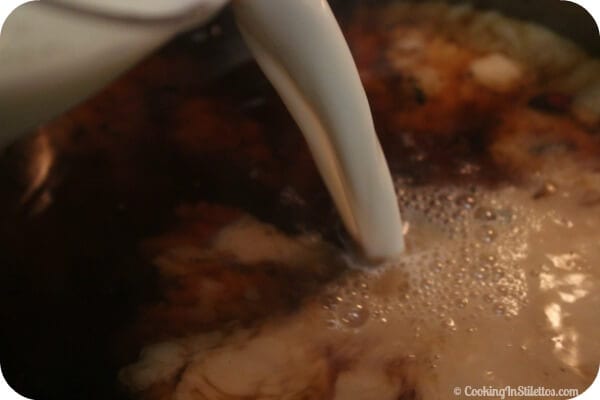 Straining the spices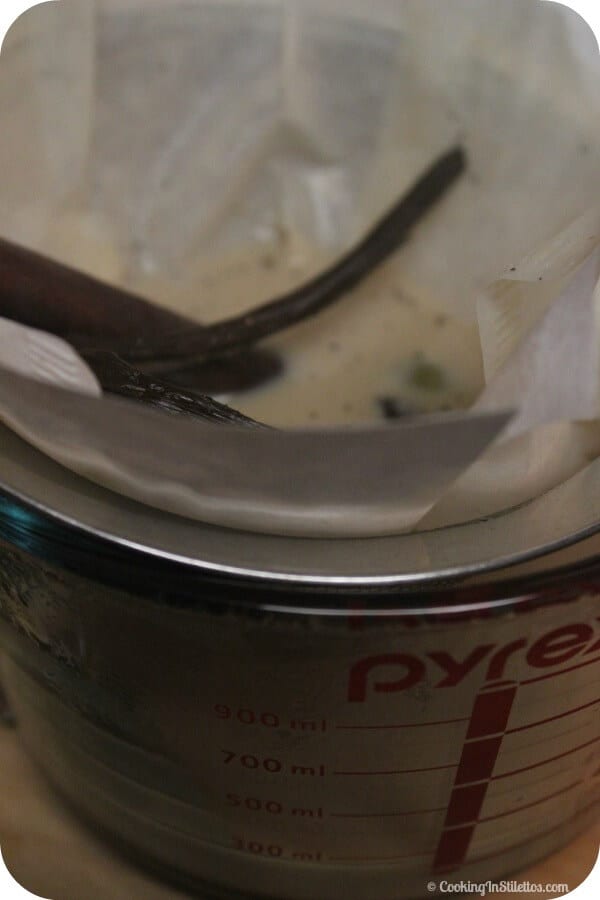 One of my favorite steamy beverages to curl up with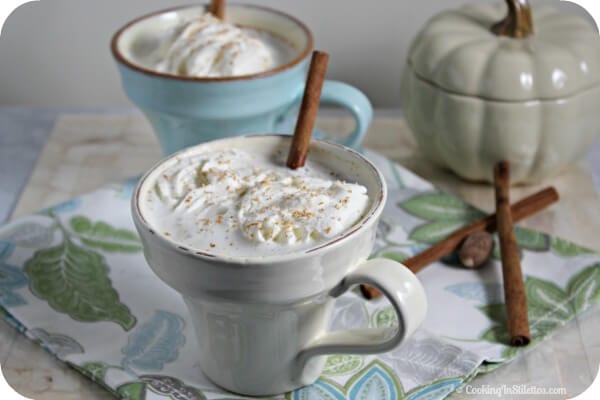 Print
Bourbon Laced Vanilla Chai Tea Latte
This Bourbon Laced Vanilla Chai Latte is a fabulous way to end the evening. Tea is simmered with chai spices and laced with a touch of bourbon and milk. To add a bit of decadence, dollop with freshly whipped cream with a hint of spice and enjoy!
Author:
Prep Time:

5 minutes

Cook Time:

25 minutes

Total Time:

30 minutes

Yield:

4

Category:

Drinks

Cuisine:

American
Ingredients
1 inch piece of ginger, peeled and cut into coins
2 cinnamon sticks, broken
2 star anise
1 1/4 teaspoons of black peppercorns
6 whole cloves
4 cardamom pods
1/8 teaspoon of freshly grated nutmeg
6 cups of cold water
1 vanilla bean, sliced lengthwise
5 black tea bags
2 cups of milk
1/3 cup of packed light brown sugar
Bourbon (plan on 1 ounce per person)
Whipped cream, cinnamon sticks and nutmeg for garnish
Instructions
In a plastic bag, add the cinnamon sticks, star anise, black peppercorns, cloves, and cardamom pods. Lightly crush and pour into a medium saucepan.
Add the ginger, water and the seeds of the vanilla bean and the scraped vanilla pod to the saucepan.
Bring to a boil over medium high heat. When the mixture is boiling, reduce to a simmer.
Simmer for 10 minutes or so, partially covered.
Remove the pan from the heat and add the tea bags. Let steep for 5 to 7 minutes.
Remove the tea bags from the mixture.
Add the sugar and the milk, whisking thoroughly over high heat until the mixture is brought to a simmer (DO NOT BOIL).
Pour into mugs and add the bourbon.
Stir with a cinnamon stick, garnish with some whipped cream and a bit of freshly grated nutmeg.
Enjoy!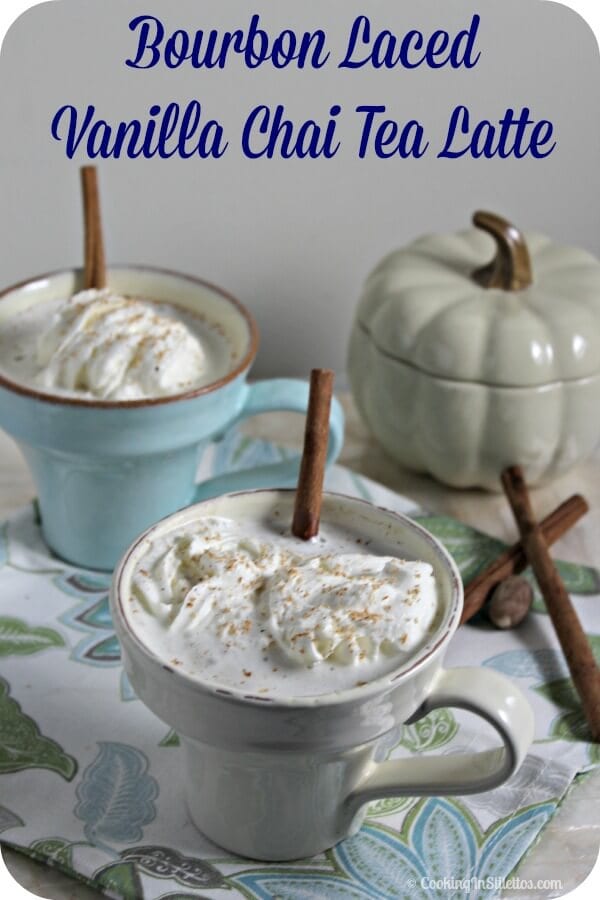 Head over to Cravings of a Lunatic and visit! Many thanks to Kim for letting me share one of my favorite toasty beverages!
My favorite finds for this recipe:
Did you enjoy this post?
| | |
| --- | --- |
| Share the love | Get free updates |