I made a delicious meal with Campbell's® Sauces as part of a sponsored post for Socialstars. #CampbellsSauces
What is the first thing you think of when you hear "Chicken Pot Pie"? For me, the thought of a cozy comforting dish comes to mind. Who doesn't love chicken, potatoes and crisp veggies bathed in a creamy sauce simmering away under a flaky crust, right?
Growing up, chicken pot pie was a family favorite as there was always a stash of pre-made individual pot pies in the freezer. Now that I am older, I would love to serve pot pies more but you know my issues with pie crust – pie crust and I are on barely speaking terms. Eventually we'll reconcile but to make it from scratch and on a busy weeknight, to quote that classic song, "Ain't No Way."
One of my pantry staples are Campbell's® Sauces and their Chicken Pot Pie Oven Sauce allows me to get home from the 9to9, assemble some ingredients, grab either some puff pastry or pre-made pie crust from the fridge and, in about 50 minutes or so, I have a hot and bubbly pot pie ready for dinner. If I want to customize it, their Oven Sauces give me the freedom to add a bit of spice or change the flavor profile depending on my mood.
I love the classic Chicken Pot Pie with carrots, peas, and potatoes in that rich peppery cream sauce. However, on days when I want a bit of zing, I love a Southwestern spin with these Mini Southwestern Chicken Pot Pies. You can make a 9×13 dish and layer a sheet of puff pastry over it if you want to serve it family style or, you can do what I did and break out those little mini pie dishes – you know the ones that are sitting in your cabinet that you couldn't resist buying – and make these individual lovelies.
I spiced mine up using a freezer staple, puff pastry, because when it comes to pie crust, there is nothing flakier that a bit of puff, right? To add another layer of flavor, I browned the chicken thighs for a bit of additional zing with some of my favorite adobo seasoning along with a quick sauté of the onions and peppers. In no time, I had this luscious creamy chicken pot pie mixture ready for the oven. The smells from my kitchen had the Junior Sous Pug begging for a taste. It almost broke my heart to tell him I could not sneak him a bite. Key word is almost because sharing was not an option once I tasted these. These pot pies were the hit of dinner and will be in steady rotation in my house.
So – when the call for comfort strikes, indulge. Whip out this Campbell's® Oven Sauce and make a Chicken Pot Pie – your family and friends will absolutely adore it!
On to the recipe:
These Campbell's® Oven Sauces are a pantry staple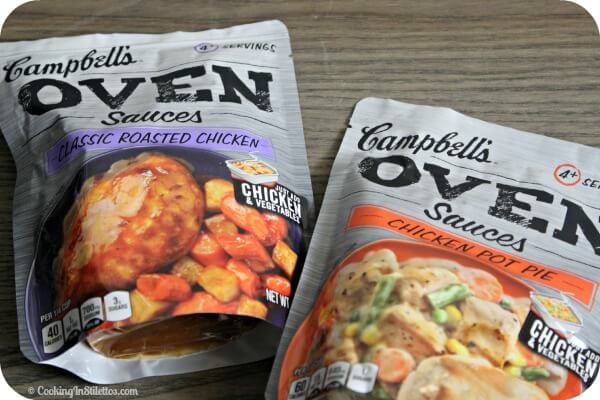 This Chicken Pot Pie Oven Sauce makes it easy to go from oven to table in no time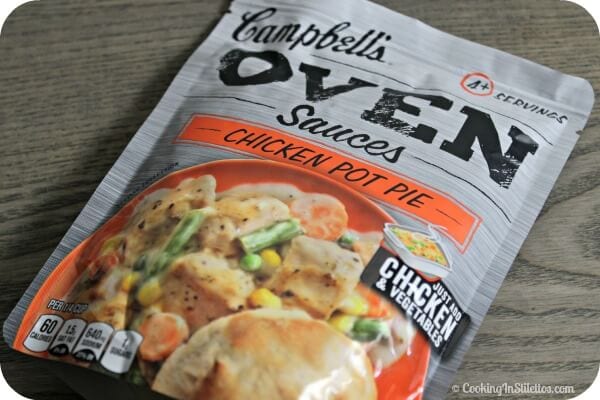 Let's gather the ingredients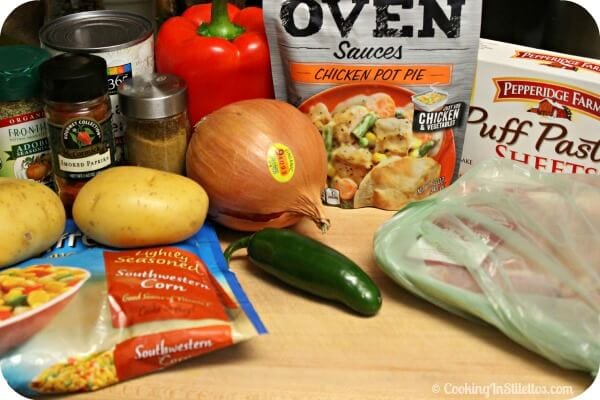 Adding the Oven Sauce to the veggies, spices and chicken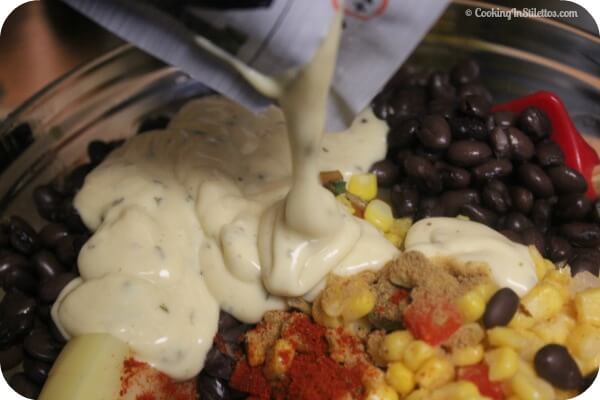 Time to assemble and brush the puff pastry with a bit of egg wash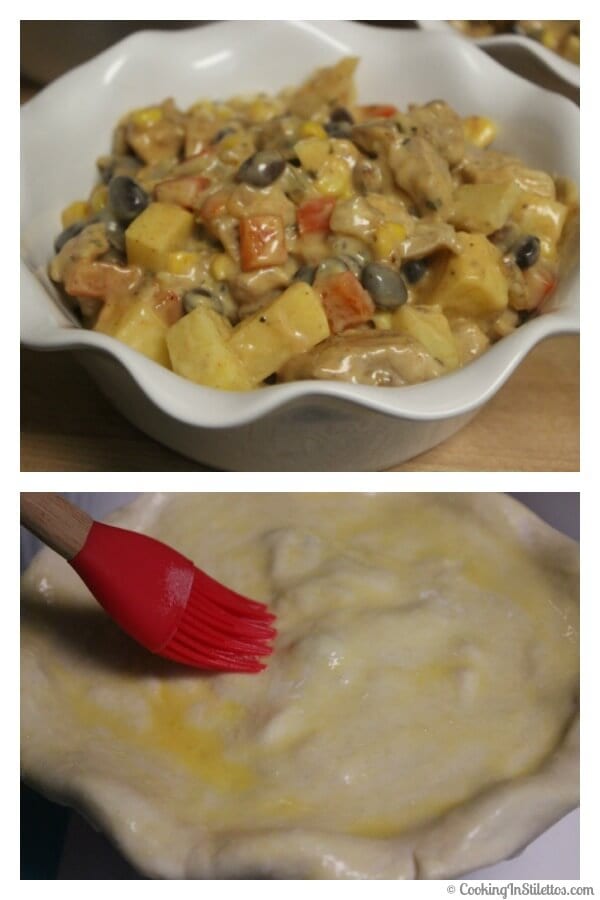 Hot and steamy out of the oven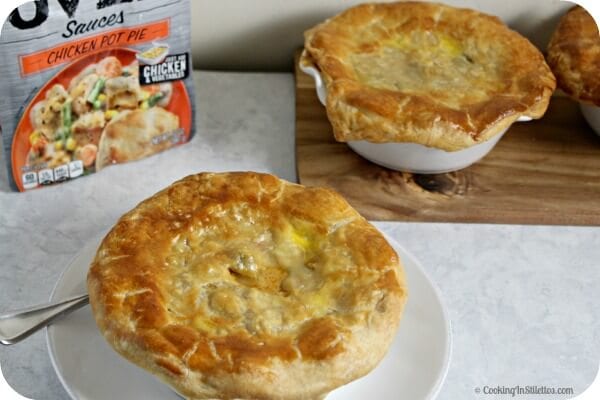 Want a bite?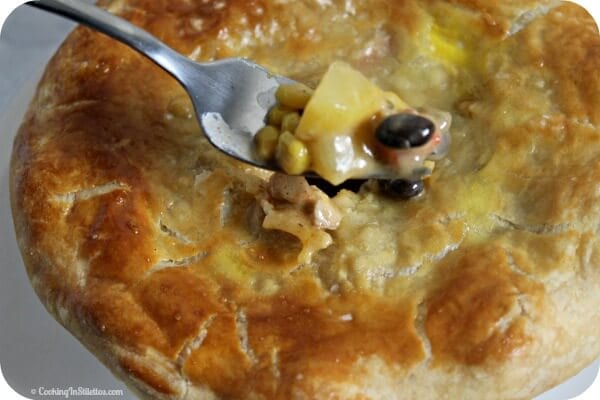 Aly M. Cleary
Yields 4
Mini Southwestern Chicken Pot Pies
These mini pot pies are so easy to make. A few fresh ingredients and a few minutes of prep and in 40 minutes or so, your family will devour these scrumptious Southwestern Chicken Pot Pies.
10 minPrep Time
40 minCook Time
50 minTotal Time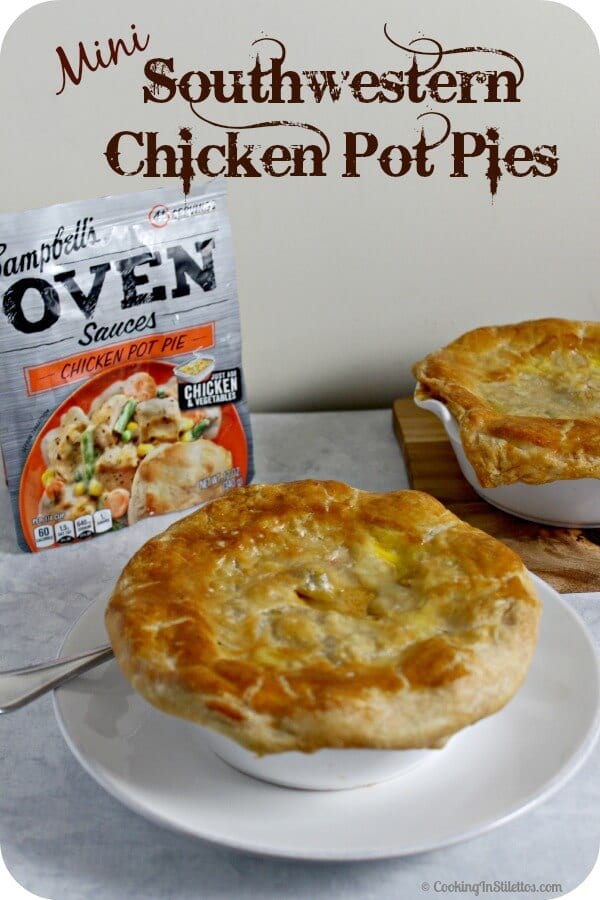 Ingredients
1 package of Campbell's® Chicken Pot Pie Oven Sauce
1 1/2 pounds of boneless skinless chicken thighs, diced into 1" cubes
1 tablespoon of olive oil
1/2 teaspoon of Adobo seasoning
1 small onion (or 1/2 a large onion), finely diced
1 red pepper, seeded and finely diced
1 jalapeño, finely diced
2 Yukon gold potatoes, peeled and small diced
1 cup of frozen corn (I used a southwestern corn mix)
1 cup of black beans, drained and rinsed
1/2 teaspoon of ground cumin
1/2 teaspoon of smoked paprika
Salt and pepper
2 - 3 sheets of puff pastry, thawed
1 egg, beaten
Flour for rolling
Instructions
Preheat the oven to 400 degrees F.
In a large skillet, add the olive oil and heat over medium heat.
Season the chicken with the adobo seasoning and brown for a few minutes.
Remove the chicken to a large bowl.
To the skillet, add the onions, red pepper and jalapeño. Sauté for a couple minutes until the onion is translucent and add to the bowl with the chicken.
To the large bowl, add the small-diced potatoes, corn, black beans, cumin and paprika. You want the potatoes diced small so they cook fully in the sauce. Mix with the chicken and onion mixture.
To the veggie and chicken mixture, add the Campbell's® Chicken Pot Pie Oven Sauce. Fold the sauce into the mixture so that everything is evenly coated. Taste for seasoning. Add a bit of salt and pepper if you like.
Add some of the mixture to individual pie plates (or a 9 x 13 pan if you are doing one pot pie) and set aside.
Add a bit of flour to your board and rolling pin. Roll out the puff pastry so that it is a long rectangle. Cut circles out that will fit the top of your pie dishes so that there is a bit of overhang.
Lightly brush the edges of the pie dish with a bit of the egg wash mixture and lay over the rolled out puff pastry.
Crimp the edges so that everything seals nicely, cut a slit in the top to vent and brush with a bit of egg wash. Sprinkle with a bit of flaky sea salt.
Place each pie dish on a baking sheet (because they will bubble out a bit) or the 9 x 13 pan (if using) and bake for about 30 – 40 minutes, until everything is puffed, glorious and bubbly. The crust should be golden brown. If you notice that it is browning too quickly, feel free to cover it with a bit of foil so the edges do not burn.
Allow to cool for a few minutes and enjoy!
7.8.1.2
180
https://cookinginstilettos.com/southwestern-chicken-pot-pie/