Growing up, there were two  staples I knew I would find in my mom's pantry – PAM Cooking Spray and a box of this shaky baked coating that she'd use on pork chops and chicken.
So – when I started my cooking journey, I continued the tradition.  As I got more versed in how to cook and started putting a more healthy spin on family favorites, I lost the shaky baked coating mixture but the PAM remained a pantry must have.   After all, it makes cleaning the pans a breeze, cuts down on unnecessary fats and oils and I always know that it's going to turn out a quality dish.
Plus – in addition to the original, PAM also has sprays for baking, grilling and now coconut oil and organic sprays – talk about options! Recently, when shopping at my local market, I saw some gorgeous boneless pork loin chops on sale and, like a lightbulb, it hit – I should revisit a family classic pork chops with that shaky baked coating but with a bit of a spin.  Of course, one key component to the pork chops is is the PAM cooking spray because this gal did NOT want a messy pan.  My baking sheets take quite a bruising and a use up bit of real estate in the dishwasher so PAM would help with easy cleanup. I decided to research that shake baked coating mixture and wanted one that would keep in the pantry and after looking at a couple recipes from The Black Peppercorn and AllRecipes.com, I grabbed some of my favorite spices and got mixing.
I love making my own spice blends and mixes so this Homemade Shaky Baked Coating Mix will be a must for my pantry – and you might want to double it.  For an extra bolt of flavor, you could always add some Parmesan cheese to the shaking bag before you shake.  Take this recipe and make it your own.  If you like more oregano, add it – if you like Aleppo pepper – who am I to say no, right?  This is just a starting point for you to make your own pantry staple. When it came to preparing the pork chops, I talked with my butcher and he agreed with a recent tip I learned via one of my cooking shows that by lightly cutting the fat cap on the side of the pork chop, it will help stop any possible pork chop curling when the heat gets to it.
I also decided that instead of using eggs for part of the breading process, I would instead use some Greek yogurt and my fave spicy brown mustard and these Oven Baked Pork Chops are a tried and true. PAM made this recipe a winner – no mess, no fuss and a winner of a dinner.  For your next weeknight meal, make these Oven Baked Pork Chops , serve with my fave Honey Ginger Green Beans, and prepare for clean plates and no leftovers.  They are that good!
On to the recipe:
Gather your ingredients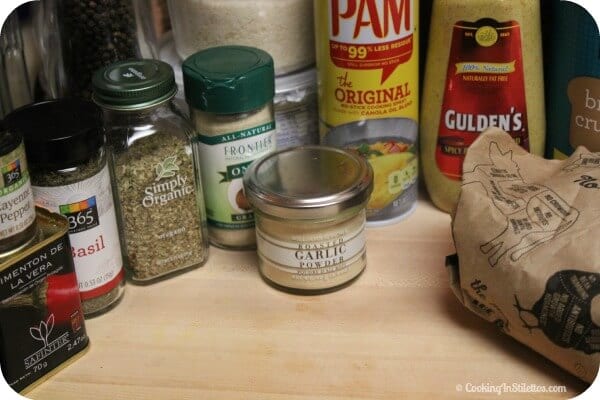 Let's make our version of that iconic shake and bake-ish breading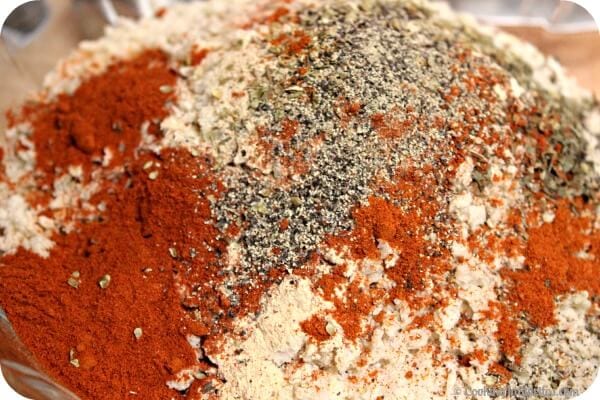 Tip I learned – a slight slice through the fat cap on a pork chop will stop it from curling – who knew?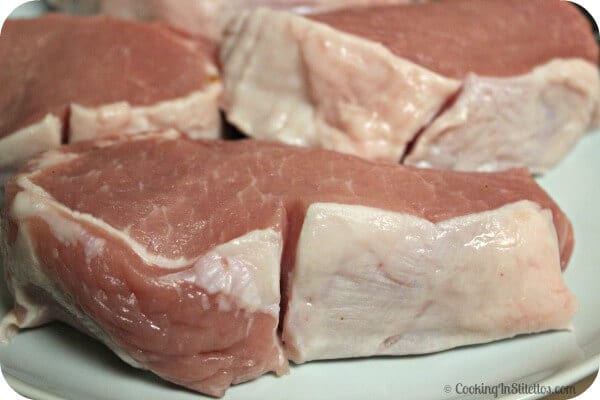 Ok – let's mix some spicy brown mustard and Greek yogurt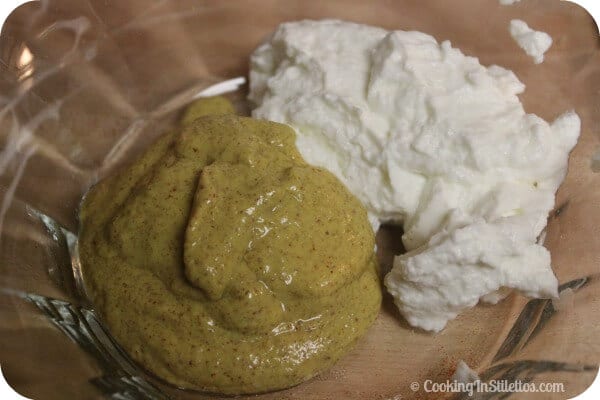 Before it heads to the oven – spray your baking sheet with PAM cooking spray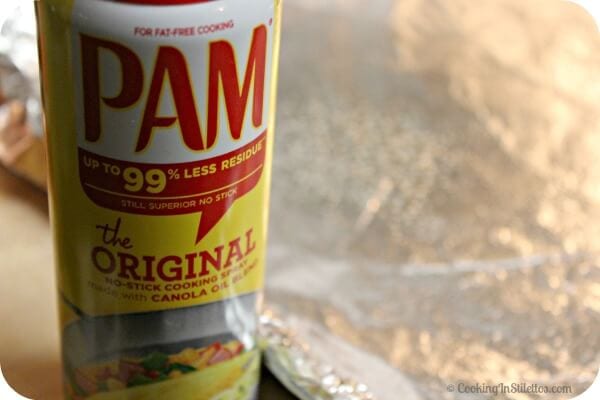 Breaded and ready to bake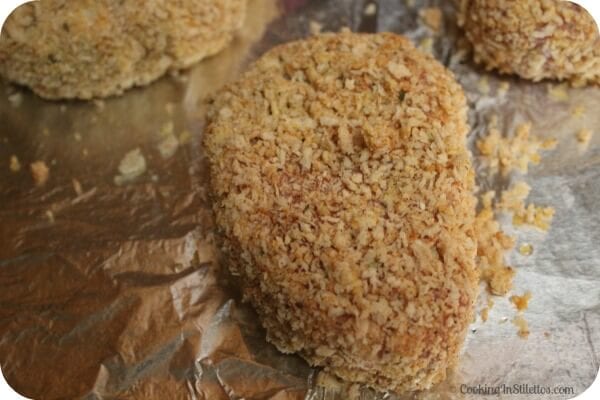 Look at those oven baked pork chops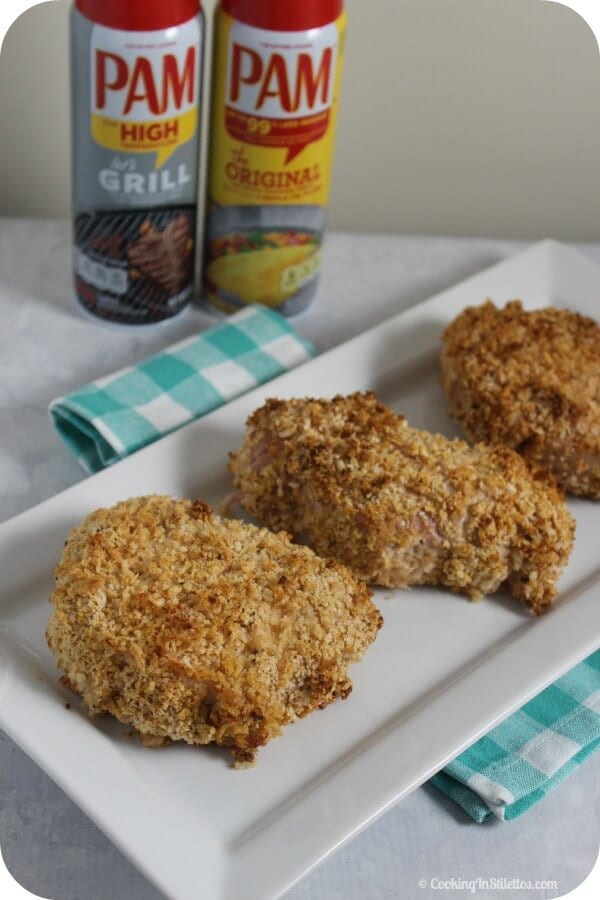 Seriously – don't you want a fork right now?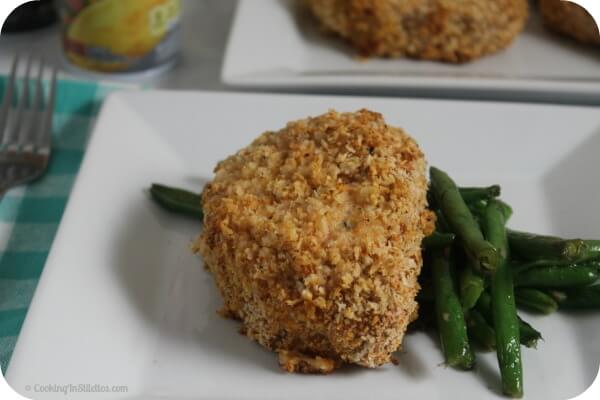 Coating recipe adapted from TheBlackPeppercorn.com & AllRecipes.com
Yields 4
Oven Baked Pork Chops
These easy Oven Baked Pork Chops are perfect for a quick weeknight dinner and use a homemade "Shaky Bake" coating that you can keep right in your pantry. How easy is that?
20 minPrep Time
30 minCook Time
50 minTotal Time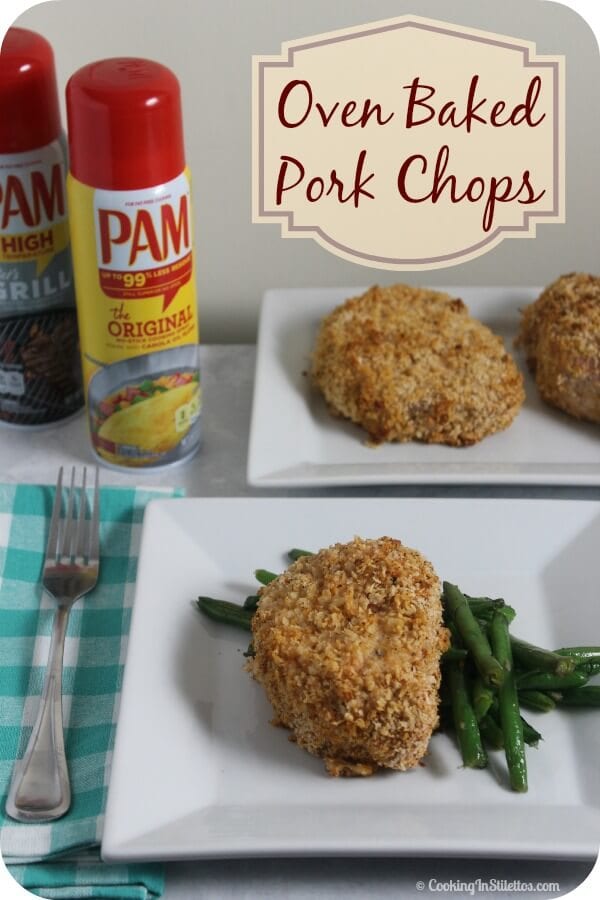 Ingredients
For the Homemade Shaky Baked Coating Mix:

3 cups of panko breadcrumbs
1 tablespoon of dried minced onion
1 tablespoon of kosher salt
1 tablespoon of smoked paprika
1 teaspoon of garlic powder
1 teaspoon of freshly cracked black pepper
3/4 teaspoon of dried oregano
3/4 teaspoon of dried basil
1/4 – 1/2 teaspoon of cayenne pepper (I'm a wuss – I went with a 1/4)

For the Pork Chops:

4 boneless pork loin chops
1 1/2 cups of the Homemade Shaky Baked Coating
1/4 cup of spicy brown mustard
3 tablespoons of Greek yogurt
PAM Cooking Spray
Instructions
For the Homemade Shaky Baked Coating Mix:

In a bowl, mix together the panko breadcrumbs, onion, salt, smoked paprika, garlic powder, black pepper, dried oregano, dried basil and cayenne pepper. Make sure to mix everything thoroughly and store in an airtight container.

For the Pork Chops:

Preheat the oven to 425 degrees F.
Lightly spray a baking sheet (and a baking rack if using) with PAM cooking spray. Set aside.
Pat the pork loin chops dry with a paper towel and, using a small paring knife, slice gently through the fat on the side so they do not curl up in the heat.
In a large plastic bag, add 1 1/2 cups of the Homemade Shaky Baked Coating mixture.
In a bowl, mix together the brown mustard and Greek yogurt.
Lightly coat the pork with the mustard yogurt mixture and then place the coated chop in the plastic bag.
Shake Shake Shake until the pork is covered on all sides and place on the baking sheet.
Continue with the remaining pork chops.
Bake for about 25 – 30 minutes or until the pork chop coating is brown and toasty and the internal temp is about 160 – 165. Remove from the oven and let rest for about 5 – 10 minutes.
Enjoy!
7.8.1.2
234
https://cookinginstilettos.com/oven-baked-pork-chops/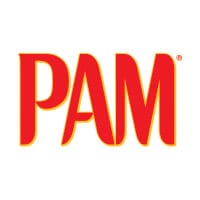 Leaving up to 99% less residue, PAM is your ally in the kitchen and allows you to save time during prep and clean up. Disclosure: Compensation was provided by ConAgra via Mode Media. The opinions expressed herein are those of the author and are not indicative of the opinions or positions of ConAgra.