I still remember the first time I had beef short ribs. I was with friends at one of my favorite restaurants in Philly – Bourbon Blue – and thought – "I need to learn how to make this!" Another favorite dish – the short ribs flatbread at Amada in Philly – see the pattern? Whenever I am craving comfort or want to make something I know friends and family will love, I break out my slow cooker and simmer some lovely short ribs. I've had them in pasta, in sandwiches covered with melty cheese, braised, over Parmesan polenta, in enchiladas and, of course, in a burger.
In the summer months, occasionally, I will see ground short ribs at my local Whole Foods but it's rare. I could grind them myself but I haven't gotten so brave. However, it is #BurgerMonth where some of my fave bloggers are spotlighting their favorite burgers and I knew I had to bring short ribs to the party. So – I headed to my local Whole Foods, talked to the butcher and told him of my predicament (and my fear of ruining perfect short ribs with horrid grinding skills). "I got you," he said as he headed to the back and came out with 2 pounds of perfectly marbled and ground boneless beef short ribs. Added bonus – they were on sale for the weekend – total win/win!
This burger recipe will make enough for 6 – 8 but you can halve it if you wish or make some and keep them as leftovers. They'd even be perfect as sliders. Don't have a meat grinder – no worries -make friends with your local butchers and they will take good care of you.
Remember the short ribs flatbread at Amada I mentioned? It was drizzled with a rich horseradish crema that took the flavors over the top. So – in thinking of what to add to my short ribs burger, I knew the perfect condiment was my take on that horseradish cream sauce. Add some sharply sweet red onion, some peppery arugula and a slice of chilled Monterey Jack cheese and my ultimate burger was born. I could have melted the cheese on the burger but I didn't want to spoil the short ribs perfection. I know – silly me but you can clearly melt it if you wish. A bit of salt and pepper to the ground short ribs, form into patties with a dimple in the center and *viola* – the perfect burger!
When you want something that will bring raves from friends and family, make these beef short ribs burgers with horseradish cream sauce!
On to the recipe:
Gather your ingredients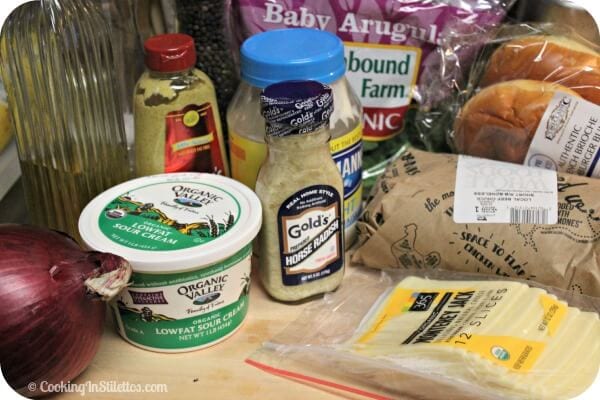 Look at all of that marbling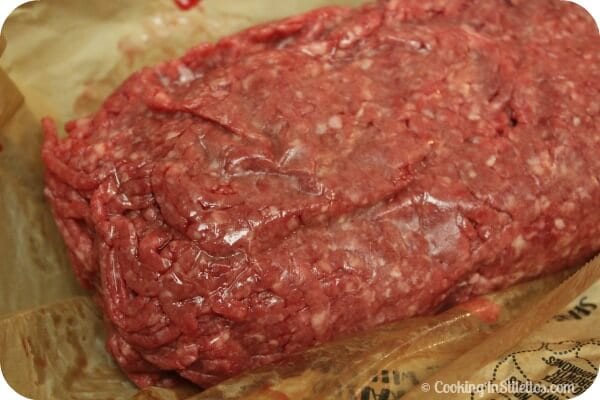 Time to make the Horseradish Cream Sauce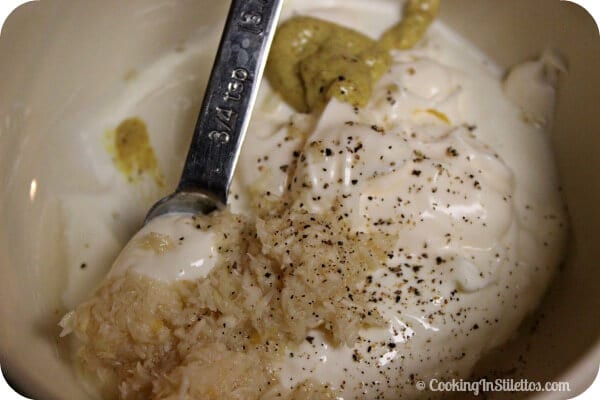 While the burgers are caramelizing – let's get the burger accompaniments ready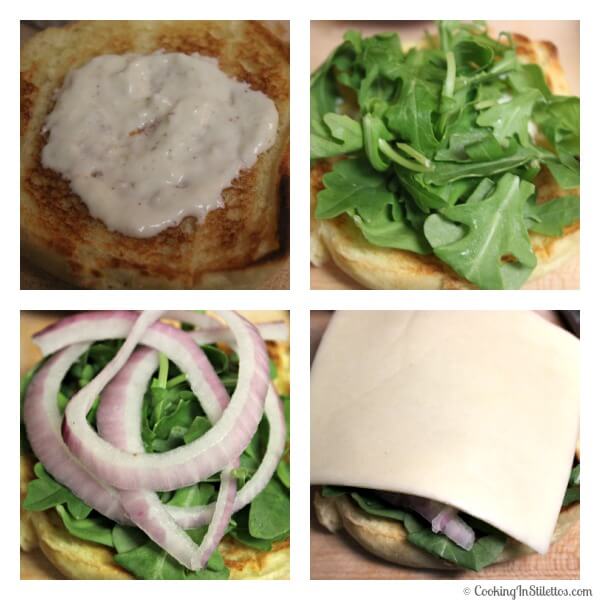 Look at that burger – the onion, the arugula, the cheese and the cream topped with the perfect short rib burger patty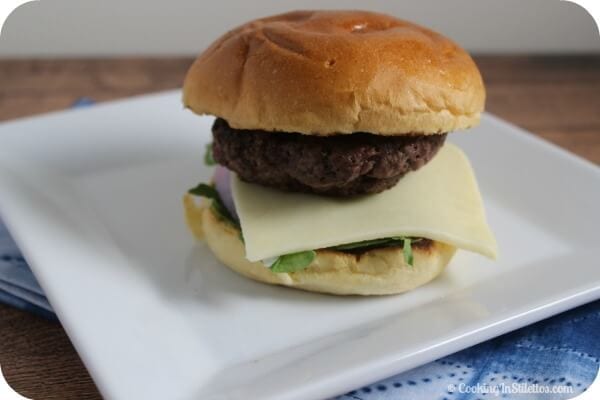 Don't you want one right now?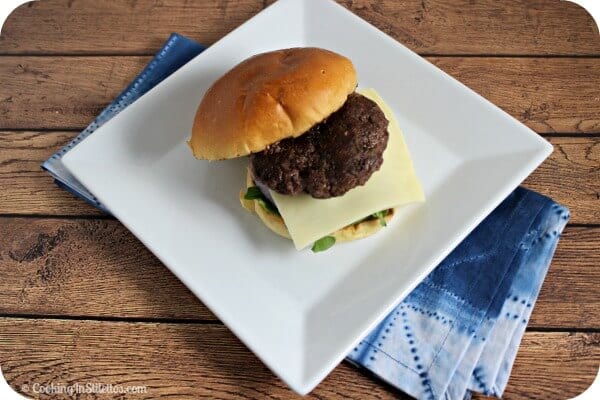 Aly M. Cleary
Yields 8
Beef Short Ribs Burgers with Horseradish Cream Sauce
This is the ultimate in burgers - rich beefy short ribs grilled perfectly and nestled on a brioche bun with Monterey Jack cheese, red onion, arugula and a divine horseradish cream.
20 minPrep Time
20 minCook Time
40 minTotal Time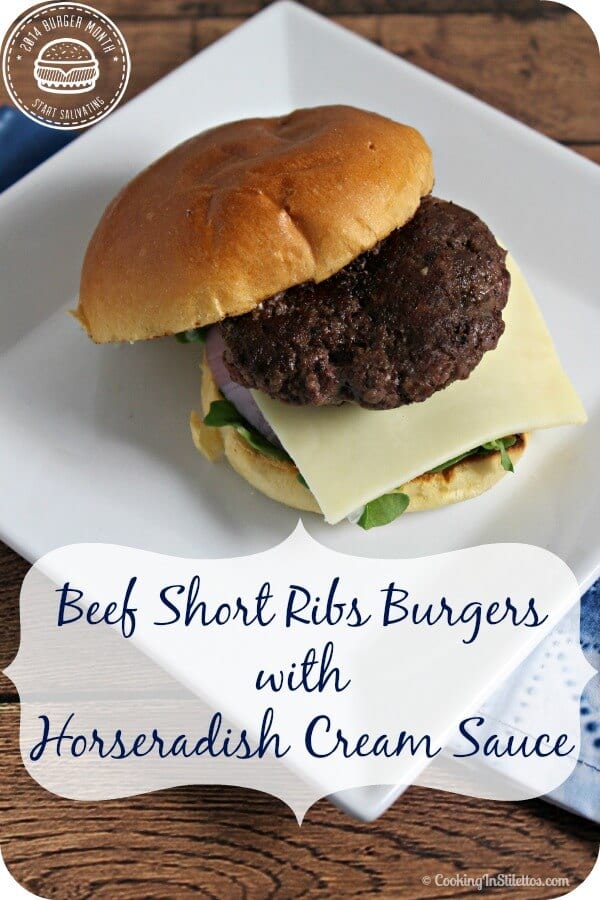 Ingredients
2 pounds of ground beef short ribs
1 1/2 teaspoons of kosher salt
3/4 teaspoons of freshly cracked black pepper
2 teaspoons of canola oil
1/2 of a large red onion, sliced
1/2 cup of fresh baby arugula
8 slices of Monterey Jack cheese
8 Kaiser or brioche hamburger buns

For the horseradish cream sauce

1 tablespoon of prepared horseradish
1/2 teaspoon of spicy brown mustard
1 tablespoon of light mayonnaise
1/4 cup of reduced fat sour cream
Salt and pepper to taste
Instructions
In a bowl, lightly mix together the ground beef short ribs, salt and pepper. Form into 8 patties with a slight dimple in the center. Set aside while you preheat the grill or pan to a medium high.
Add a teaspoon of canola oil to the pan and let it shimmer for a second.
Add 4 patties to the grill or pan and let cook for about 6 - 7 minutes until nicely caramelized, then flip and cook on the other side.
When cooked to your desired temp, drain the fat from the pan or quickly clean the grill and continue with the remaining 4 burgers. (The short ribs give off a bit of fat.)
While the burgers are cooking away, make the horseradish cream sauce.
In a bowl, add the horseradish, mustard, mayonnaise and sour cream. Season with a bit of salt and pepper and mix thoroughly.
Toast the buns for a bit and then assemble the burger.
Spread the bottom of the bun with a bit of the horseradish cream sauce. Top with a bit of arugula and some rings of red onion. Follow that with the Monterey Jack cheese and finally the burger patty. Spread the top of the bun with a bit more of the horseradish cream and top the burger.
Enjoy!
7.8.1.2
235
https://cookinginstilettos.com/beef-short-ribs-burgers-with-horseradish-cream-sauce/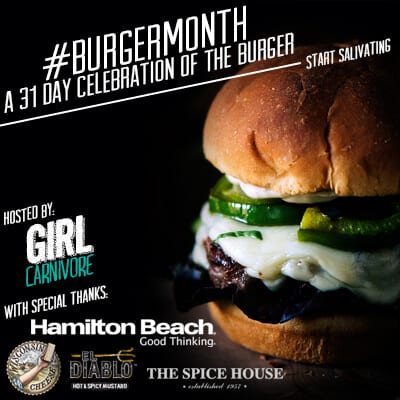 A huge thanks to the #BurgerMonth crew, including our fearless leader,
Kita of Girl Carnivore
and all of the amazing bloggers who were just as inspired by a month of burgers as I was and the awesome companies that have donated prizes to #burgermonth ,
El Diablo Hot & Spicy Mustard
,
FireWire Grilling Skewers
,
Hamilton Beach
,
KitchenIQ
,
The Spice House
, and
Wisconsin Cheese