Hazelnut Tres Leches Cupcakes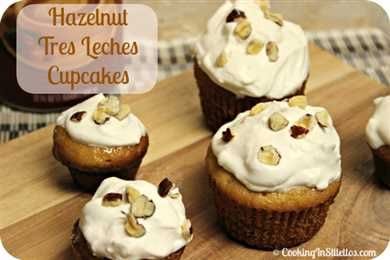 Ingredients
For the cake batter:

2 1/3 cups all purpose flour
1 teaspoon baking powder
1 teaspoon baking soda
1 teaspoon fine salt
1/2 teaspoon cinnamon
1 stick unsalted butter
1 1/2 cups granulated sugar
3 large eggs and 1 egg white
1 teaspoon vanilla extract
1 cup milk
1/4 cup of International Delight Hazelnut Creamer

For the Tres Leches Mix:

1 can (12 oz.) of evaporated milk
7 ounces (half a can) of sweetened condensed milk
1/2 cup of heavy cream
1/4 cup of International Delight Hazelnut Creamer

For the Whipped Cream Marscapone Frosting:

2 cups of heavy cream
1/4 cup of International Delight Hazelnut Creamer
1/2 cup of confectioners sugar
1/2 teaspoon of vanilla
1/4 cup of marscapone cheese
Toasted chopped hazelnuts for garnish
Instructions
Preheat the oven to 350 degrees F.
Line cupcake tins with paper liners or spray with non-stick spray.
Make the Tres Leches mix by blending the evaporated milk, sweetened condensed milk, International Delight creamer and heavy cream until fully mixed. Set aside in the fridge as it will need to cool for about an hour.
While the Tres Leches mix is cooling, start to prepare the batter.
In a large bowl, sift together the flour, baking powder, baking soda, salt and cinnamon.
Using a mixer, cream the butter and sugar until it's light and fluffy.
Add the eggs one by one, adding each egg when the other is incorporated fully.
Add the egg white.
Add the vanilla and mix until the batter is fluffy.
Alternate the flour mixture and the milk and International Delight creamer and do not overmix.
Portion into the cupcake tins and bake for about 15 – 20 minutes.
Cool the cupcakes for about 30 minutes. After 30 minutes, "fork" or inject each cake with a bit of the Tres Leches mix. If you are going to "fork" the cake, spoon a bit of the Tres Leches mix over the top.
Let the cupcakes rest in the fridge for at least an hour.
While the cupcakes are resting, make the Whipped Cream Marscapone Frosting.
In a bowl, whip the heavy cream. As the peaks start to form, slowly add the International Delight creamer and confectioners' sugar.
When it thickens, add the vanilla and marscarpone cheese and whip again to combine.
Frost the cupcakes with the whipped marscapone frosting, garnish with a bit of chopped toasted hazelnuts and enjoy!
7.8.1.2
335
https://cookinginstilettos.com/hazelnut-tres-leches-cupcakes/