I decided to play around a bit with the recipe due to "pantry issues". The buttermilk smelled horrid once I opened it and, just to be safe, I used just regular low-fat milk that was on hand. Call me paranoid but I have found that sometimes when I buy buttermilk from a store, the date might be right but it just tastes off. I'm going to stick with commercial buttermilk from now on (or just learn to make my own… Hmmm). Another change – I only had red delicious apples instead of granny smith so I used those and, making an executive chef decision, roasted them instead of cooking the apples on the stovetop. I also liked the flavor the whole wheat flour gave the waffles – they weren't too sweet and somewhat nutty.
One great stiletto chef tip: Candice suggests that any leftover waffles could be wrapped in individual baggies and stored for future use. The waffles could easily be re-warmed in the toaster and, with a touch of the maple ricotta spread, enjoyed on the go. Sorry Eggo, I'm lettin' go. These waffles will be my tried and true from now on.
Gather The Ingredients
Roasting Time (I might have gone a bit too heavy with the cinnamon but, seriously, is there anything more delicious than cinnamon apples and maple syrup. Umm.. no!)
Adding Wet to Dry
The End Result
Leftovers Are Stashed Away For Busy Morning Commutes
A Healthy Spin on Waffles With Roasted Apples and Maple Ricotta Spread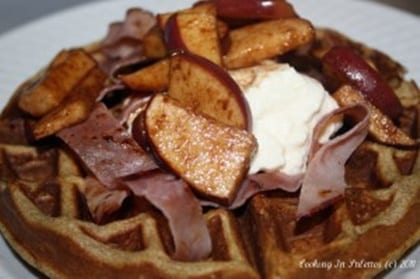 Ingredients
2 apples, halved and thinly sliced
1 teaspoon ground cinnamon
1/2 teaspoon freshly grated nutmeg
4 tablespoons maple syrup
1 cup part-skim ricotta cheese
2 cups whole wheat flour
3 tablespoons light brown sugar
2 teaspoons baking soda
1/2 teaspoon salt
1 3/4 cups low-fat milk (or low-fat buttermilk)
2 large eggs
1/2 teaspoon canola oil
8 slices lean, low-sodium deli ham (or turkey)
Cooking Spray
Instructions
Preheat the oven to 350 degrees F.
Place the apples in a medium bowl and toss with the cinnamon, nutmeg and 2 tablespoons maple syrup and set aside for 5 min.
Add the apple mixture to a lined baking sheet and roast for about 15 minutes until the apples are fragrant and slightly softened.
Remove from the oven and set aside.
Immediately reduce oven to 250 degrees and place another baking sheet in there to keep the waffles warm.
In a small bowl, combine the ricotta and remaining 2 tablespoons of maple syrup. Set aside.
Whisk the flour, brown sugar, baking soda and salt together in a large bowl. Whisk the milk and eggs together until frothy and add the mixture to the flour mixture and stir until mixed.
Heat a waffle iron according to the manufacturer's instructions.
Coat the waffle iron with cooking spray. Add enough batter to fill the holes without overflowing once the iron is closed.
Cook until the waffles are browned.
Remove the waffle from the iron and place it a baking sheet in the oven to keep warm while you cook the rest.
While you cook the waffles, heat a large non-stick skillet over medium-high heat.
Add 1/2 teaspoon of the oil to the skillet (or coat with cooking spray).
Place a few slices of ham in the pan, lying flat and cook on both sides until lightly browned, about 1 1/2 - 2 minutes.
Transfer to a plate and repeat with the remaining ham, adding cooking spray if needed.
To assemble, spread each waffle with about 1-2 tablespoons of the maple-ricotta spread. Top with some apples and a slice of ham, julienned.
Enjoy!
7.8.1.2
408
https://cookinginstilettos.com/a-healthy-spin-on-waffles-with-roasted-apples-and-maple-ricotta-spread/