This is a Sponsored post written by me on behalf of Honeysuckle White® and Shady Brook Farms® for SocialSpark. All opinions are 100% mine.
Do you ever have a dish that conjures up a memory – whether it's sitting at your grandparents table with a chocolate pie on the sideboard teasing you to finish those green beans before you can have a slice or a butternut squash ravioli tossed in a brown butter sauce that reminds you of dinner with friends that had your sides splitting with laughter?  I have a few of those and when I was challenged with whipping up a turkey dish on the grill that would have friends and family wanting seconds, it was a no-brainer.
When I lived in New Hampshire during my cable cop days, there was a diner down the street that had these amazing patty melts – a juicy burger, smothered with swiss cheese on a soft toasty rye and some red onion.  However, it was their sauce that was drizzled on the burger that took the typical patty melt and slapped it into next week.  They served these patty melts with spicy sweet potato waffle fries and a side of that sauce that was the perfect condiment for dipping.  There's nothing like a perfect burger, right?
Recently, for dinner with family and friends, I decide to play with the grill and make my version of that comfort classic but amped up even more.  I love using ground turkey and turkey sausage in a variety of dishes – pasta, chili, and, of course, the classic turkey burger.  Turkey is fantastic for grilling and, according to the USDA, not only does it have more protein than beef, it also has fewer calories than chicken and less fat than pork.  Win/win, right?
I made turkey burger patty melts with Shady Brooks Farms lean ground turkey, seasoned with a bit of smoked paprika, salt and pepper and that was complimented not only with the toasty rye and swiss cheese, but also some caramelized onions and one of my favorite southern condiments – Comeback Sauce.  Comeback Sauce is one of those sauces that is hard to explain – it reminds me of Thousand Island dressing but with a saucy kick!  I adapted a classic Comeback Sauce recipe to one that has a bit less spice, but the flavor will have you keeping this in your fridge next to your fave condiments.
I served these favorites with some waffle fries and I'm happy to say that it was a clean plate moment at the household – and I'm going to need to make another batch of Comeback sauce for the fridge.
Give these Turkey Burger Patty Melts with Caramelized Onions and Comeback Sauce a try the next time you are ready to grab those tongs and start grilling!
On to the recipe:
First – let's make the comeback sauce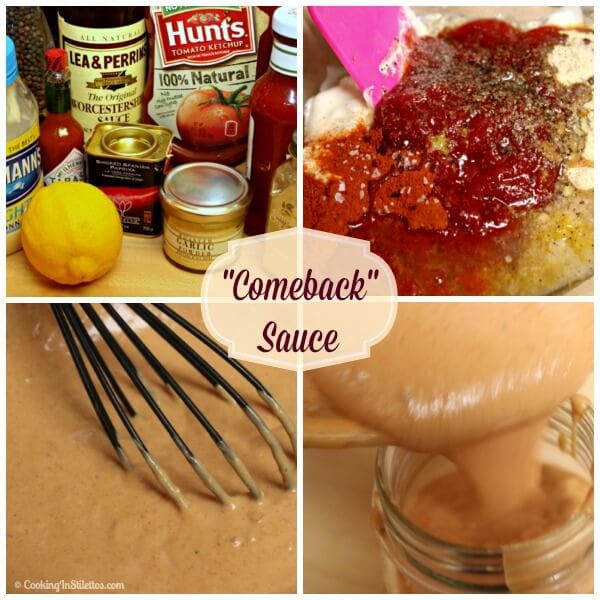 Gather your ingredients for your patty melts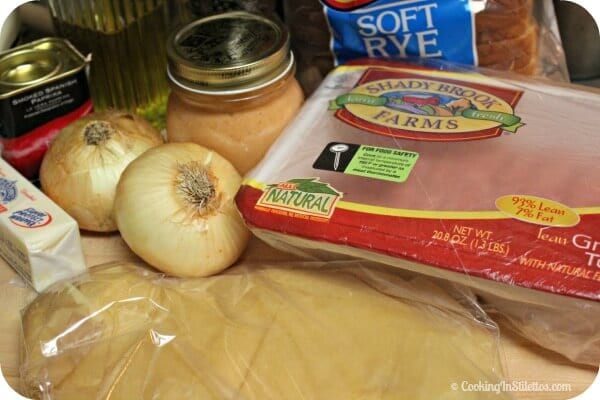 Breaking out the Shady Brook Farms lean ground turkey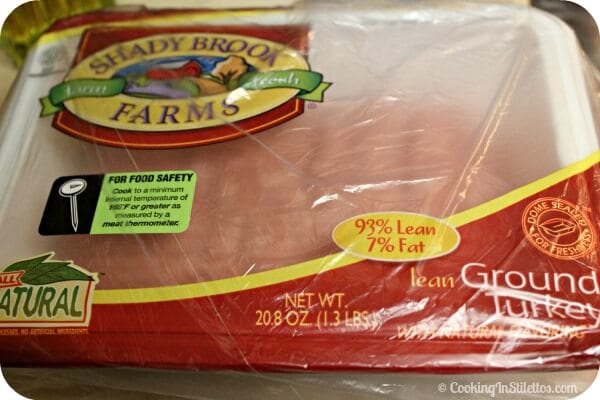 Caramelizing the onions adds a rich flavor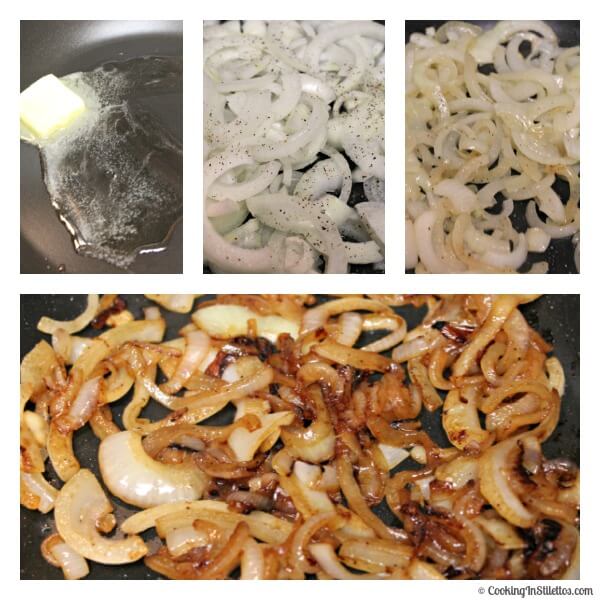 Look at that caramelization!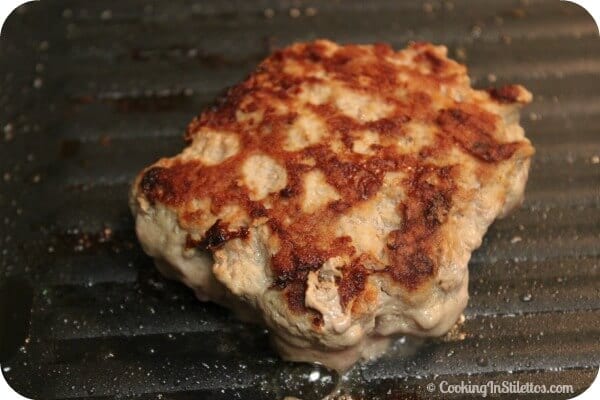 Now – don't you want a patty melt of your very own?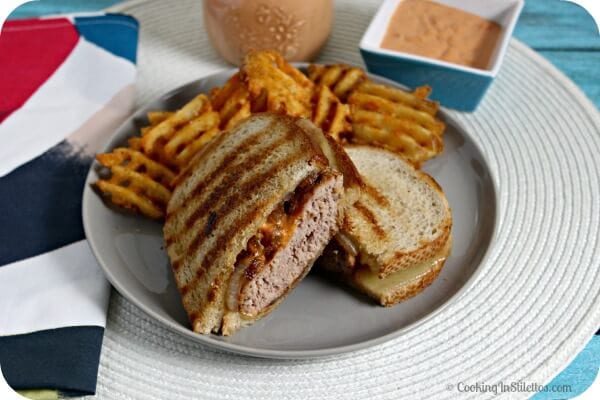 Turkey Burger Patty Melts with Caramelized Onions and Comeback Sauce
For the Patty Melts:
1 pound of lean ground turkey
1/4 teaspoon of smoked paprika
1/4 teaspoon of freshly cracked black pepper
3/4 teaspoon of kosher salt
1 large Vidalia onion (or two small vidalia onions), sliced thin
Salt and freshly cracked black pepper
Pinch of brown sugar (optional)
8 – 12 slices of swiss cheese (depending on how cheesy you like your burger)
Butter or oil for grilling the bread
For the Comeback Sauce:
1 cup of light mayonnaise
2 1/2 teaspoons of Worcestershire sauce
Juice of half a lemon and a 1/4 teaspoon of lemon zest
1/8 – 1/4 teaspoon of Tabasco sauce (depending on how spicy you like it)
1 teaspoon of smoked paprika
1/2 teaspoon of garlic powder (I used roasted garlic powder)
1/2 teaspoon of dry mustard
1/2 teaspoon of freshly cracked black pepper
1 teaspoon of kosher salt
Directions:
For the Comeback Sauce:
I would suggest that you make the comeback sauce as it needs time to meld in the fridge.  It couldn't be easier to make.
In a large bowl, whisk together the mayonnaise, chili sauce, ketchup, Worcestershire sauce, lemon juice, lemon zest, Tabasco sauce, smoked paprika, garlic powder, dry mustard, freshly cracked black pepper and salt until everything is combined.
Pour into a jar and put into the refrigerator to chill for at least 30 minutes.
For the Turkey Burgers:
In a bowl, lightly mix the ground turkey, smoked paprika and freshly cracked black pepper and form into four equal patties.  Lightly indent the center of the turkey burger patty and place on a plate to rest for about 10 minutes or so while you heat up your grill and make the caramelized onions.
In a small skillet over medium heat, melt the butter.
Add the onions and sprinkle with a touch of salt and pepper.
Sauté until it is just starting to go translucent.
If you are tight on time, you can always add a pinch of brown sugar to help it along.
Continue to stir over medium heat for about 10 – 15 minutes, until the onions start to turn a dark caramel brown.
Set aside.
On a preheated grill (or grill pan) over medium high heat, add your turkey burger patties.
Grill on one side about 6 – 7 minutes or so until it is caramelized on the bottom.
Turn and cook on the other side while you prepare the bread.
Add four slices of bread to the grill that are lightly buttered or drizzled with canola oil (buttered/oiled side down) to the cooler side of the grill.
Add two slices of swiss cheese and let it start to get toasty and melted while you lightly prepare the remaining slices of bread with a bit of butter or oil.
Add some caramelized onions to the bread followed by the turkey burgers and a slight drizzle of Comeback sauce.
Top with a slice of additional cheese if you wish and the remaining slice of bread.
Press down lightly, let cook for another minute and then flip to cook on the other side.
When the patty melts are done, remove the burgers, let rest for 5 minutes or so and you can add additional sauce, cut in half and serve.
Enjoy!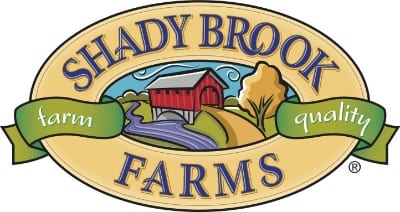 When it comes to planning a quick weeknight dinner or a bbq, why not Turkify it?  Turkey is a flavorful alternative to the standard chicken, beef or pork plus – it's perfect for the grill with brats, burgers, tenderloins & more.   The key to a great turkey burger – making sure that the turkey reaches a temp. of 165 degrees F. – It's moist, delicious and, of course, perfectly cooked.  Don't want to make your own turkey burgers or want a quick shortcut?  Shady Brook Farms & Honeysuckle White have you covered – they have a line of turkey burgers that can go from freezer to table in 20 minutes, including flavors like Cheddar Jalapeño, Swiss, Bacon & Onion, Savory Seasoned, and Ready to Season. These burger patties are gluten free and contain 58% – 76% less fat than regular ground beef.  Not bad to keep on hand for those quick dinner evenings or when you have unexpected guests and need to fire up the grill.  Check them out at your nearby grocer's case!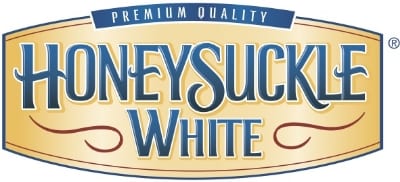 Shady Brook Farms & Honeysuckle White have a fabulous Grilling With Friends Facebook App & Sweeps going on. The app allows you to plan every detail of your next grill soiree with tools like a menu builder where you can have your guests sign-up to bring food, cocktails & beverages, etc. making a potluck/get together so much easier.  Plus – the Grilling With Friends Sweeps is giving away a Weber grill (love!) and $1,000!
So – are you ready to get your grill on?