Have I got a recipe for you today that will have you running to the kitchen to whip up these sweetly tart treats.
It's time again for another Blogger C.L.U.E. reveal

When I got this month's Blogger C.L.U.E assignment, I was thrilled – it was a blog whose recipes and photos inspire me on the daily – Lemons & Anchovies. Jean's site has recipes for everything you can imagine.  Her eye is impeccable and her recipes are flawless.  I mean – look at these Chocolate Waffles with Caramelized Bananas, Cranberry Bars with Chocolate Shortbread Crust and these divine Sangria Pops. Are you drooling yet?
As this month's theme was RED which, of course, is to be expected with Valentine's Day on the horizon, I wanted something that I knew my friends and family would crave, would be chic for entertaining or a lazy weekend breakfast treat and easy to make. I didn't even hesitate – these Banana Cranberry White Chocolate Muffins were perfect!
These are a tried and true and if you have some cranberries in your freezer (which I think you just might – go ahead – look, I'll wait a minute), you are going to want to make these.  I had some bananas that were perfectly ripe and I only made a few minor changes to Jean's recipe.  I substituted applesauce for the canola oil which is something I've been doing more with baking, used Greek yogurt in place of plain, oh – and I may have added a *few* more white chocolate chips to up the melty chocolate factor.  She gives an excellent instruction in her recipe notes – you are going to want to roughly chop the cranberries so that you get the tart and sweet in every bite.  Also – toss the frozen chopped cranberries and white chocolate chips in the flour mixture so that they remain suspended in the batter and don't sink.  I kept the cranberries frozen so they wouldn't go crazy leaky in the oven and it worked out perfectly.   These Banana Cranberry White Chocolate Muffins were sweet, tart and so moist – perfect for breakfast or brunch or those mornings you are racing out the door with your coffee in one hand and one of these muffins in the other.
Make these muffins this weekend – your family and friends will love every bite!
On to the recipe:
Gather your ingredients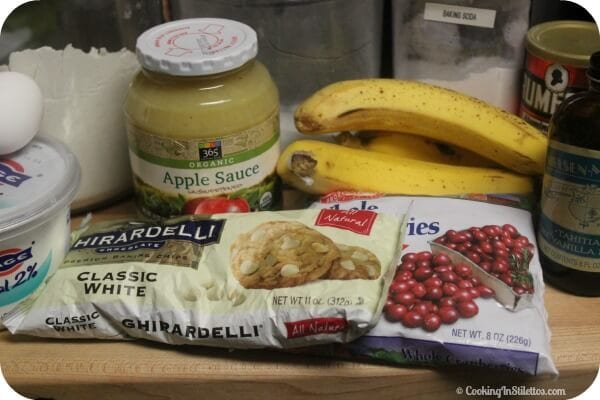 First – let's sift the dry & mix the wet ingredients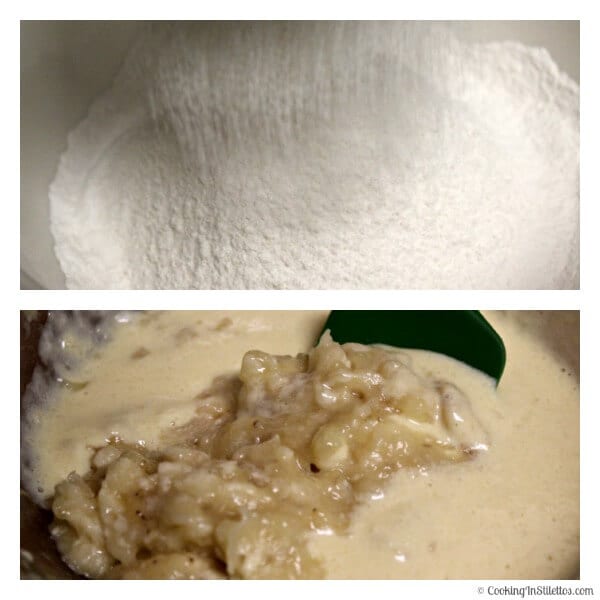 Look at these gorgeous cranberries!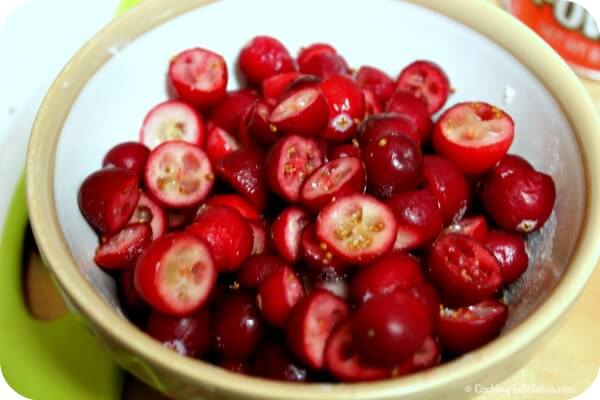 Ready to bake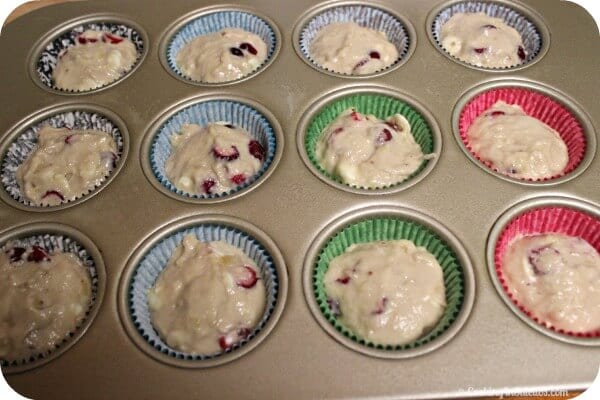 Who wants a Banana Cranberry White Chocolate Muffin?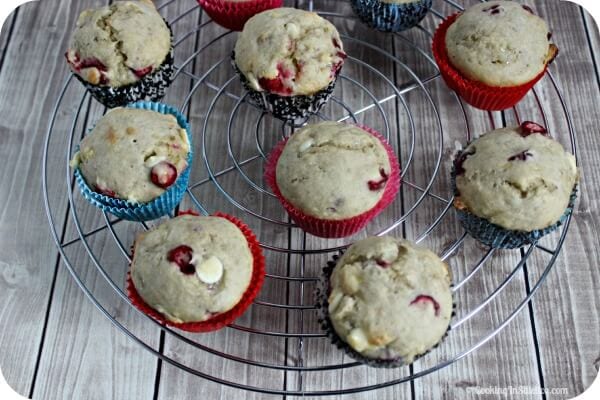 Adapted from Lemons & Anchovies
Yields 16-18
Banana Cranberry White Chocolate Muffins #BloggerClue
These sweetly tart treats will have you craving these for breakfast or just because. Tart cranberries accented by sweet bananas and white chocolate - delightfully sinful!
20 minPrep Time
30 minCook Time
50 minTotal Time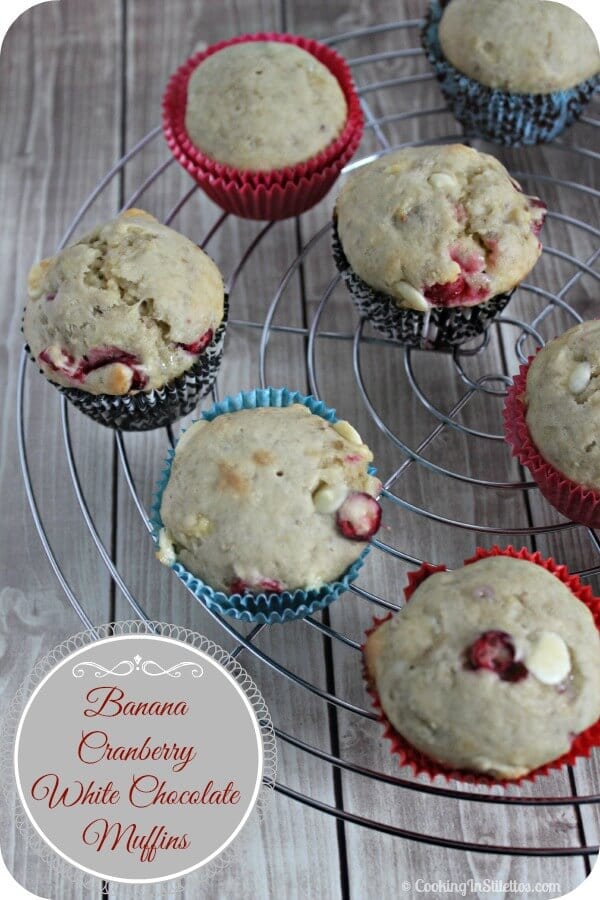 Ingredients
2 cups of all purpose flour
1/2 cup of sugar
3/4 teaspoon of baking soda
1/2 teaspoon of baking powder
1/2 teaspoon of kosher salt (I used my favorite vanilla salt, of course)
1 cup of frozen cranberries, roughly chopped
3/4 cup of white chocolate chips
1/4 cup of Greek yogurt
1/3 cup of natural unsweetened applesauce
3 large ripe bananas, mashed
2 large eggs, beaten
1 teaspoon of vanilla extract
Instructions
Preheat the oven to 350 degrees F.
Line muffin tins with muffin liners or spray with non-stick baking spray and set aside. This batter can make 16 - 18 muffins if portioned correctly.
In a large bowl sift together the flour, sugar, baking soda, baking powder, and salt.
Toss in the chopped cranberries and white chocolate chips, ensuring that they are all coated with the flour mixture so they don't fall to the bottom of the muffin tins and remain suspended in the batter.
In a medium bowl, whisk together the yogurt, applesauce, mashed bananas, eggs and vanilla extract until everything is mixed thoroughly.
Fold the wet ingredients into the dry and mix with a spatula until the mixture just comes together. Do not overmix.
Using a large scoop, fill the muffin cups until they are three quarters full.
Lightly tap the muffin tin on the counter to even the batter and bake for about 18 - 20 minutes or until a toothpick inserted in the center comes out clean.
Let cool in the tins for a few minutes and then remove to a cooling rack.
Enjoy!
7.8.1.2
52
https://cookinginstilettos.com/banana-cranberry-white-chocolate-muffins/