Grilled Southwestern Chicken Salad brings the flavor with spice rubbed chicken, grilled veggies, crisp romaine lettuce & drizzled with a honey lime vinaigrette for the perfect summer salad.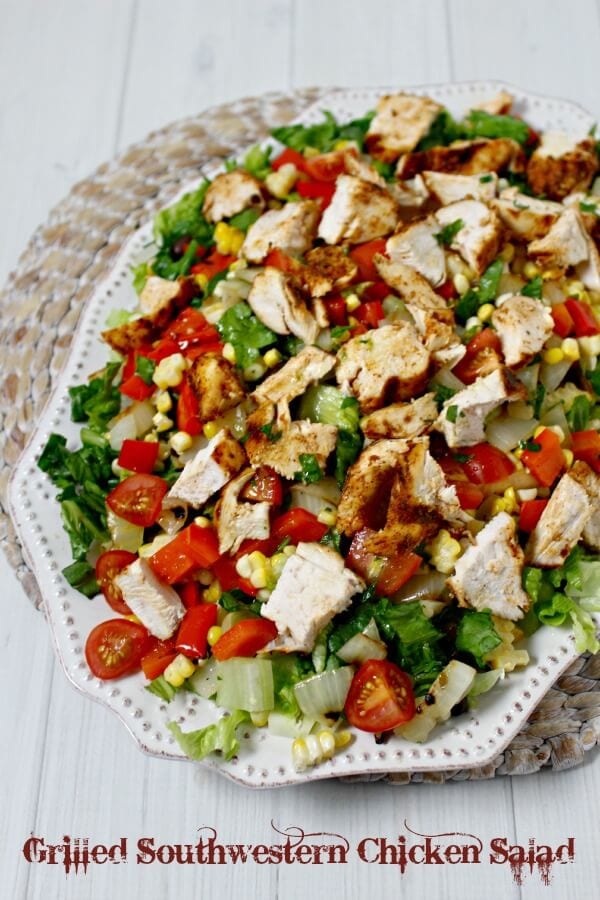 This post may contain affiliate links to products I trust and adore in my kitchen.  Thank you for supporting Cooking In Stilettos.
It's time for another fun Blogger C.L.U.E. reveal!

This month's theme for Blogger C.L.U.E. was all about grilling and summer barbeque dishes and our assignment – scour through our assigned blog's recipes and find the best of the best – the best grilled recipe that is.
My assigned blogger happens to be one of my favorite people in the bloggyverse – Liz from That Skinny Chick Can Bake.  Not only is Liz hilarious, chic and can outshop even this black belt shopper, but she has a heart of gold and is always willing to help her fellow blogger out. Y'all might remember the Tunnel of Mousse Cake she shared here when I had the "Iron Chef Pickle Thumb incident" and whenever we have a question, need to vent or a giggle is needed, Liz is always there.
When I got my assignment, let's just say I knew that this month's Blogger C.L.U.E. post was going to be something amazingly delicious. Not only can That Skinny Chick Bake, but That Skinny Chick Can Cook and, most importantly for this month – That Skinny Chick Can Grill.  There were SOOOOOO many recipes I had to choose from like Beef Teriyaki Kabobs, Spinach Salad with Grilled Peaches and Blue Cheese, and even a Grilled Apple Crisp. Heck – not only can she grill savory but she can grill sweet.  However, it was Liz's Southwestern Chicken Salad that had me at hello….