I LOVE  a good mystery.  I LOVE a fantastic blog.  Combine both of them and I'm a happy happy girl.  Recently, I got a little note asking me if I wanted to join in on a game of BloggerCLUE where we play super sleuths and hunt for a fantastic recipe in a fellow food blog that fits a particular theme for the month.  Well, you know me – I can never back down from a challenge.  Plus – the assignees are some of my favorite bloggy peeps so I knew I had to join in on the fun.
I was assigned Kate's Kitchen for the inaugural edition of the Blogger C.L.U.E. society and I was tasked with finding a fabulous recipe perfect for the holiday table.  Easy peasy, right?  WRONG – there were so many good recipes to choose from, I had the worst time picking just one.  I wanted to make everything.  I found one so intriguing that I had to give it a whirl – her Salad with Baked Goat Cheese and Rosemary Infused Honey.    This Arugula Salad with Baked Goat Cheese and Rosemary Honey is easy enough to whip up for  a last minute soiree and chic enough for a fancy holiday table.  One tip – put the goat cheese in the freezer before you slice them – then a quick chill before heading into the oven.  As for the Rosemary Infused Honey, well, that's a recipe that is perfect not only for this salad, but also for a holiday gift.  I added a bit of pecan and cranberry love and used my favorite greens – arugula for that peppery spicy bite.  This salad is a winner and would be excellent on the holiday table!
Some other delicious ideas from Kate's Kitchen that are fabulous for the holidays –  Bruschetta with Cantaloupe Chutney and Prosciutto, Olives Tart, Savory Wild Mushroom Bread Pudding, Pumpkin Cheesecake and, for those people wanting a nibble before the festivities really begin, a decadent Bacon Blue Cheese Dip.  Take a bit and peruse her blog – there's so much recipe inspiration found in it.  And Kate – next time when you and Connie come to Philly, I'm taking you out for a cheesesteak – I love Geno's and all but I'm a Jim's gal (sorry Joey!).  It was a fabulous way to kick off a holiday season – amazing recipes, fabulous people and so much culinary inspiration!  Many thanks Kate for a delicious salad that is perfect for the holidays!
On to the recipe:
Gather your ingredients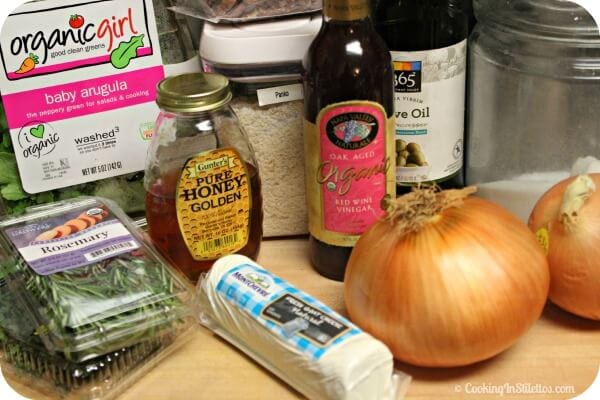 Let's infuse the honey with a bit of rosemary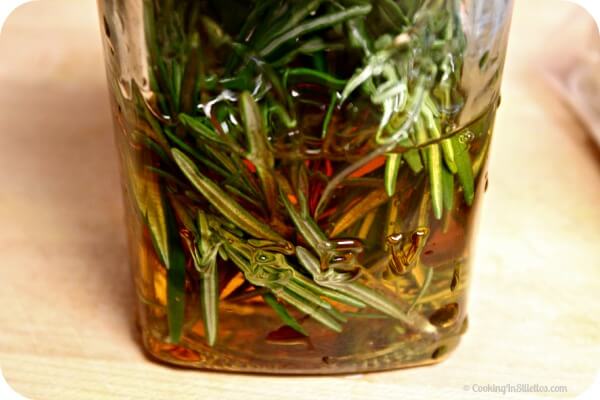 Who doesn't love caramelized onions, right?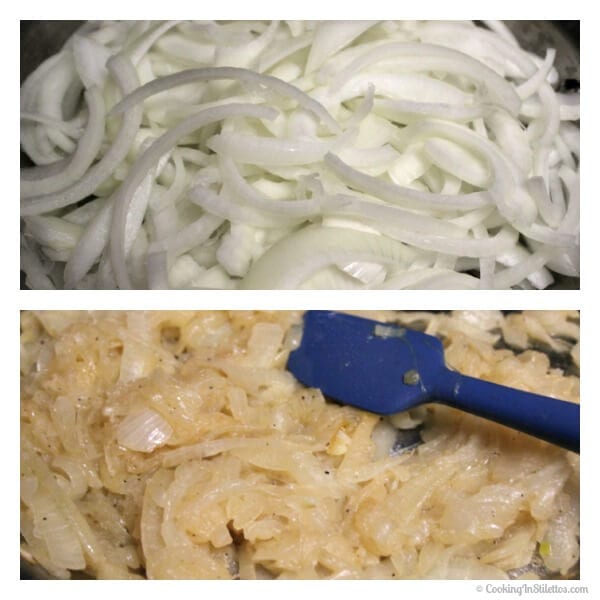 Time to bake the goat cheese with its herbed crust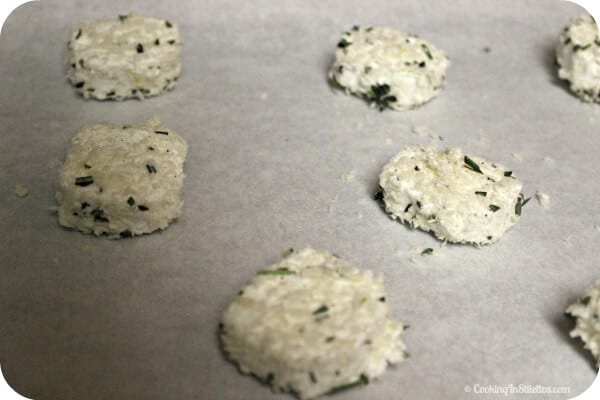 Shall I make you a plate?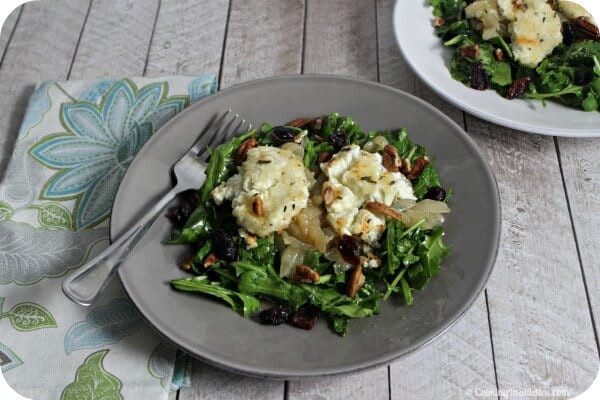 Adapted from Kate's Kitchen
Yields 4-6
Arugula Salad With Baked Goat Cheese and Rosemary Honey
This chic and easy salad is drizzled with a rosemary infused honey and topped with rich caramelized onions and herbed baked goat cheese
30 minPrep Time
45 minCook Time
1 hr, 15 Total Time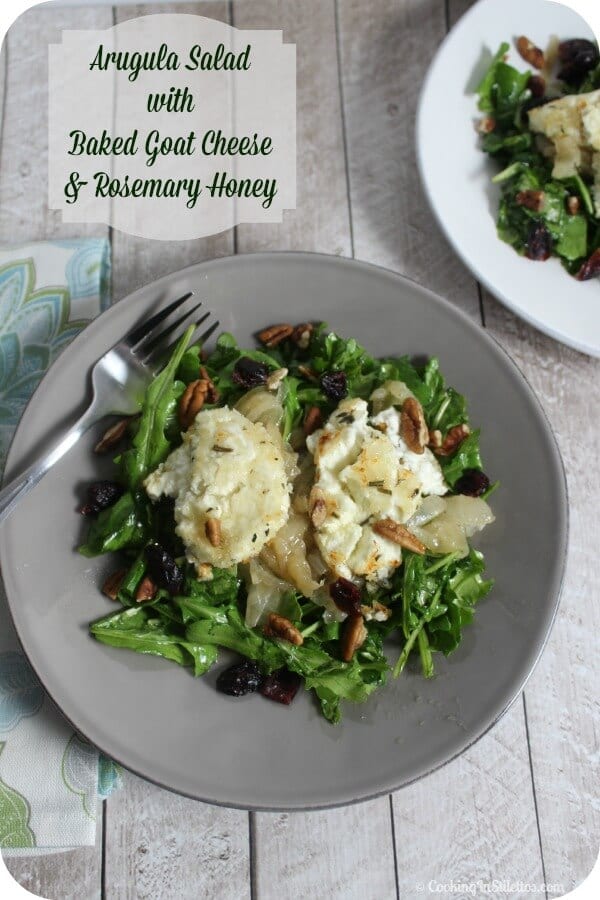 Ingredients
For the Honey:

6 ounces of honey
4 sprigs of fresh rosemary

For the Caramelized Onions:

1 Tablespoon of Olive Oil
3 onions, sliced thin
1 1/2 teaspoons of sugar

For the Goat Cheese:

1 8 ounce log of fresh goat cheese, chilled
1/2 cup of panko bread crumbs
1 tablespoon of fresh thyme
1 tablespoon of rosemary
1/4 teaspoon of kosher salt
1/8 teaspoon of freshly cracked black pepper

For the salad:

3 cups of arugula, washed and dry
1/4 cup of pecans, toasted and chopped
1/4 cup of dried cranberries

For the vinaigrette:

3 tablespoons of extra virgin olive oil
1 1/2 tablespoons of red wine vinegar
2 tablespoons of rosemary honey
Instructions
For the Honey:

To a canning jar, add the honey and rosemary sprigs. Seal and place in a large saucepan.
Add water so that it rises halfway up the canning jar and bring to a simmer.
Let simmer for 10 minutes and then remove from the water and let set for 30 minutes.

For the Caramelized Onions:

In a large skillet, add olive oil and bring to a sizzle over medium heat.
Add the sliced onions and stir occasionally.
Let caramelize for about 25 minutes over medium/medium low heat until it starts to turn a toasty brown.
Add the sugar, a pinch of salt and pepper and stir.
Let cook for 5 - 10 minutes more and set aside.

For the goat cheese:

Preheat the oven to 400 degrees F.
Slice the goat cheese into 1/3" slices.
In a bowl, whisk together the panko, rosemary, thyme, salt and pepper.
Coat each side of the goat cheese slices and place on a baking sheet lined with parchment paper.
Let the herbed goat cheese chill in the freezer or refrigerator for about 15 - 20 minutes.
Bake for about 10 minutes a side, until each side is brown and toasty.

For the salad:

In a large bowl, whisk together the olive oil, red wine vinegar and 2 tablespoons of the rosemary honey until everything is emulsified.
Just before serving, add the arugula, pecans and dried cranberries. Toss together with the dressing in the bottom of the bowl.
Put a bit of the salad mix on the plate, top with a bit of the caramelized onions, some herbed goat cheese and drizzle with a bit of the remaining rosemary honey.
Enjoy!
7.8.1.2
202
https://cookinginstilettos.com/arugula-salad-with-baked-goat-cheese-and-rosemary-honey/

Let's see what the other C.L.U.E. Peeps have to offer today