This scrumptious Morning Glory Baked Oatmeal is a delicious and healthy way to start the day, packed with apples, carrots, pecans, coconut and dried cherries.  This baked oatmeal recipe is perfect for breakfast or a lazy weekend brunch!

Disclosure:  This post may contain affiliate links to products I use and adore in my kitchen.  Thank you for supporting Cooking In Stilettos
Today I have a delicious idea for breakfast that I know you are going to love – Morning Glory Baked Oatmeal.
I am not a fan of those instant oatmeal packets ever since I first made baked oatmeal.  I love that you can essentially whip up the oatmeal, pour it in a baking dish and the oven does all of the hard work.  I saw this Morning Glory Baked Oatmeal recipe on one of my favorite cooking shows, Ellie's Real Good Food, and couldn't stop thinking about it.  I love Ellie Krieger's recipes and her cookbooks, Comfort Food Fix: Feel-Good Favorites Made Healthy and  You Have It Made: Delicious, Healthy Do-Ahead Meals, are a must on my cookbook shelf.  Her recipes always have a healthy twist but you don't feel like you are skimping out an anything.  When she said she had a breakfast recipe that was somewhat like carrot cake, I knew I had to give it a whirl. 
Most of the ingredients I already had in my pantry, essentially just picking up some carrots and apples.  I made a few changes from her original recipe, using my favorite finely shredded unsweetened coconut and dried cherries and in lieu of oil, I used unsweetened applesauce which carried the apple flavor throughout.  I also added some flaxseed for a bit of added nutritional punch.  Taste-wise, this is somewhat of a fusion between carrot cake and apple pie but in baked oatmeal form.  This recipe is a huge hit in my household and I love that I can make it on a Sunday and heat up any leftovers during the week.
When you are looking for the perfect recipe to start the day, whip up this Morning Glory Baked Oatmeal and watch it disappear – quickly!
On to the recipe:
Gather your ingredients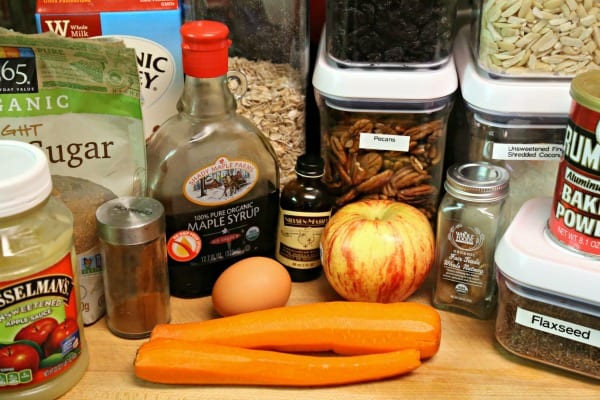 First let's make the topping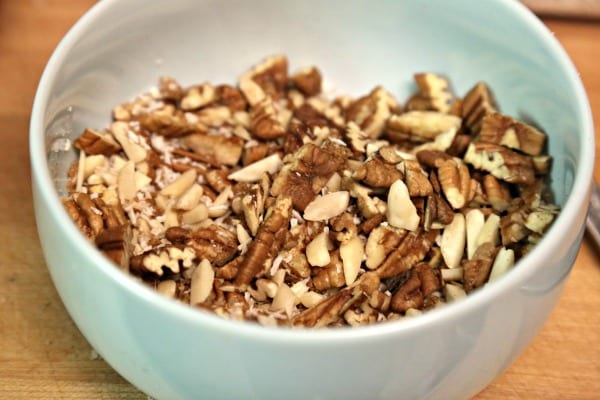 Whisk together the dry ingredients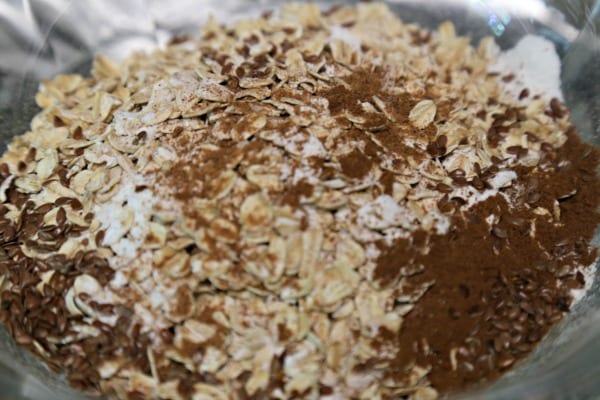 Time to fold everything together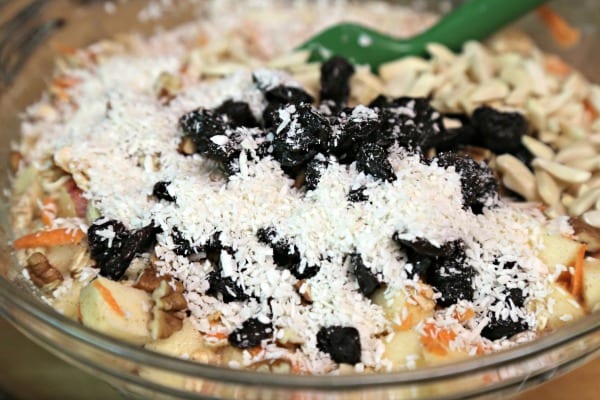 Ready to bake with lots of the coconut pecan topping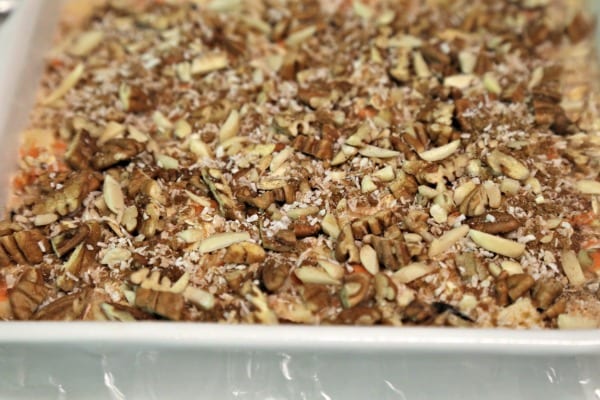 Now – wouldn't you want to start the day off with this?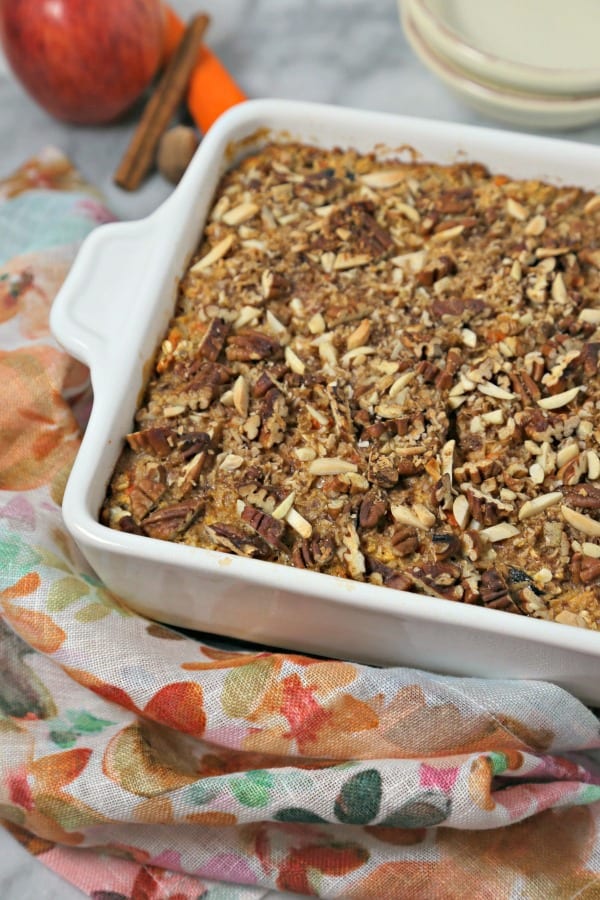 Let me make you a dish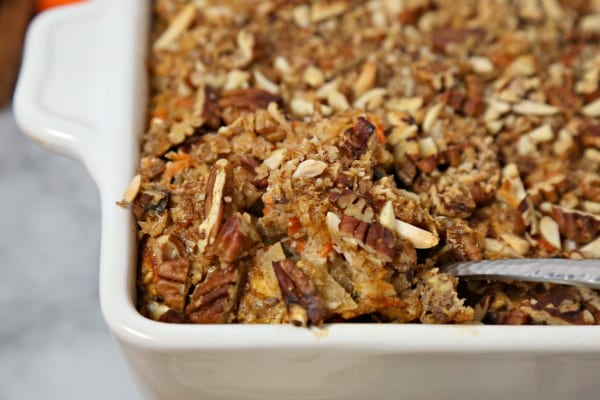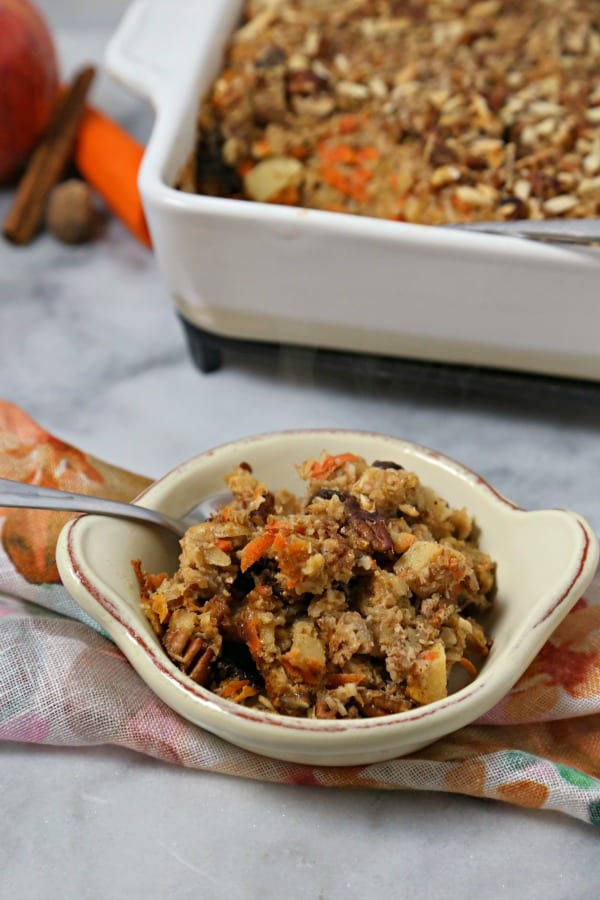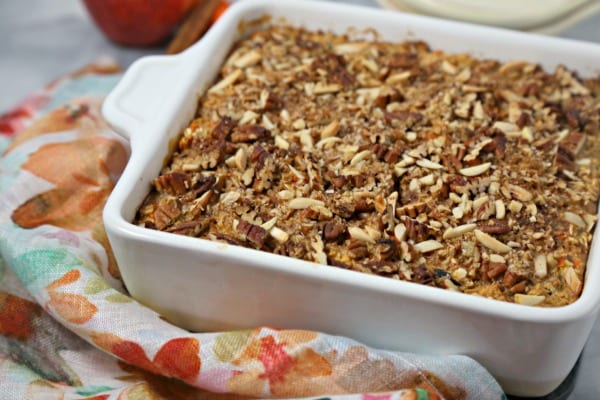 Print
Morning Glory Baked Oatmeal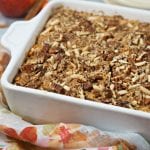 Morning Glory Baked Oatmeal is a delicious and healthy way to start the day, packed with apples, carrots, pecans, coconut and dried cherries and perfect for breakfast for brunch!
Author:
Prep Time:

15 minutes

Cook Time:

45 minutes

Total Time:

1 hour

Yield:

8

Category:

Breakfast and Brunch

Cuisine:

American
Ingredients
1 cup of chopped pecans, divided
1/2 cup of slivered almonds, divided
1/2 cup of finely shredded unsweetened coconut, divided
1 1/2 teaspoons of ground cinnamon, divided
1/2 teaspoon of ground nutmeg, divided
1 tablespoon of light brown sugar
1/2 teaspoon of kosher salt
2 cups of old fashioned oats
1 teaspoon of baking powder
1 1/2 teaspoons of flaxseeds
2 cups of milk
1/3 cup of maple syrup
1 large egg
2 tablespoons of unsweetened applesauce
1 1/2 teaspoons of vanilla extract
1 medium apple, peeled and diced
2 medium carrots, peeled and shredded
1/2 cup of dried cherries
Instructions
Heat the oven to 375 degrees F.
Lightly spray an 8×8 baking dish with non-stick baking spray
Mix 1/2 cup of pecans, 1/4 cup of the slivered almonds, 1/4 cup of the unsweetened shredded coconut, 1/2 teaspoon of cinnamon, 1/4 teaspoon of nutmeg, brown sugar and 1/8 teaspoon of salt. Set aside.
In a large bowl, mix the oats, baking powder, flaxseeds, remaining cinnamon, nutmeg, and salt thoroughly.
In a large mixing cup or small bowl, whisk together the milk, maple syrup, egg, applesauce and vanilla extract.
Combine the wet and dry ingredients. Fold in the remaining pecans, slivered almonds, diced apple, shredded carrots and dried cherries.
Pour into the prepared 8×8 pan and top with the pecan coconut mixture.
Bake for 40 – 45 minutes until golden and it is set in the center.
Enjoy!
My favorite finds for this recipe:
Did you enjoy this post?
| | |
| --- | --- |
| Share the love | Get free updates |