This month's Secret Recipe Club not only gave me an alternative to the local takeout restaurant but also one of my new favorite blogs – A Tale of One Foodie's Culinary Adventures. Erin's blog is chock full of some seriously delicious recipes that it was so hard to choose just one. I promise that if you bookmark her, you will visit her site time and time again for culinary inspiration. Some recipes I have bookmarked to try are these luscious Lemon Meringue Cupcakes, intriguing Parmesan and Pepper Biscotti and these Italian Stuffed Mushrooms with Pancetta that will be featured at my next soiree.  She had me at the mere mention of pancetta!
She also provided me with a recipe that solved my takeout dilemma. See – every week, I normally order Sesame Chicken from a local Chinese restaurant so when I saw that she had a super simple Sesame Ginger Chicken could come to life from a few simple pantry ingredients, how could I not give it a shot, right?  Well, after making this, I have come to the conclusion that this Sesame Ginger Chicken will kick any take-out version and it's much healthier as it's baked – not fried. The sauce is a sweet and spicy that doesn't feel glopped on like the takeout version and, served with your favorite rice, this Sesame Ginger Chicken will have you throwing out those old takeout menus for good.
Many thanks to Erin for letting us share in her culinary adventures!
Ingredients
1 tbsp sesame oil
2 tablespoons of reduced sodium soy sauce
1/2 cup of honey
3 garlic cloves, grated
1 tablespoon of peeled grated ginger
Zest of one orange
Juice of 1-2 medium oranges (about 1/3 cup)
Juice of 1/2 a lemon (around 2 tablespoons)
1 small dried red chili, seeds removed and torn
2 lbs boneless, skinless chicken breasts
Directions
In a small bowl, combine the sesame oil, soy sauce, honey, grated garlic, grated ginger, orange zest, orange juice, lemon juice and red chili.
Microwave for about 45 seconds until the honey is melted. Stir and set aside to cool for a second.
In a large plastic bag, add the chicken breasts and follow with the marinade.
Seal the bag and mix the chicken with the marinade until everything is coated.
Put inside a baking dish and place in the fridge to marinate for 2 hours or overnight.
When you are ready to bake the chicken, preheat the oven to 375 degrees F and remove the chicken from the refrigerator.
Pour the chicken and the marinade into a large baking dish and bake for 45 minutes, making sure to baste the chicken a few times during baking.
When the chicken is baked, remove the chicken from the baking dish and tent with foil.
In a medium sauce pan, pour the pan juices and bring to a furious boil.
Let boil for 10 minutes until the mixture becomes a thick glossy sauce.
To serve, place one of the chicken breasts over some rice and coat with the sauce.
Enjoy!
Notes
Slightly Adapted From A Tale Of One Foodie's Culinary Adventures
7.6.8
796
https://cookinginstilettos.com/secret-recipe-club-sesame-ginger-chicken/
All images and content are © Cooking In Stilettos. Please do not republish without contacting us first. Thank you.
Gather the Ingredients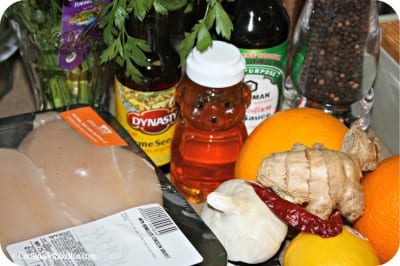 Make the Marinade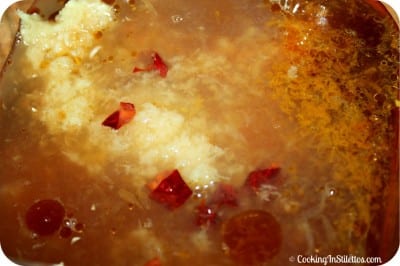 Time to let the chicken rest for  a spell.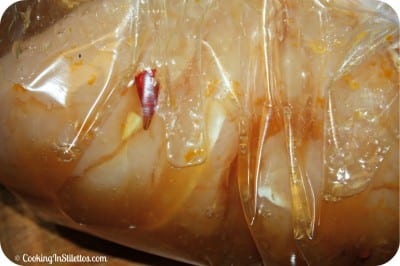 Fresh from the oven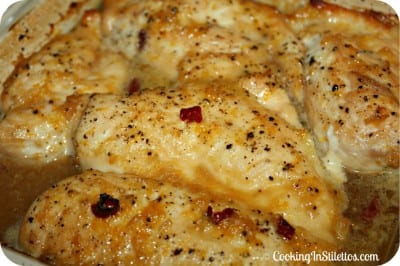 Bringing the Sauce to a Furious Boil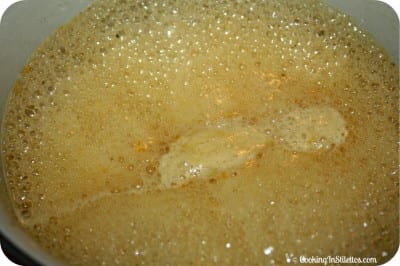 Sorry local delivery – this is my new Sesame Ginger Chicken now