This Three Cheese Baked Mushroom Pasta is chic and comforting, perfect for the holidays or a chilly evening dinner.

Created with De Cecco
This post has been sponsored by De Cecco Authentic Italian Pasta. My love for the brand is all my own. Thank you for supporting the brands that make Cooking In Stilettos possible.
On a chilly evening, there is nothing better than a pan of baked pasta hot out of the oven. The browned cheesy pasta with crisp edges on the top peels away to uncover a creamy sauce laden pasta for the ultimate comforting bite. In my house, it takes some skilled negotiation for those crisp edges. Of course, when you are the chef, you might be able to claim seniority but that's an argument for another day.
Today I'm thrilled to share a delicious vegetarian pasta dish that is fabulous for the holiday menu or days when you want a meat-free dish – a Three Cheese Baked Mushroom Pasta that is made a little lighter but tastes oh so decadent.
If you open my pantry, you will see that I have a thing for cavatappi pasta – specifically De Cecco cavatappi pasta. It's one of the first dried pastas I reach for whenever I'm in the mood to make pasta. De Cecco is a premium Italian pasta brand that is delicious on its own or complimented with a sauce. It never gets mushy or falls apart– even if you cook it a minute or two over because you were browsing Snapchat at the stove (not that I've ever done that *cough*). De Cecco pasta is a durum semolina pasta that always comes out perfectly al dente and stands up well in baked pasta dishes. While I keep a number of different types of De Cecco pasta in the pantry, there is something about the curly q-esque shape of the cavatappi pasta that has me enamored – it's fun yet chic and my guests always seem to love it.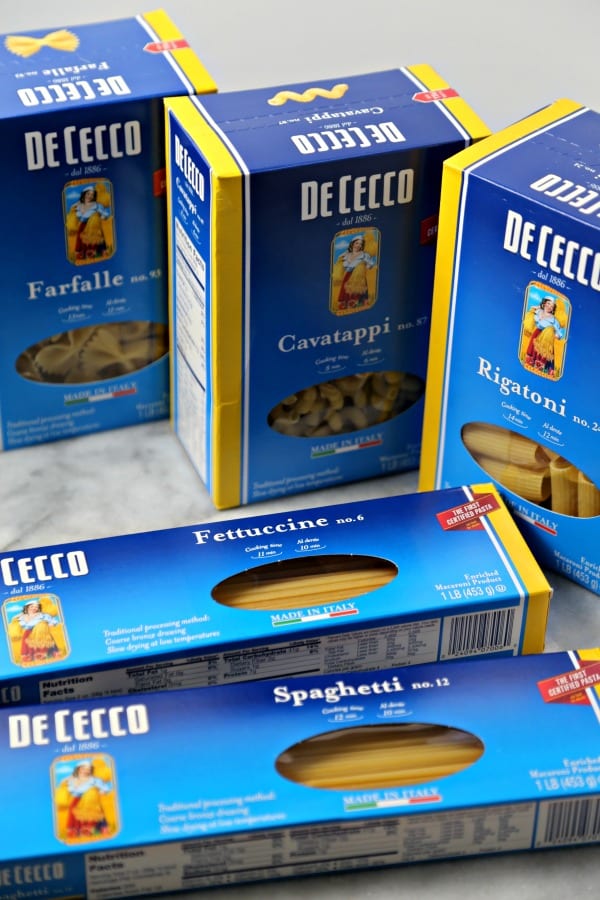 …