For an easy weeknight dinner, make this scrumptious Orzo with Italian Sausage and Roasted Red Peppers – just a few ingredients and a lot of flavor!
Disclosure:  This post may contain affiliate links to products I adore and trust in my kitchen.  Thank you for supporting Cooking In Stilettos.
Easy weeknight dinners have been my saving grace the past few weeks and this Orzo with Italian Sausage and Roasted Red Peppers has made multiple appearances on weekly meal plan – it's that good.
My Jr. Sous Pug, Jeffie's, blindness and diabetes chaos has had the schedule in a bit of an uproar with new meds, twice, sometimes thrice, weekly doctor appointments, charts galore and craziness.  He developed cataracts almost overnight due to the diabetes.  Sadly, he's been having a rough go of it with learning commands, navigating walks and coping.  I saw him going from a fiercely independent pup to one that is so scared and hesitant that it's been heartbreaking.  His primary vet referred him to a veterinary eye surgeon that could essentially work miracles. 
We had about 6 weeks to get him "surgery ready" with making sure his eyes were producing enough tears that would aid in his healing.  Thankfully, we got the go-ahead and recently, Jeffie had double cataract surgery.  Since then, it's been a strict medicine regime and having me hover over him, making sure he didn't try to remove that dreaded cone or bite anyone.  Final outcome is the pup can now see!  Granted I'm told it's essentially motion right now as his eyes heal but this scared little pug been navigating the parking lot like a superstar and, dare I say, strutting from his walk like John Travolta in Staying Alive.  Just get the pug a white leisure suit and a Bee Gees soundtrack to go with his cone of shame and you get the picture.
He has a long road ahead, including additional surgery for an ulcer near his sutures, and we still have the diabetes monster to reign in, but this is one hurdle I think he's handled well.  It won't be long before he starts barreling into the kitchen to "supervise" instead of arm chair quarterbacking from the couch and barking his orders like he's been doing for the past couple of months.
Now that I've talked your ear off about the Jr. Sous Pug, let's really talk about this recipe that I have been dying to share with you.
I am a HUGE fan of easy dinners – they go from stove to table in no time and if they are made in one pan – even better!  Keeping a number of staples on hand in my pantry like crushed fire roasted tomatoes, pasta, jarred red peppers and, of course, low sodium chicken stock.  Finding ans using these in a number of different recipes but this recipe I'm about to share, well this is my favorite orzo recipe to date and goes from stove to table in about 30 minutes!
This orzo pasta recipe was inspired by one from Giada de Laurentiis but I wanted to make a one pan dish because, well, who wants multiple dishes to wash, right?  Plus – toasting the orzo pasta instead of folding in cooked orzo lends another layer of flavor to the dish.  I used turkey Italian sausage to cut the calories a smidgen and, well, who doesn't love roasted red peppers, right?  Some may roast them over an open flame – I tend to keep mine in the pantry already ready for quick weeknight dinner recipes.  For the cheese factor, I love using a melty fontina – rich and buttery, perfect for this dish.  Finally – finish with a touch of basil and dinner is ready in no time.
For a one pan dinner that your family will love, make this easy Orzo with Italian Sausage and Roasted Red Peppers!
On to the recipe

:
Aly M. Cleary | Inspired by Giada de Laurentiis
Yields 6
Orzo With Italian Sausage and Roasted Red Peppers
This savory Orzo with Italian Sausage and Roasted Red Peppers is packed with flavor and perfect for busy weeknights. Dinner will be on the table in minutes with this easy one pan recipe!
5 minPrep Time
30 minCook Time
35 minTotal Time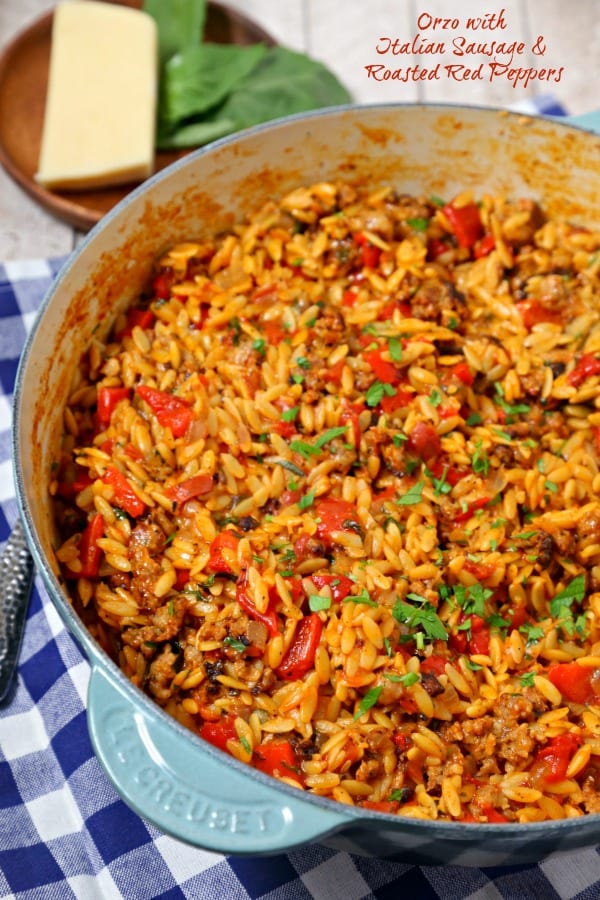 Ingredients
1 teaspoon of olive oil
1 pound of sweet Italian turkey sausage, casings removed
1 large onion, diced
3 – 4 large roasted red peppers, diced
2 cloves of garlic, minced
1 16-ounce package of orzo
1 15-ounce can of crushed fire roasted tomatoes
1/4 teaspoon of crushed red pepper
1/2 teaspoon of salt
1/2 teaspoon of freshly cracked black pepper
2 cups of chicken stock
1/4 cup of chopped fresh basil
3/4 cup of shredded fontina cheese, plus more for garnish
1/4 cup of chopped flat leaf parsley
Instructions
n a large deep skillet pan or dutch oven, add the olive oil and heat the pan to medium high.
Add the turkey sausage, making sure to break it up and brown the turkey sausage.
Remove the browned turkey sausage to a paper lined plate and drain any fat, reserving about 2 teaspoons.
Add onions and saute until they start to become translucent.
Add the diced roasted red peppers to the pan and continue to saute, about 3 minutes more.
Add the minced garlic and saute for another minute.
To the onion/pepper mixture, add the orzo and toast in the pan for about a minute, making sure to incorporate the orzo with the veggies.
Add the crushed tomatoes to the orzo mixture and fold everything together, making sure to scrape up any browned bits from the bottom of the pan.
Return the sausage to the pan and add the crushed red pepper, salt and pepper.
Add 2 cups of chicken stock to the mixture and bring to a boil. Reduce the heat to a simmer and cook until the orzo is tender, about 10 to 12 minutes.
Fold in the basil and shredded fontina cheese and simmer for another minute or two.
Garnish with the chopped flat leaf parsley and some more fontina cheese and enjoy!
7.8.1.2
85
https://cookinginstilettos.com/orzo-italian-sausage-roasted-red-peppers/